7.4

/

10

Alchetron

7.4

Rate This





Final episode date

21 April 2002




Country of origin

United States

First episode date

16 October 1999




Created by

Steven H. BermanMitchel KatlinNat Bernstein

Starring

Brandon GilberstadtMorgan KibbyMelanee MurrayCatherine MacNealWilliam Francis McGuire

Cast
100 deeds for eddie mcdowd
100 Deeds for Eddie McDowd is an American television sitcom created by Steven H. Berman, Mitchel Katlin, and Nat Bernstein for Nickelodeon. The series ran for 3 seasons, from October 16, 1999 to April 21, 2002.
Contents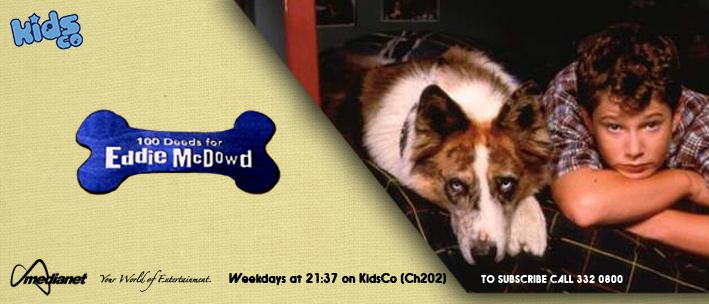 100 deeds for eddie mcdowd series review
Plot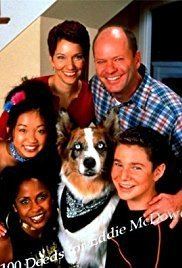 Schoolyard bully, Eddie McDowd (Jason Dohring), is punished by a man called The Drifter because of his behavior. He finds himself very attractive and powerful and so he bullies others without mercy. The Drifter plans to make him pay for his wrongdoings and turns him into an Australian Shepherd/Siberian Husky mix, informing him that he has to do 100 good deeds before he can be changed back. Besides The Drifter, the only one who can hear him talk is Justin Taylor, who was the last kid he bullied. McDowd must work alongside Justin and his family to finish his good deeds and become human once again.
Characters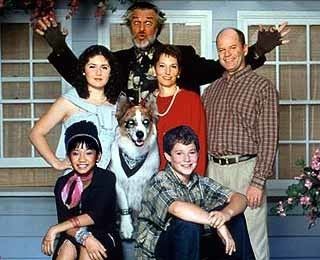 Eddie McDowd (played by Jason Dohring as a human, Rowdy as a dog, voiced by Seth Green in Season 1, Jason Hervey in Season 2–3) – He was a bully who was turned into an Australian Shepherd/Siberian Husky mix by the Drifter for his wrongdoings and can only be restored to human form if he does 100 good deeds. Besides the Drifter, the only other person who can hear him talk is Justin Taylor (who was the last kid that he bullied). It is explained by The Drifter in a later episode that should this happen, neither Justin nor Eddie's family will outright remember their experiences (though Eddie will still be a better person for it).
Justin Taylor (played by Brandon Gilberstadt) – He was the last kid Eddie had picked on and is the only one who can hear Eddie talk in his dog form. He assists Eddie into doing the good deeds to restore Eddie to human.
Gwen Taylor (played by Morgan Kibby) – The sister of Justin Taylor.
Tori Sloan (played by Melanee Murray) – Foreign exchange student who switched families with Gwen in Season 2.
Doug Taylor (played by William Francis McGuire) – The father of Justin Taylor.
Lisa Taylor (played by Catherine MacNeal) – The mother of Justin Taylor.
Sariffa Chung (played by Brenda Song) – Justin's best friend.
The Drifter (played by Richard Moll) – A mystical man who was responsible for casting the spell that transformed Eddie McDowd into an Australian Shepherd/Siberian Husky mix where he will change him back if he does 100 good deeds. The Drifter speaks in rhymes and often appears in different occupations to give Eddie advice on how to do good deeds.
Spike Cipriano (played by Danny Tamberelli) –
Brenda May (played by Diane Delano) –
Flaco (played by Josh Hammond) – Eddie's old bullying buddy who also picks on Justin.
Agt. Elizabeth Marcus (played by Julie Marcus) –
Caesar – (voiced by David Lander) – A dog that befriends Eddie.
Salvatore (voiced by Joe Piscopo) – A pug that's Eddie's friend and nextdoor neighbor.
Gigi (voiced by Alyson Hannigan) – A pomeranian that Eddie is often smitten by.
Cancellation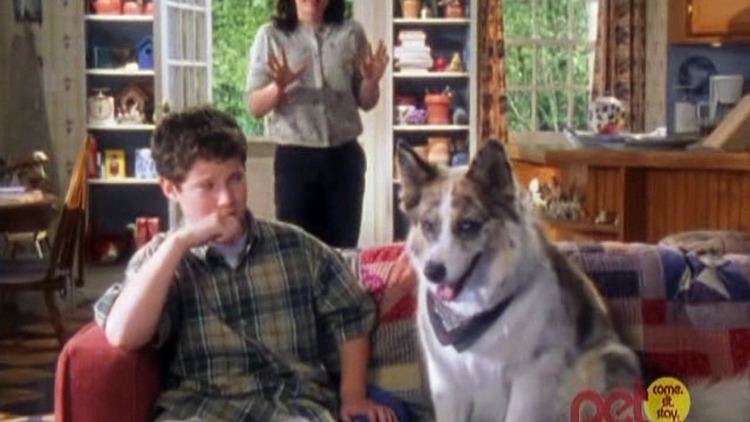 The series was cancelled in the United States due to declining ratings in the spring of 2002 after only 40 episodes, with Eddie still a dog and only 60 deeds done. However, the series is such a hit in Europe that it was released on Amazon.fr.
References
100 Deeds for Eddie McDowd Wikipedia
(Text) CC BY-SA