Also known as

1 Liter of Tears




Country of origin

Japan




No. of episodes

11 (list of episodes)




Final episode date

20 December 2005






Ending theme

"Only Human" (K)




Original language(s)

Japanese




First episode date

11 October 2005




Number of episodes

11






Starring

Erika Sawajiri Ryō Nishikido Hiroko Yakushimaru Takanori Jinnai




Genres

Romance Film, Drama, Tragedy




Networks

Fuji Television, Fuji Network System




Cast

Erika Sawajiri, Ryo Nishikido, Hiroko Yakushimaru, Riko Narumi, Naohito Fujiki




Similar

Last Friends, For You in Full Blossom, Nobuta wo Produce, Operation Love, Densha Otoko
1 Litre no Namida (1リットルの涙, lit. "1 Litre of Tears"; also called A Diary with Tears or A Diary of Tears) is a 2005 Japanese television drama for Fuji Television about a girl who was diagnosed with an incurable degenerative disease at 15, but was able to continue her life until her death at the age of 25.
Contents
Plot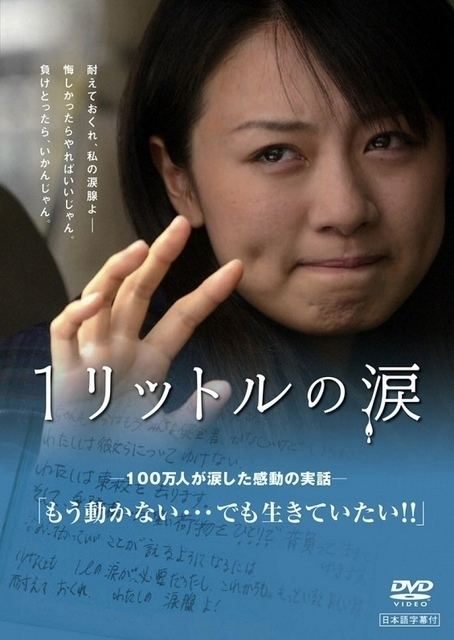 This drama is based on the real-life struggles of a 15-year-old girl named Aya who suffered from an incurable disease, but lived life to the fullest until her death at 25. The script is based on the diary Aya kept writing until she could no longer hold a pen. The book that later followed, entitled, One Litre of Tears has sold over 1.1 million copies in Japan alone.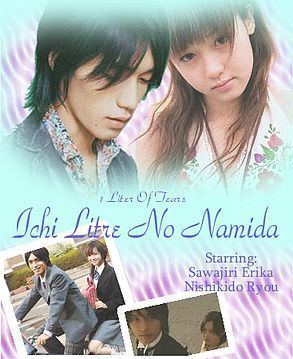 Fifteen-year-old Ikeuchi Aya is an ordinary girl, soon to be high school student and daughter of a family who works at a shop that makes tofu. As time passes, unusual things start happening to Aya. She begins falling down often and walking strangely. Her mother Shioka, takes Aya to see the doctor, and he informs Shioka that Aya has spinocerebellar degeneration - a rare disease where the cerebellum of the brain gradually deteriorates to the point where the victim cannot walk, speak, write, or eat. A cruel disease, as it does not affect the mind.
Special episode
On April 5, 2007, Fuji Television aired a three-hour special of the series set five years after Aya's death and focuses on Haruto Asō, who has now become a doctor at the same hospital Aya was treated in and Ako Ikeuchi, Aya's younger sister who is a nurse in training. Haruto is caring for a 14-year-old female patient, Mizuki, who was bullied in school because of her disease, the same one that Aya had. Because of the bullying at school, Mizuki-chan decides not to receive therapy of any sort that would make her better, because she has lost her will to live. Haruto remembers how Aya fought her illness and lived her life with her disease; therefore, he offers support to his patient. Aya reappears in the episode using a number of flashbacks from the series and in new scenes.
Main cast
Erika Sawajiri - Aya Ikeuchi
Ryō Nishikido - Haruto Asō (Aya's later love interest)
Other cast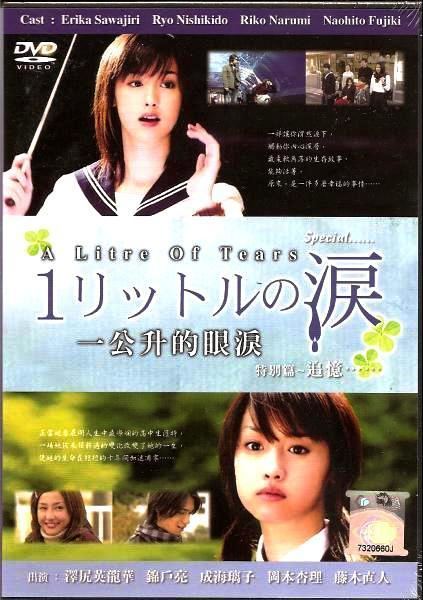 Naohito Fujiki - Hiroshi Mizuno (Doctor)
Hiroko Yakushimaru - Ikeuchi Shioka
Takanori Jinnai - Ikeuchi Mizuo
Riko Narumi - Ikeuchi Ako
Yuma Sanada - Ikeuchi Hiroki
Ai Miyoshi - Ikeuchi Rika
Saori Koide - Mari Sugiura (One of Aya's best friends)
Kenichi Matsuyama - Yuji Kawamoto (Aya's first love interest)
Yuya Endo - Takeda Makoto (Yuji's friend in the Basketball club)
Kana Matsumoto - Saki Matsumura
Momosuke Mizutani - Kohei Onda
Ryo Hashidume - Keita Nakahara
Hiroshi Katsuno - Yoshifumi Asō (Haruto's father)
Asae Onishi - Asumi Oikawa (Aya's roommate when she was in disability school. She has the same disease as Aya)
Kazuko Katō - Kikue Oikawa (Asumi's mother)
Yuuki Sato - Keisuke Asō (Haruto's brother)
Maya Hamaoka - Madoka Fujimura
Toshihide Tonesaku - Kiichi Takano (One of the volunteers at the disability who later gets married to the head teacher of the disability school)
Shigeyuki Satō - Nishino (Home room teacher of Aya when she was still in the normal high school)
Aoi (Japanese actress and fashion model) - Tomita (High School Girl who likes Haruto & is jealous of Aya)
Anri Okamoto - Nagashima Mizuki a 14-year-old, a protagonist character in special episodes.
Asae Onishi starred in the 2004 movie version of the same title as Aya.
Alternate versions of this drama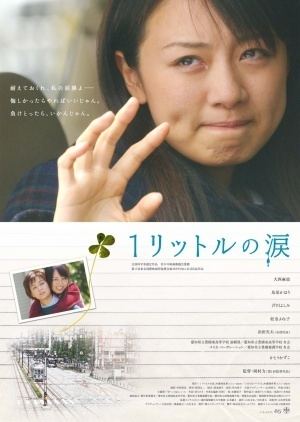 Indonesian Production House SinemArt's drama, titled Buku Harian Nayla (Nayla's Diary), plagiarizes 1 Litre of Tears. The series bears some striking resemblances, like the name "Aya" being replaced with "Nayla" (Chelsea Olivia) and Moses (Ralph Glenn Alinskie) in place of Asou. The series aired in RCTI as a special Christmas series. The comparison between the two series have been discussed by the show's audience. The scenario was written by Serena Luna (or sometimes called Chevyra Edenia).
Indonesian fans of 1 Litre no Namida have reported this admitted act of plagiarism to Fuji TV and the Indonesian mass media, but there has yet to be a response. What most upsets the fans is that RCTI failed to credit or acknowledge Fuji TV and 1 Litre of Tears, from which the story is presumed to have been adapted, and noted that "This story is fictitious: the similarities of names, characters, places, and times are purely coincidental."
Amrita TV is to dub 1 Litre no Namida. And Chinese drama Tears of Happiness is based on this drama.
Episode Ratings
Source: Video Research, Ltd.
Japan
Original run: October 11, 2005 – December 20, 2005
Network and Timeslot: Fuji Television, Tuesdays at 10:00-11:00 pm
Theme song(s): "Only Human" by K
Konayuki (

粉雪

, Powdered Snow) and Sangatsu Kokonoka (

3月9日

, 9 March) by Remioromen
OST by Susumu Ueda
Hong Kong
Original run: October 15, 2006 – December 31, 2006
Network and Timeslot: TVB Jade, Sundays at 10:30-11:30 pm
Theme song(s): "Stubborn" (

固執

) by Jason Chan (TV)
Xiang Ai Bu Xiang Ai (

想愛不相愛

) by Ivana Wong (Movie)
Singapore
Original run: Nov 28, 2006 – Jan 2, 2007
Channel and time slot: E-City, Mondays and Tuesdays, 11:00 pm–12:00 am
Theme song(s): "Only Human" by K
Konayuki (

粉雪

) and Sangatsu Kokonoka (

3月9日

) by Remioromen
Indonesia
Original run: May 4, 2007 – May 18, 2007
Network and Timeslot: Indosiar, Mondays to Fridays at 05:00-06:00 pm
Theme song(s): "Only Human" by K
Konayuki (

粉雪

) and Sangatsu Kokonoka (

3月9日

) by Remioromen
Taiwan
Original run: July 2, 2007 – July 18, 2007
Network and Timeslot: Japan Entertainment Television, Mondays to Thursdays at 10:00-11:00 pm
Theme song(s): "Only Human" by K
Konayuki (

粉雪

) and Sangatsu Kokonoka (

3月9日

) by Remioromen
Malaysia
Original run: August 4, 2007 – October 20, 2007
Channel and time slot: 8TV, Saturdays, 06:00 pm – 07:00 pm
Theme song(s): "Only Human" by K
Konayuki (

粉雪

) and Sangatsu Kokonoka (

3月9日

) by Remioromen by raden
Thailand
Original run: May 5, 2008 - June 9, 2008
Channel and time slot: Thai Public Broadcasting Service, Mondays & Tuesdays, 08:30 pm – 09:30 pm
Theme song(s): "Only Human" by K
Konayuki (

粉雪

) and Sangatsu Kokonoka (

3月9日

) by Remioromen
Philippines
Original run: May 25, 2009 – June 19, 2009
Channel and time slot: GMA Network, Weekdays, 10:15 pm – 10:45 pm
Opening and Ending Theme song(s): "Walang Hanggan" by Wency Cornejo feat. Cookie Chua
Ending Theme song(s) in some episodes: "Only Human" by K
Konayuki (

粉雪

) and Sangatsu Kokonoka (

3月9日

) by Remioromen
Vietnam
Original run: September 3, 2012
Channel and time slot: HTV3,Mondays to Thursday, 21h30 - 22h30 GMT+7
Theme song(s): "Only Human" by K
Konayuki (

粉雪

, Powdered Snow) and Sangatsu Kokonoka (

3月9日

, 9 March) by Remioromen
OST by Susumu Ueda
Soundtrack
1 littoru no namida -Main Theme-
hurdle wo koete
anata ga oshiete kure tamono -ai no Theme-
yasashisa ni tsutsumarete
anji
sunadokei
kimi e no Long Pass
rakujitsu
shinobiyoru byouma
furi aoge ba aoi sora
namida no imi
senkoku
mou utae nai
te wo nobase ba anata ga
kunou no senritsu
nagare yuku jikan
sagashi te goran
nigiyaka na danran
toumei na sekai
seimei aru kagiri -Sub Theme-
Only Human (Piano Version)
konayuki (Piano Version)
Only Human (Cello Version)
K - Only Human
Remioromen - Konayuki
Remioromen - sangatsu kokonoka (9 March)
References
1 Litre no Namida (TV series) Wikipedia
(Text) CC BY-SA