7.8

/

10

Alchetron

7.8

Rate This





Creative director(s)

Jon Minnis (season 2)

First episode date

30 June 2001




Country of origin

Canada, France

Final episode date

4 March 2007




Based on

Just..., by Andy Griffiths

Directed by

Tim Deacon and Jon Minnis (season 1)Richard Paré and Gilles Dayez (season 2)Nick Vallinakis (season 3)

Composer(s)

Noam Kaniel and Alain Garcia (season 2)Anthony Rozankovic (season 3)

Networks

Teletoon, Jetix, Freeform, Fox Kids, CITV, Toon Disney

Cast

Ian James Corlett, Cathy Cavadini, Bumper Robinson, Dee Bradley Baker, Danny Cooksey




Similar

Life with Louie, The Kids from Room 402, Tutenstein, Mad Jack the Pirate, The Tofus
What's with Andy? is a Canadian children's animated series that started airing on June 30, 2001 and ended on March 4, 2007. It was originally an interactive Flash movie with completely different voice actors and a promotion for Fox Kids. Shortly after, a TV series was developed with new voice actors and it aired on Teletoon. The series was produced by CinéGroupe, with Season 2 being co-produced with SIP Animation. Super RTL was involved in the production of Seasons 2 and 3. It was based on a series of books by Andy Griffiths.
Contents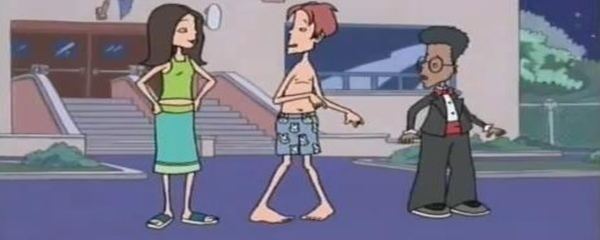 What's With Andy 3x08 Pranks are in the Air v2 ddisc Premo
Plot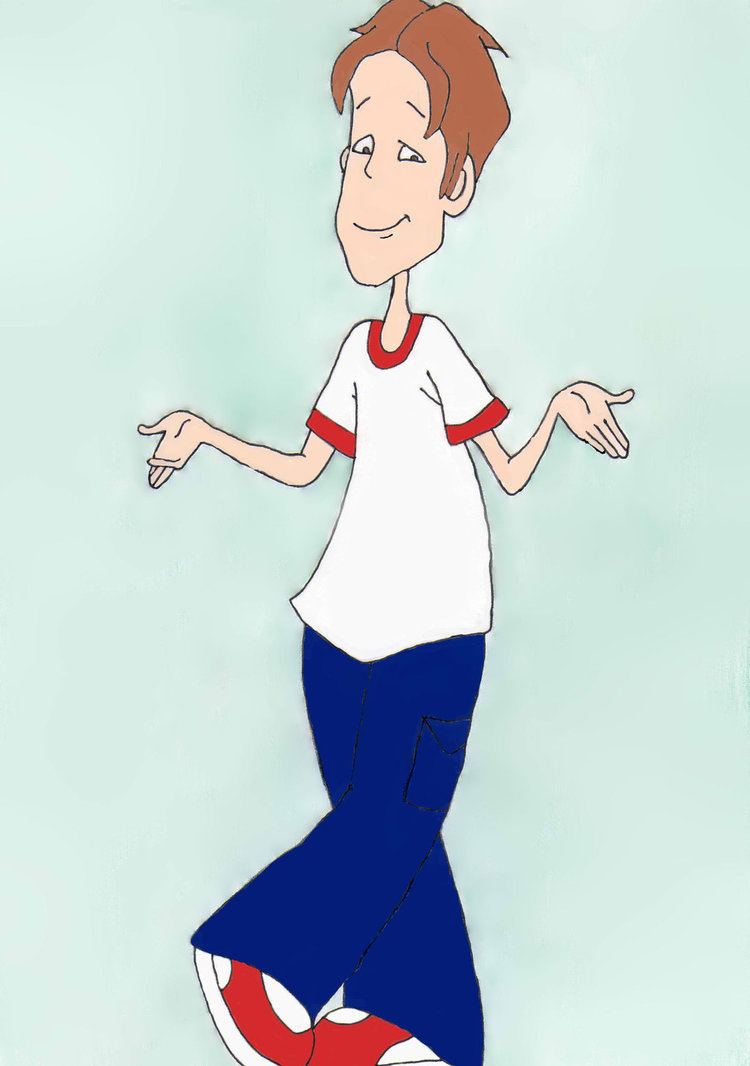 The protagonist of the series is Andy Larkin, a mischievous youth and the self-proclaimed "world's greatest prankster". The show follows him as he tries to perform incredibly well-thought-out and elaborate practical jokes, or pranks, on people. He lives in the fictional town of East Gackle. He constantly breaks the fourth wall when the screen freezes. Andy's best friend, Danny Pickett, helps him out with almost every prank. His enemies include his older sister, Jen Larkin, and the bullies Peter Lik and Andrew Leech. Andy has a crush on a girl named Lori Mackney (in the books her name is Lisa Mackney) and usually tries to impress her. The show is based on Andy Griffiths' children's series of Just... books (which were illustrated by Terry Denton), although many episodes are not directly based on the books. Changes from the books to the TV series include Andy's last name, which was originally that of his creator, and other minor name changes, such as Lori's name being Lisa in the books.
Setting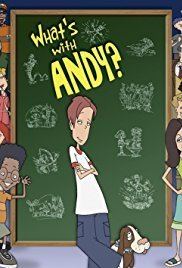 The first season of What's with Andy? was set in the United States. In the second and third seasons, the show was relocated to Alberta. It is shown in the episode "Rhyme Time" that the characters lived in the U.S. because of the American history that Andy recited, and the second language they were taught was Spanish rather than French, which is taught as a second language in Canada. In the episode "Gnome for the Holidays", a building can be seen saying, "US Post Office". Also, an American flag can be seen in the mayor's office in the "Wag the Kid" and "Little Foot" episodes, and in the episode "It Came from East Gackle", FBI agents came to East Gackle.
Andrew "Andy" Larkin
Andy loves to prank people as well as annoy friends and family. His best friend is Danny and he has a crush on Lori.
Daniel "Danny" Tadeus Pickett
The best friend and Andy's right-hand man, helping him out with countless pranks. His last name has always been Pickett, even since the book series. The name Danny Pickett is derived from Jim Kjelgaard's Big Red.
Lauren "Lori" Mackney
Andy's crush but she is dismayed by his childishness due to his pranking. She has a crush on Andy very much and hates Jen because Lori thinks Jen cruelly abuses Andy. She wears a green tank top, blue skirt and sandals. She is known as "Lisa" in the books.
The Larkin family
Alfred "Al" Larkin: Andy and Jen's Father and Freida's husband and possibly the Mystery Prankster, aka mystery pranker of East Gackle.
Frieda Larkin: Andy and Jen's Mother and Al's wife.
Jennifer "Jen" Larkin: Andy's twin sister who was mad too much and blames her younger twin brother Andy for everything bad.
Spank Larkin: Andy's fat and lazy dog. Spank seems to yawn constantly, especially after walking a little.
Recurring/minor characters
Teri/Keri: Jen's best friend.
Jervis Coltrane: A French stereotypical snob who has a crush on Lori Mackney and dream to be the Prime Minister of Canada.
Peter Lik and Andrew Leech: Peter and Andrew are Andy's and Danny's nemeses. They are usually referred to as Lik and Leech.
Craig Bennett: Jen's crush and one of the best athletes of East Gackle.
Martin Bonwick: He is a stereotypically nervous nerd who always gets bullied.
Victor "Vic" Muskowitz (Mush): The pizza delivery man of East Gackle who is a good friend of Andy and Danny and he sometimes helps them with pranks.
Steve Rowgee Jr.: A dumb police officer who is the incompetent son of Steve Rowgee Sr.
Steve Rowgee Sr.: A police officer who is an old man, who always commands Steve Rowgee Jr. (his son) and is nicknamed the Iron Fisted Maniac.
Principal DeRosa: He is the bad-tempered principal of the school in East Gackle and the main antagonist who is obsessed with punishing Andy.
Mr. Hutchins: One of the many teachers at East Gackle school, Andy likes to prank him more than the other teachers.
Mayor Henry K. Roth: The mayor of East Gackle.
Mayor Simms: Mayor of West Gackle and Mayor Henry K. Roth's rival.
Mr. Leech: Andrew Leech's dad.
Clyde: The janitor of the school.
Bryan: Andy's pranking rival and they battle for the best pranking and for Lori.
Hazel Strinner: She has a crush on Andy and Lori's protecting friend.
Louella Berman: Freida's best friend.
Mrs. Wibbles: Principal DeRosa's secretary.
Norman Larkin: Andy's grandfather who is also a prankster, implying that the male side of the Larkin family comes from a long line of pranksters, with the exception of Al Larkin (Andy's father), though hints have been given that he too is a prankster even greater than his son or father.
Mrs. DeRosa: Principal DeRosa's wife.
Ms. Murphy (Voiced by Erin Andres) is the school counselor who is also skilled in hypnosis. She is the reason why the mystery prankster of East Gackle stopped his pranks 20 years prior to the show.
Episodes
What's with Andy? has 78 episodes, divided into three seasons, consisting of 26 episodes each, with the series ending on March 4, 2007. The first episode aired on September 22, 2001.
References
What's with Andy? Wikipedia
(Text) CC BY-SA