United States




1,321 (2013)




0.80 sq mi




Montana




E.H. Harriman




Jerry Johnson



West Yellowstone is a town in Gallatin County, Montana, adjacent to Yellowstone National Park. The population was 1,271 at the 2010 census. The town is served by Yellowstone Airport. It is part of the Bozeman, MT Micropolitan Statistical Area. It was founded in June 1908 when the Oregon Short Line Railroad was completed. The towns name changed several times until West Yellowstone was settled upon in 1920.
For many, the town of West Yellowstone is a place to stay while traveling through Yellowstone National Park. The town is separated into two parts, residential and commercial, roughly at the road D Parkway. South of D Parkway (Alley) is mainly a business area; north of it is an area of homes and apartments. The area north of D Parkway is known to locals as the "Madison Addition". The town has one school, serving kindergarten through 12th grade.
West Yellowstone is located at 44°39?45?N 111°6?21?W (44.662500, -111.105933).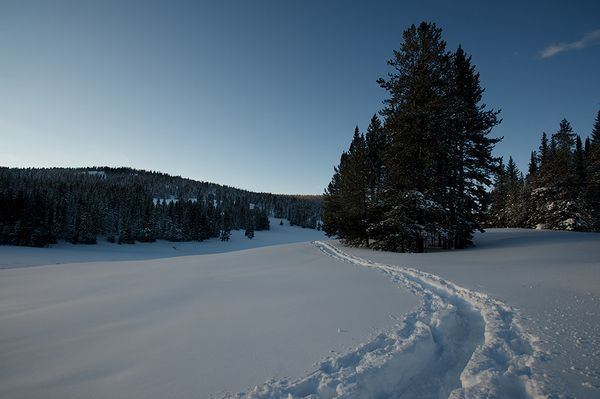 According to the United States Census Bureau, the town has a total area of 0.80 square miles (2.07 km2), all of it land.
West Yellowstone, Montana Wikipedia
(,)http://cache3.asset-cache.net/gc/74169623-trees-on-a-snowcapped-landscape-yellowstone-gettyimages.jpg%3Fv%3D1%26c%3DIWSAsset%26k%3D2%26d%3DTD6ghYTT9BiAYy2tku7spBt9GZNTVuGlXhmiD2sbrHGt62L3LYCL8Ho%252By5HaQOgu(,)http://images.nationalgeographic.com/wpf/media-live/photos/000/770/cache/highway-191-montana-locals_77031_600x450.jpg(,)http://i.telegraph.co.uk/multimedia/archive/02696/split_2696836b.jpg(,)http://cache2.asset-cache.net/gc/126169338-trees-in-a-snow-covered-landscape-west-gettyimages.jpg%3Fv%3D1%26c%3DIWSAsset%26k%3D2%26d%3DMwyY4JCYvQqJOBrilbfV77CwSiWxxsDTKiMDDiXcTtI7jqeKeCKoitRPZMeDloQJt6NE4dEzT75wOGcFVSDRrQ%253D%253D(,)http://cache1.asset-cache.net/gc/126165096-trees-in-a-snow-covered-landscape-west-gettyimages.jpg%3Fv%3D1%26c%3DIWSAsset%26k%3D2%26d%3DjbmrPIbwVByCxKJDGjxHto2KpoXgxlKQl6PQzk722fO02%252BaxeWxujJ7Dj4PUwCLo%252BMQA20Ky2%252BxYgluZWe%252B96Q%253D%253D(,)http://cache3.asset-cache.net/gc/126171806-trees-in-a-snow-covered-landscape-west-gettyimages.jpg%3Fv%3D1%26c%3DIWSAsset%26k%3D2%26d%3DoScSvqWvNEngUdBODmQCFegaL%252BUcBf7mqSmPSpANCpz1LYWvCUuStaQx9YRwtU9LwPl61ZeAtL3Qf7HK7a82gw%253D%253D(,)http://greater-yellowstone.com/graphics/West-Yellowstone/West-Yellowstone.jpg(,)http://cache1.asset-cache.net/gc/140668267-facade-of-a-house-at-a-snow-covered-gettyimages.jpg%3Fv%3D1%26c%3DIWSAsset%26k%3D2%26d%3Dq8kKvHYRRQe1E35ub6%252B%252BXniuD9qrvmWRYTSHJThZpY1%252Ft7ShH59FQ6BkQvhzFMV3Mgscmb1d5zNirNmt7ZuSYw%253D%253D(,)http://cache1.asset-cache.net/gc/126160723-low-angle-view-of-snow-covered-trees-west-gettyimages.jpg%3Fv%3D1%26c%3DIWSAsset%26k%3D2%26d%3Dv%252FrE5ilKnzBUS9gTn5KFPirmLa2FK2qJaNOOhilAzxGkMX5gQIAmMzUKm6AuFknmm7C9K4b3Z2JBEwVt6Ar6fw%253D%253D(,)http://cdn.jacksonholewy.net/images/content/14403_K4RLr_Downtown_West_Yellowstone_md.jpg
(,)http://www.menupix.com/town_img/WestYellowstoneMTHP.jpg(,)http://www.yellowstonewestgatehotel.com/images/cmsimg_1403293640.jpg(,)http://media-cdn.tripadvisor.com/media/photo-s/02/8e/1d/4d/evergreen-motel.jpg(,)http://www.yellowstonekellyinn.com/images/cmsimg_1402107964.jpg(,)http://media-cdn.tripadvisor.com/media/photo-s/01/61/09/a5/our-new-look.jpg(,)http://media-cdn.tripadvisor.com/media/photo-s/02/21/23/0f/grizzly-claw-restaurant.jpg(,)http://media-cdn.tripadvisor.com/media/photo-s/02/87/0f/92/filename-exterior-jpg.jpg(,)http://media-cdn.tripadvisor.com/media/photo-s/02/30/d3/73/lobby-and-front-desk.jpg(,)http://www.yellowstonelodging.com/bar-n-ranch.jpg(,)http://www.townofwestyellowstone.com/wp-content/uploads/2013/09/west-yellowstone-snowmobiling-680x332.jpg(,)http://bulbhunter.com/wp-content/uploads/2010/08/HPIM1933.jpg(,)http://cdn.yellowstoneparknet.com/images/content/623_atOXQ_West_Yellowstone_IMAX_md.jpg(,)http://bulbhunter.com/wp-content/uploads/2010/08/HPIM1927.jpg(,)http://mw2.google.com/mw-panoramio/photos/medium/6052000.jpg