Covid-19
[1]




New Renaissance Records






1985–1992, 2009–present




New Renaissance Records,




Portland, Oregon, United States (1985)




Biermacht, Shark Attack, Shark Attack + Biermächt, Biermächt / Shark Attack




Eric Helzer, Brian Lehfeldt, Marco Zorich, Shann Mortimer




Thrash metal, Crossover thrash




Cryptic Slaughter, Spazztic Blurr, Sweaty Nipples, Cripple Bastards, Raw Power
Wehrmacht is an American thrash metal/hardcore punk band, that was formed in Portland, Oregon, in 1985. The band released several demos and began to gain popularity in the underground metal and punk tape trading community in 1985-1986. After being signed to New Renaissance Records, the band released two albums, 'Shark Attack' and 'Biermacht.'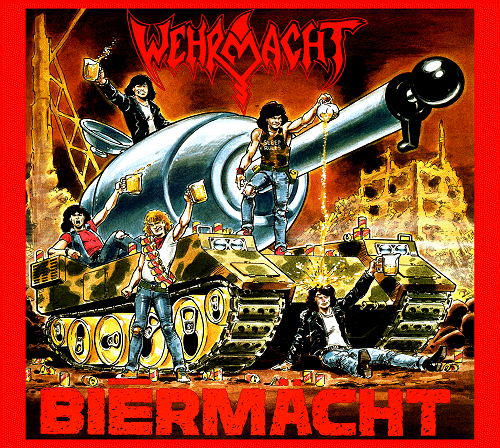 Guitarist Marco 'Sharko' Zorich and vocalist Tito Matos went on to form Spazztic Blurr with Eric French (who would later replace Brian Lehfeldt on drums) and David Merrick. Brian Lehfeldt would also help form Sweaty Nipples with Eric French and David Merrick.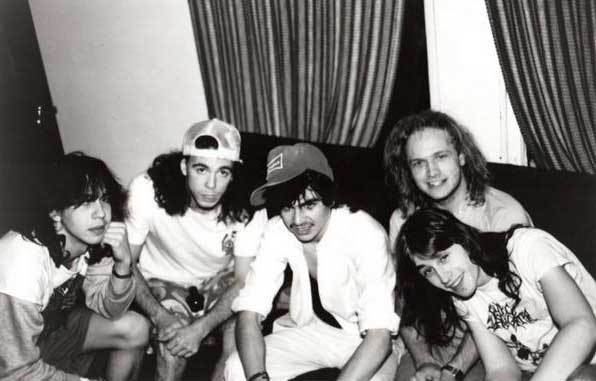 After the demise of New Renaissance Records, Wehrmacht self-released the EP Vice Grip in 1990, then briefly changed their name to Macht, after which the band split up in 1992. Later, Shark Attack and Biermacht were re-issued on one CD.
Lehfeldt would later go on to play in Cryptic Slaughter and tour with Everclear. Lehfeldt's most recent projects are Drumattica and Tri-polar. Shann Mortimer went on to play with the Nervous Christians and Bastard Children of the Roman Empire. He is now a criminal defense attorney. John Duffy continued playing music, most recently with the band Kapuda.
Despite the band's name the members do not pursue Nazi ideals and are against the persecution of anyone.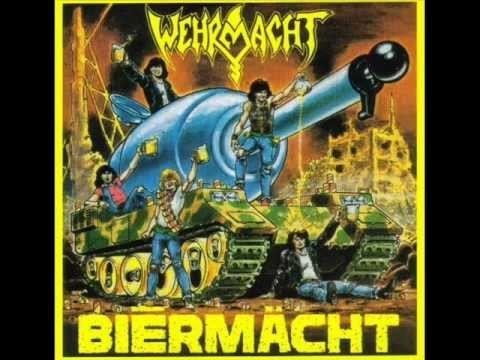 In August 2009, Wehrmacht reunited with the original lineup and began playing live again. On October 24, 2010, Wehrmacht self-released the "Fast As A Shark Attack" EP, their first recording in nearly 20 years. The EP consisted of a cover of the Accept classic 'Fast As A Shark' as well as re-recording of two Wehrmacht classics, 'Shark Attack' and 'United Shoe Bros.'
In 2012, Wehrmacht parted ways with vocalist Tito Matos, replacing him with current vocalist Eric Helzer. Helzer had been in both Tri-Polar and Drumattica with Lehfeldt in the past. The band has since toured Europe, Australia, Japan and the United States and Mexico.
Officially, Wehrmacht has announced work on new album, but have not yet provided a release date, as the band is actively pursuing record label and distribution options. The band has already recorded five songs, including a remake of their own "Gore Flix", at Supernatural Sound Studios in Oregon City, Oregon. They are currently continuing to track new material in the studio.
Their original album, Shark Attack, is to be re-released on February 20, 2016. This remastered version includes additional photos, a lyrics sheet in Russian, and new liner notes. It will be limited to 500 numbered copies.
Among their influences, the members of Wehrmacht list KISS, English Dogs, Loudness, The Beatles, ELO, Spazztic Blurr, Destruction, Slayer, D.R.I., G.B.H, and Raw Power. Most label Wehrmacht as thrash metal, but they are also commonly seen as a crossover thrash band.
Blow You Away (Demo, 1985)
Rehearsal '85 (Demo, 1985)
Beermacht (Demo, 1986)
Death Punk (Demo, 1986)
Live at Pine St. Theatre (Demo, 1986)
Shark Attack (LP, 1987)
Biermacht (LP, 1989)
Vice Grip (EP, 1990)
Hardcore Classix! (Best of/Compilation, 2009)
Viva Sharko! (Boxed set, 2010)
Fast as a Shark Attack (EP, 2010)
Eric Hezler - Vocals
Marco Zorich (aka Marco Sharko) - Guitar
John Duffy - Guitar
Shann Mortimer - Bass
Brian Lehfeldt - Drums
Tito Matos - Vocals 1985-1992 / 2009-2012
Eric French - Drums 1991-1992
Shannon Jones - Guitar/Bass 1990-1991
David Merrick - Bass 1991-1992
BiērmächtBiermacht · 1988
SpeedaholicShark Attack · 1987
Shark AttackShark Attack · 1987

Wehrmacht (band) Wikipedia