Arnold Schwarzenegger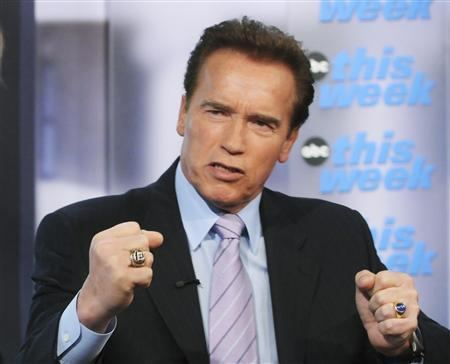 Arnold Alois Schwarzenegger ( born July 30, 1947) is an Austrian-born American actor, film producer, businessman, investor, writer, philanthropist, former professional bodybuilder and politician. Schwarzenegger served two terms as the 38th Governor of California from 2003 until 2011.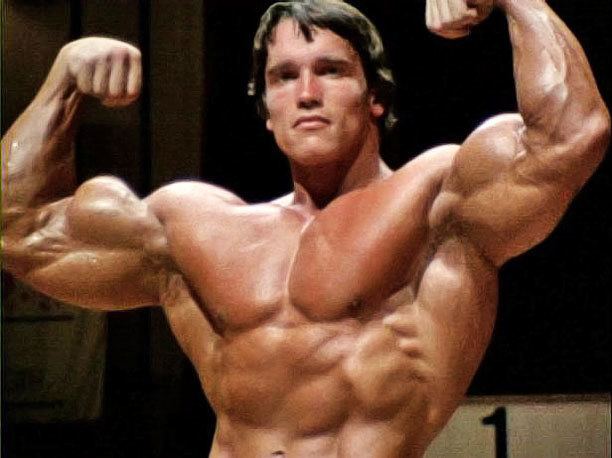 Schwarzenegger began weight training at the age of 15. He won the Mr. Universe title at age 20 and went on to win the Mr. Olympia contest seven times. Schwarzenegger has remained a prominent presence in bodybuilding and has written many books and articles on the sport. Schwarzenegger gained worldwide fame as a Hollywood action film icon. He was nicknamed the "Austrian Oak" and the "Styrian Oak" in his bodybuilding days, "Arnie" during his acting career and more recently "The Governator" (a portmanteau of "Governor" and "The Terminator" – one of his best-known movie roles).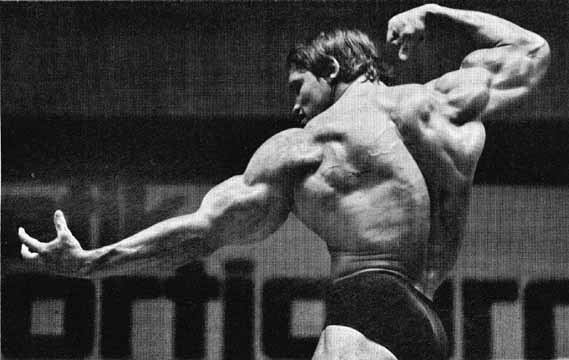 As a Republican, he was first elected on October 7, 2003, in a special recall election to replace then-Governor Gray Davis. Schwarzenegger was sworn in on November 17, 2003, to serve the remainder of Daviss term. Schwarzenegger was then re-elected on November 7, 2006, in Californias 2006 gubernatorial election, to serve a full term as governor, defeating Democrat Phil Angelides, who was California State Treasurer at the time. Schwarzenegger was sworn in for his second term on January 5, 2007. In 2011, Schwarzenegger completed his second term as governor, and it was announced that he had separated from Maria Shriver, his wife for the last 25 years; she is a member of the influential Kennedy family, as a niece of the late Democratic US President John F. Kennedy.
ArnoldSchwarzenegger

Schwarzenegger in 2010

Born

Arnold Alois Schwarzenegger


July 30, 1947
Thal, Styria, Austria
Residence
Brentwood, Los Angeles,California, U.S.
Citizenship
Austria
United States
Alma mater
Santa Monica College
University of Wisconsin–Superior
Occupation
Bodybuilder, actor, director, producer, businessman, investor, politician, writer
Years active
1970–2003; 2012–present

Political party

Republican Party
Religion
Roman Catholicism

Spouse(s)

Maria Shriver (m. 1986)(separated)
Children
Katherine (b. 1989)
Christina (b. 1991)
Patrick (b. 1993)
Christopher (b. 1997)
Joseph Baena (b. 1997)
Relatives
Gustav Schwarzenegger
(father, deceased)
Aurelia Jadrny
(mother, deceased)
Signature
Website
schwarzenegger.com
Schwarzenegger was born in Thal, Austria, a village bordering the Styrian capital Graz, and was christened Arnold Alois Schwarzenegger. His parents were the local police chief, Gustav Schwarzenegger (17 August 1907 – 13 December 1972), and Aurelia (née Jadrny; 29 July 1922 – 2 August 1998). Gustav served in World War II, after he voluntarily applied to join the Nazi Party in 1938. Gustav served with the German Army as a Hauptfeldwebel of the Feldgendarmerie and was discharged in 1943 after contracting malaria. They were married on October 20, 1945 – Gustav was 38, and Aurelia was 23-years-old. According to Schwarzenegger, both of his parents were very strict: "Back then in Austria it was a very different world, if we did something bad or we disobeyed our parents, the rod was not spared." He grew up in a Roman Catholic family who attended Mass every Sunday

Fig : Arnold at the age of 19-20-21 approxx
As a boy, Schwarzenegger played several sports, heavily influenced by his father. He picked up his first barbell in 1960, when his soccer coach took his team to a local gym. At the age of 14, he chose bodybuilding over soccer as a career. Schwarzenegger has responded to a question asking if he was 13 when he started weightlifting: "I actually started weight training when I was 15, but Id been participating in sports, like soccer, for years, so I felt that although I was slim, I was well-developed, at least enough so that I could start going to the gym and start Olympic lifting." However, his official website biography claims: "At 14, he started an intensive training program with Dan Farmer, studied psychology at 15 (to learn more about the power of mind over body) and at 17, officially started his competitive career." During a speech in 2001, he said, "My own plan formed when I was 14 years old. My father had wanted me to be a police officer like he was. My mother wanted me to go to trade school." Schwarzenegger took to visiting a gym in Graz, where he also frequented the local movie theaters to see bodybuilding idols such as Reg Park, Steve Reeves, and Johnny Weissmuller on the big screen.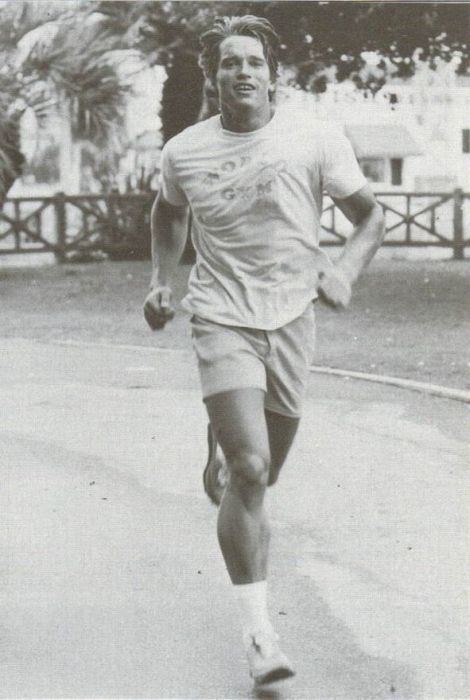 When Reeves died in 2000, Schwarzenegger fondly remembered him: "As a teenager, I grew up with Steve Reeves. His remarkable accomplishments allowed me a sense of what was possible, when others around me didnt always understand my dreams. Steve Reeves has been part of everything Ive ever been fortunate enough to achieve." In 1961, Schwarzenegger met former Mr. Austria Kurt Marnul, who invited him to train at the gym in Graz. He was so dedicated as a youngster that he broke into the local gym on weekends, when it was usually closed, so that he could train. "It would make me sick to miss a workout... I knew I couldnt look at myself in the mirror the next morning if I didnt do it." When Schwarzenegger was asked about his first movie experience as a boy, he replied: "I was very young, but I remember my father taking me to the Austrian theaters and seeing some newsreels. The first real movie I saw, that I distinctly remember, was a John Wayne movie.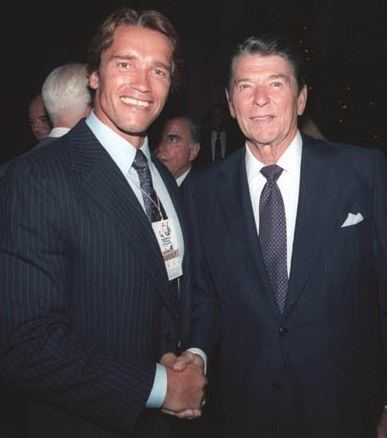 Fig : Schwarzenegger with President Ronald Reagan in 1984
Schwarzenegger, who dreamed of moving to the U.S. since the age of 10, and saw bodybuilding as the avenue through which to do so, realized his dream by moving to the United States in September 1968 at the age of 21, speaking little English. There he trained at Golds Gym in Venice, Los Angeles, California, under Joe Weider. From 1970 to 1974, one of Schwarzeneggers weight training partners was Ric Drasin, a professional wrestler who designed the original Golds Gym logo in 1973. Schwarzenegger also became good friends with professional wrestler "Superstar" Billy Graham. In 1970, at age 23, he captured his first Mr. Olympia title in New York, and would go on to win the title a total of seven times.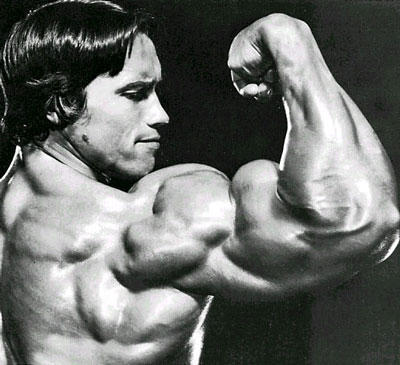 Immigration law firm Siskind & Susser have stated that Schwarzenegger may have been an illegal immigrant at some point in the late 1960s or early 1970s because of violations in the terms of his visa. LA Weekly would later say in 2002 that Schwarzenegger is the most famous immigrant in America, who "overcame a thick Austrian accent and transcended the unlikely background of bodybuilding to become the biggest movie star in the world in the 1990s".
In 1977, Schwarzeneggers autobiography/weight-training guide Arnold: The Education of a Bodybuilder was published and became a huge success. After taking English classes at Santa Monica College in California, he earned a BA by correspondence from the University of Wisconsin–Superior, where he graduated with a degree in international marketing of fitness and business administration in 1979.
Bodybuilding career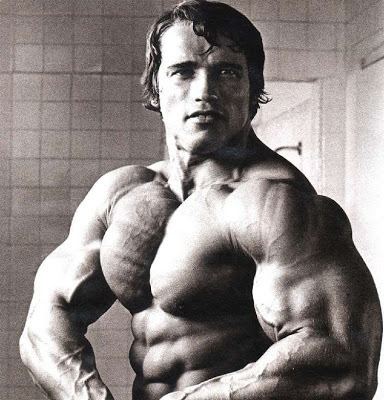 Schwarzenegger is considered among the most important figures in the history of bodybuilding, and his legacy is commemorated in the Arnold Classic annual bodybuilding competition. Schwarzenegger has remained a prominent face in the bodybuilding sport long after his retirement, in part because of his ownership of gyms and fitness magazines. He has presided over numerous contests and awards shows.
For many years, he wrote a monthly column for the bodybuilding magazines Muscle & Fitness and Flex. Shortly after being elected Governor, he was appointed executive editor of both magazines, in a largely symbolic capacity. The magazines agreed to donate $250,000 a year to the Governors various physical fitness initiatives. When the deal, including the contract that gave Schwarzenegger at least $1 million a year, was made public in 2005, many criticized it as being a conflict of interest since the governors office made decisions concerning regulation of dietary supplements in California. Consequently, Schwarzenegger relinquished the executive editor role in 2005.American Media Inc., which owns Muscle & Fitness and Flex, announced in March 2013 that Schwarzenegger had accepted their renewed offer to be executive editor of the magazines.
The magazine MuscleMag International has a monthly two-page article on him, and refers to him as "The King".
One of the first competitions he won was the Junior Mr. Europe contest in 1965. He won Mr. Europe the following year, at age 19. He would go on to compete in, and win, many bodybuilding contests. His bodybulding victories included five Mr. Universe (4 – NABBA [England], 1 – IFBB [USA]) wins, and seven Mr. Olympia wins, a record which would stand until Lee Haney won his eighth consecutive Mr. Olympia title in 1991.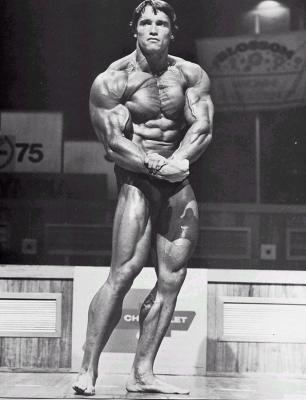 Schwarzenegger continues to work out even today. When asked about his personal training during the 2011 Arnold Classic he said that he was still working out a half an hour with weights every day.
Competition Weight: 235 lb (107 kg) (top 250 lb (113 kg))
Off Season Weight: 255 lb (116 kg) (top 260 lb (118 kg))
ArnoldSchwarzenegger



— Bodybuilder —
Personal info
Nickname
The Austrian Oak
Born
July 30, 1947
Thal, Styria, Austria
Height
5 ft 10 in (1.78 m) to 6 ft 2 in (1.88 m)
Weight
250 pounds (113 kg)
Professional career
Pro-debut
NABBA Mr. Universe, 1968
Best win
IFBB Mr. Olympia, 1970–1975, 1980, Seven Times
Predecessor
Sergio Oliva (69), Frank Zane(79)
Successor
Franco Columbu (76, 81)
Active
Retired 1980
Powerlifting/weightlifting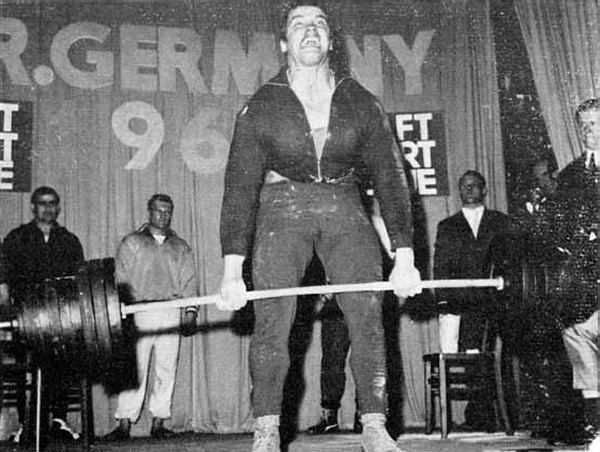 During Arnolds early years in bodybuilding, he also competed in several Olympic weightlifting and powerlifting contests. Arnold won two weightlifting contests in 1964 and 1965, as well as two powerlifting contests in 1966 and 1968.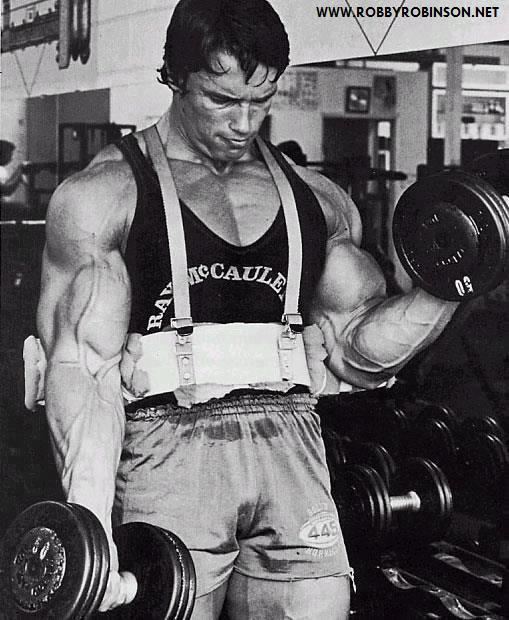 In 1967, Schwarzenegger competed in and won the Munich stone-lifting contest, in which a stone weighing 508 German pounds (254 kg/560 lbs.) is lifted between the legs while standing on two foot rests.
Competition record
Men's Bodybuilding
Competitor for
Mr Universe (amateur)
1st
1967
Mr Universe (pro)
1st
1968
1st
1969
1st
1970
Mr. Olympia
2nd
1969
1st
1970
1st
1971
1st
1972
1st
1973
1st
1974
1st
1975
1st
1980
Powerlifting
Competitor for
International Powerlifting Championships
1st
1966
+80 kg
German Powerlifting Championships
2nd
1967
+80 kg
1st
1968
+80 kg
Graz-Paradise Keller Powerlifting Championships
2nd
1967
+80 kg
Mens Weightlifting
Competitor for
Styrian Junior Weightlifting Championships
1st
1964
German Austrian Weightlifting Championships
1st
1965
Personal records
•
Clean and press – 264 lb (120 kg)
•
Snatch – 243 lb (110 kg)
•
Clean and jerk – 298 lb (135 kg)
•
Squat – 545 lb (247 kg)
•
Bench press – 500 lb (230 kg)
•
Deadlift – 710 lb (320 kg)
Fig : Schwarzenegger presented awards at the USA Weightlifting Hall of Fame in 2011 in Columbus, Ohio. In photo: 1987 world champion American Karyn Marshall.
Schwarzeneggers goal was to become the greatest bodybuilder in the world, which meant becoming Mr. Olympia. His first attempt was in 1969, when he lost to three-time champion Sergio Oliva. However, Schwarzenegger came back in 1970 and won the competition, making him the youngest ever Mr. Olympia at the age of 23, a record he still holds to this day.
Mr. Olympia1975 - Arnold Schwarzenegger, with Serge Nubret and Lou Ferrigno
He continued his winning streak in the 1971–74 competitions. In 1975, Schwarzenegger was once again in top form, and won the title for the sixth consecutive time,beating Franco Columbu. After the 1975 Mr. Olympia contest, Schwarzenegger announced his retirement from professional bodybuilding.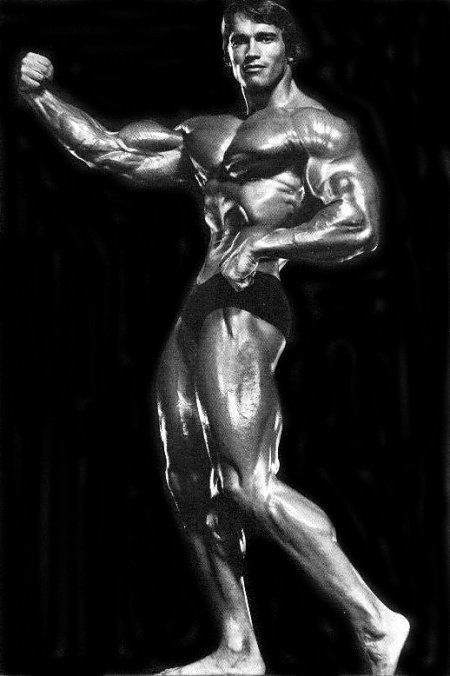 Months before the 1975 Mr. Olympia contest, filmmakers George Butler and Robert Fiore persuaded Schwarzenegger to compete, in order to film his training in the bodybuilding documentary called Pumping Iron. Schwarzenegger had only three months to prepare for the competition, after losing significant weight to appear in the film Stay Hungry with Jeff Bridges. Lou Ferrigno proved not to be a threat, and a lighter-than-usual Schwarzenegger convincingly won the 1975 Mr. Olympia.
Road to Mr. Olympia 1980 - Arnold Schwarzenegger Vs.Frank zane
Schwarzenegger came out of retirement, however, to compete in the 1980 Mr. Olympia.Schwarzenegger was training for his role in Conan, and he got into such good shape because of the running, horseback riding and sword training, that he decided he wanted to win the Mr. Olympia contest one last time. He kept this plan a secret, in the event that a training accident would prevent his entry and cause him to lose face. Schwarzenegger had been hired to provide color commentary for network television, when he announced at the eleventh hour that while he was there: "Why not compete?" Schwarzenegger ended up winning the event with only seven weeks of preparation. After being declared Mr. Olympia for a seventh time, Schwarzenegger then officially retired from competition.
Steroid use
Schwarzenegger has admitted to using performance-enhancing anabolic steroids while they were legal, writing in 1977 that "steroids were helpful to me in maintaining muscle size while on a strict diet in preparation for a contest. I did not use them for muscle growth, but rather for muscle maintenance when cutting up." He has called the drugs "tissue building."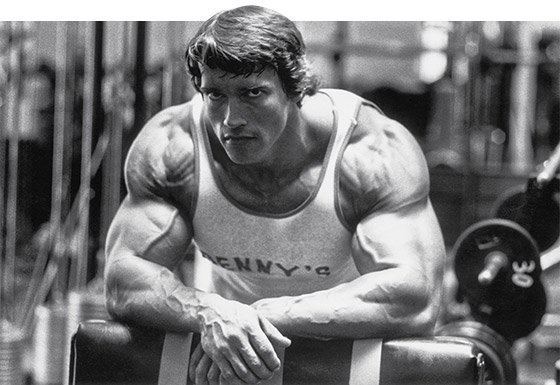 In 1999, Schwarzenegger sued Dr. Willi Heepe, a German doctor who publicly predicted his early death on the basis of a link between his steroid use and his later heart problems. As the doctor had never examined him personally, Schwarzenegger collected a US$10,000 libel judgment against him in a German court. In 1999, Schwarzenegger also sued and settled with The Globe, a U.S. tabloid which had made similar predictions about the bodybuilders future health
•
1970: Hercules in New York as Hercules
•
1976: Stay Hungry as Joe Santo
•
1977: Pumping Iron as himself
•
1979: The Villain as Handsome Stranger
•
1980: The Jayne Mansfield Story as Mickey Hargitay
•
1982: Conan the Barbarian as Conan
•
1984: Conan the Destroyer as Conan
•
1984: The Terminator as The Terminator/T-800 Model 101
•
1985: Red Sonja as Kalidor
•
1985: Commando as John Matrix
•
1986: Raw Deal as Mark Kaminsky, aka Joseph P. Brenner
•
1987: Predator as Major Alan "Dutch" Schaeffer
•
1987: The Running Man as Ben Richards
•
1988: Red Heat as Captain Ivan Danko
•
1988: Twins as Julius Benedict
•
1990: Total Recall as Douglas Quaid/Hauser
•
1990: Kindergarten Cop as Detective John Kimble
•
1991: Terminator 2: Judgment Day as The Terminator/T-800 Model 101
•
1993: Last Action Hero as Jack Slater / Himself
•
1994: True Lies as Harry Tasker
•
1994: Junior as Dr. Alex Hesse
•
1996: Eraser as U.S. Marshal John Kruger
•
1996: Jingle All the Way as Howard Langston
•
1997: Batman and Robin as Mr. Freeze
•
1999: End of Days as Jericho Cane
•
2000: The 6th Day as Adam Gibson/Adam Gibson Clone
•
2002: Collateral Damage as Gordy Brewer
•
2003: Terminator 3: Rise of the Machines as The Terminator/T-850 Model 101
•
2004: Around the World in 80 Days as Prince Hapi
•
2012: The Expendables 2 as Trench
•
2013: The Last Stand as Sheriff Ray Owens
•
2013: Escape Plan as Rottmayer
•
2014: Sabotage as John Breacher Wharton
•
2014: The Expendables 3 as Trench
•
2015: Terminator: Genesis as The Terminator/ T-800 Model 101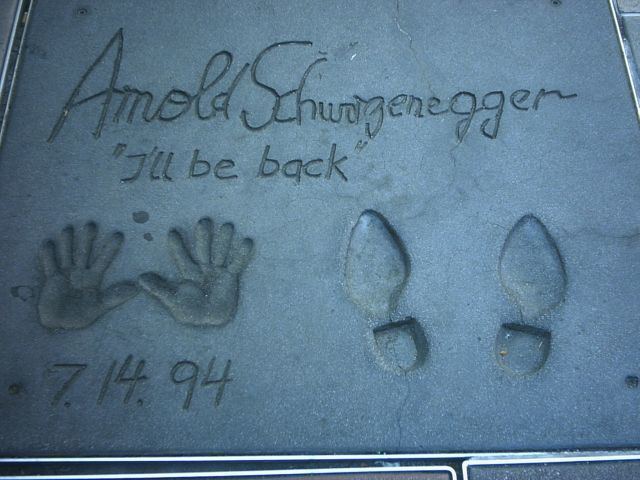 Fig : Footprints and handprints of Arnold Schwarzenegger in front of the Graumans Chinese Theatre
Schwarzeneggers net worth had been conservatively estimated at $100–$200 million. After separating from his wife, Maria Shriver, in 2011, it has been estimated that his net worth has been approximately $400 million, and even as high as $800 million, based on tax returns he filed in 2006. Over the years as an investor, he invested his bodybuilding and movie earnings in an array of stocks, bonds, privately controlled companies, and real estate holdings worldwide, so a more accurate estimation of his net worth is difficult to calculate, particularly in light of declining real estate values owing to economic recessions in the United States and Europe. In June 1997, Schwarzenegger spent $38 million of his own money on a private Gulfstream jet. Schwarzenegger once said of his fortune, "Money doesnt make you happy. I now have $50 million, but I was just as happy when I had $48 million."He has also stated, "Ive made many millions as a businessman many times over."

Schwarzeneggers home town of Graz had its soccer stadium named The Arnold Schwarzenegger Stadium in his honor. It is the home of both Grazer AK and Sturm Graz. After the Stanley Williams execution and street protests in Schwarzeneggers hometown, several local politicians began a campaign to remove his name from the stadium. In response, Schwarzenegger said "to spare the responsible politicians of the city of Graz further concern, I withdraw from them as of this day the right to use my name in association with the Liebenau Stadium", and set a deadline of two days to remove his name. Graz officials removed Schwarzeneggers name from the stadium in December 2005. It is now officially titled UPC-Arena.
The Sun Valley Resort has a short ski trail called Arnolds Run, named after Schwarzenegger in 2001. The trail is categorized as a black diamond, or most difficult, for its terrain.
People in Thal, Austria, celebrated Schwarzeneggers 60th birthday by throwing a party. Officials proclaimed "A Day for Arnold" on July 30, 2007. The mayor sent Schwarzenegger the enameled sign, Thal 145, the number of the house where Schwarzenegger was born, declaring "This belongs to him. No one here will ever be assigned that number again"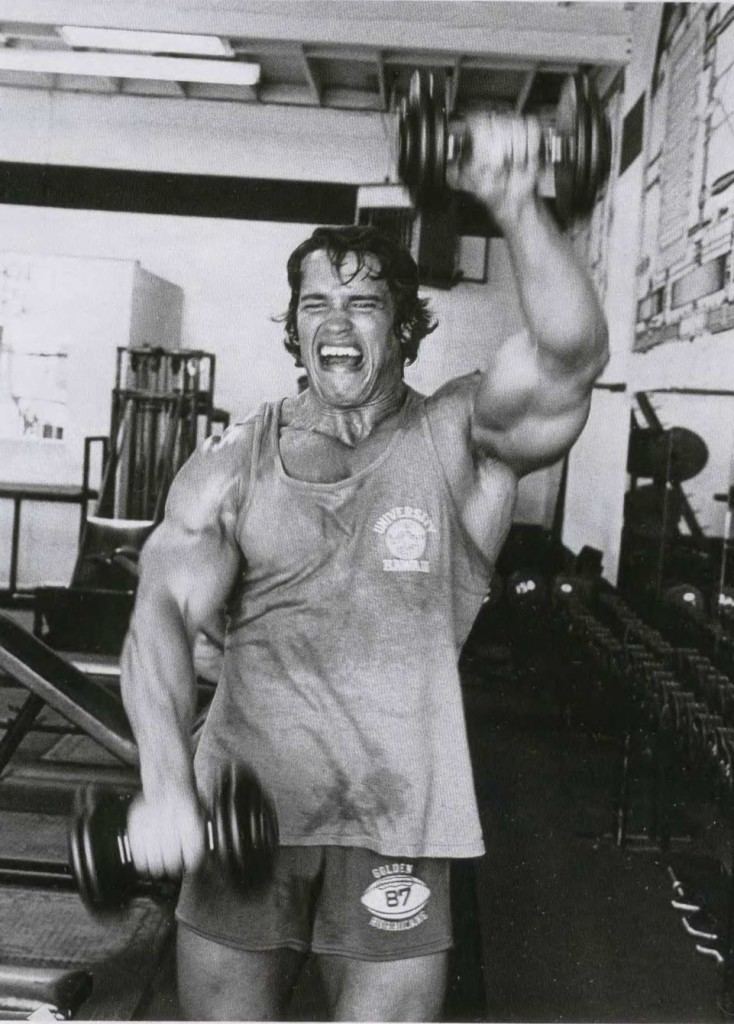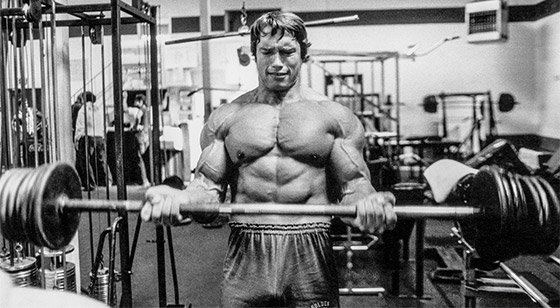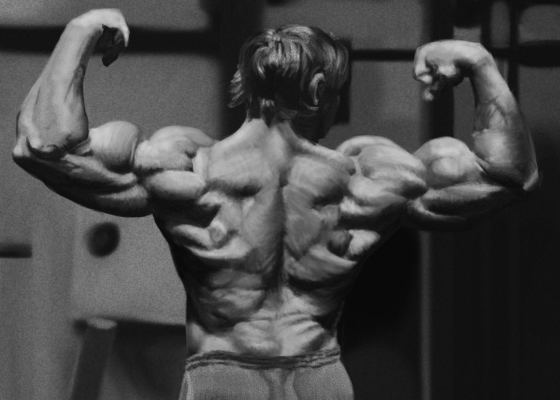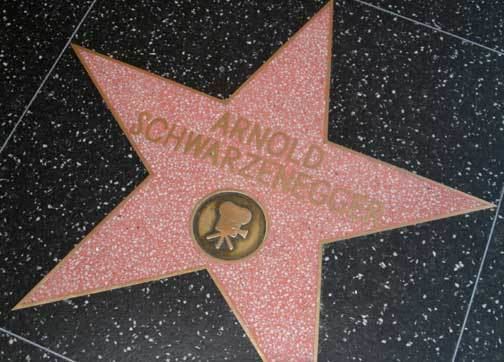 Fig : Arnold Schwarzeneggers star on the Hollywood Walk of Fame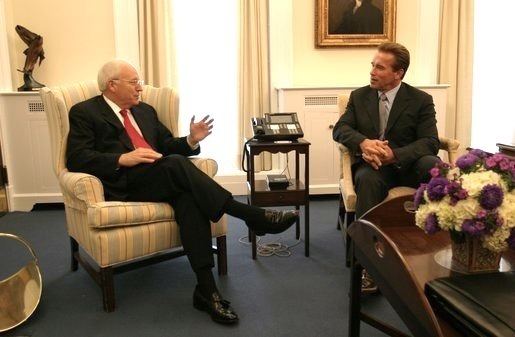 Fig : Vice President Dick Cheney meets with Schwarzenegger for the first time at the White House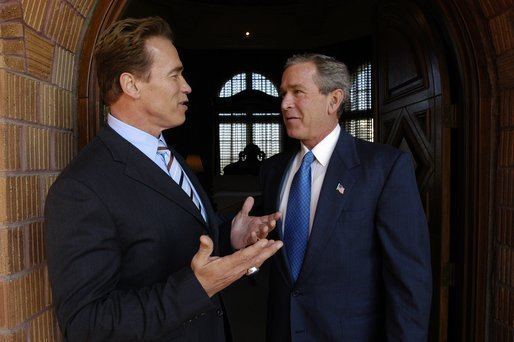 Fig : President George W. Bush meets with Schwarzenegger after his successful election to the California Governorship
Fig : With Schwarzenegger and Senator Dianne Feinstein behind him, President George W. Bush comments on wildfires and firefighting efforts in California, October 2007
Fig : A 9-foot-tall (nearly 3-meter-tall) statue depicting Arnold Schwarzenegger at the height of his bodybuilding career has received a final critique by the former Mr. Universe before being sent for bronzing.
Fig : Governor Arnold Schwarzenegger Congratulates Armenian American Community on Armenian Independence Day. Published on Sep 24, 2010 by Divan of the Diocese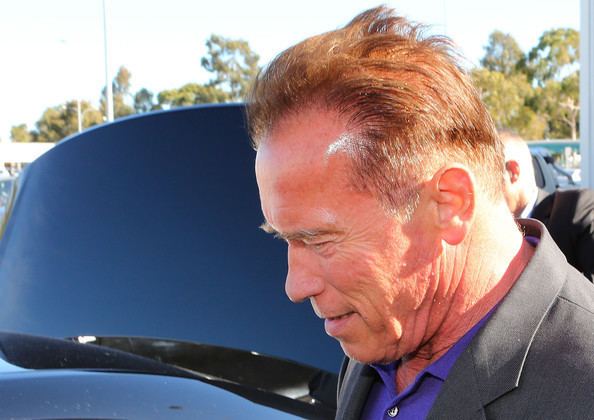 Fig : Arnold Schwarzenegger
in Perth on June 12, 2013
Australia.