AB de villiers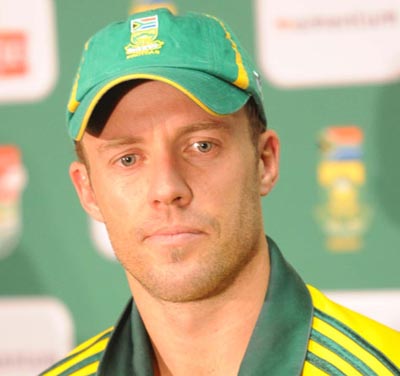 Today he is considered the best fielder in the South African side since Jonty. AB de Villiers did not become a champion overnight. His is a very inspiring story. He is one of the most able batsmen in world cricket (ranked 1 in Test cricket and 5 in ODI cricket), and he can boast of probably the fastest reflexes on the field among all cricketers of the present time.
But he is as humble a person as you will ever find. Few people know that was an extremely talented sportsperson when he was young, in numerous sports other than cricket as well. He has the image of performing better under pressure, which can be traced back to the childhood atmosphere that he had that rendered him thus.

Learn more about his statistics at AB de Villiers
Early Days
Born in Pretoria, he was exposed to a competitive environment of sport right from the age he started playing. This was provided by the people he played with- his two older brothers Jan and Wessels, and by Martin van Jaarsveld, a friend who later represented South Africa internationally as well.
These people were in no mood to give him any freebies. Whatever he achieved at that age in any sport, be it in cricket, rugby or tennis, it had to be got through cut-throat competition. This was the foundation for the de Villiers of today who plays so well under pressure.
He recalls, "I had to carry the water and, after a long day, they would finally give me my chance. I was a little boy and they were all in matric. They would try to intimidate me. The bat was actually too heavy for me, and I would rest it on the dustbin while they were walking back to their mark," he says. "They battled to get me out and they would get so frustrated that they'd bowl a couple of beamers at me to see what I would do. Saturday games at our house in Bela Bela were very competitive. My brothers were merciless. They were monsters. There were always a lot of tears—usually mine."
Sport ran in his family. Both his father and mother played, so did his brothers. So it was only natural that he did something in sports too. He recalls having played something almost every day of his life, right from his childhood days.
First Love
It wasn't cricket. That's right. It was tennis that he first took an immense liking to before he was attracted to team sports like cricket and rugby to leave tennis behind.
He participated in numerous U-9 tournaments and even defeated Izak ven der Merwe in his first ever competitive game, a player who would go on to represent South Africa in tennis later. AB played tennis till the age of 13 before he gave it up for want of time and his better liking for other sports.
High School
This was a defining moment in his life when he got into the famous Afrikaanse Hoer Seunskool, a premier sporting institution in South Africa, at the age of 13. He didn't have a favourite sport yet, and decided that he might consider entering professional cricket from the moment he was selected into the South African Colt team when he was 16.
Jacques Rudolph and Faf du Plessis were in the same school as well, which boasts of having produced some great sportspersons over the years. Here in this school he found an ideal environment for nurturing his talents, and the discipline enforced by his coaches and mentors went a long way in shaping his personality as a player. He was even coached by former SA test wicket-keeper Denis Lindsay who taught him all professional about wicket-keeping.
He was part of the U-14 cricket team at school. He tried his hand at golf and got a scratch handicap in it, too. He participated in rugby as well, which was the most followed sport at his school. He had a natural talent for anything that was a sport. He once had a flair for hockey, and made it to the U-16 side of the school that did really well during the time he was a member.
He returned to play rugby when he stopped with hockey, and it took him very less time and some good luck to feature in the top rugby team of his school, the 1st XV of the Affies. He performed extraordinarily well and was selected for the Blue Balls U-18 side, which had some big names that would later represent South African rugby.
Other than that, he created swimming records in school and pursued badminton and played at the U-19 level also. Basically any sport that he played, he excelled. He recalls that he, along with his brothers, used to run up and down a hill near his house when there was nothing else to play. These early activities were what made him so naturally good for any sport that he attempted to play in school.
Professional Cricket
It was just a matter of choosing one sport out of the lot. He did focus more of his attention to cricket after he left school. Destiny was probably at work here as well, because he was spotted by the Titan's coach Dave Nosworthy while he was playing for the SA U-19s, who straightaway invited him to play for the Titans, seeing his talents.
He got his first opportunity to play really soon, when Canada toured South Africa and he was part of the side, although a controversial selection seeing that he was only 19 at that time. But he scored a century playing in the game, as if by habit of grabbing an opportunity when the right one presented itself, which was a constant highlight of his early life.
Following this, he signed a contract with the Titans at the insistence of Nosworthy who told him to move away from University cricket and consider cricket as a career. He made four consecutive fifties in his first four provincial innings. He even scored some big hundreds as part of the Carrickfergus Cricket club of Ireland, after which he was started being talked about everywhere and soon got a call from the South Africa A team.
Coincidentally, South Africa was not doing so well at that time and the selectors were looking to bring in fresh talent to the side. Sure enough, de Villiers was spotted and he made his Test debut in December 2004 against England at Port Elizabeth, and his ODI debut 2 months later against the same opposition.
He is now an integral part of the South African side in all formats. He has kept wickets since Boucher retired as well. To sum it up, de Villiers is a magic spell that happened to South African cricket. He says, "Success is 99% self-belief. You have to be confident in your abilities. And hard work comes naturally if you have a passion for something."
Life outside cricket
He is married to Danielle Swart, his girlfriend for 6 years, who he met for the first time on her father's farm outside Bela Bela in Limpopo. She accompanied him to watch him as he took part in the latest edition of the IPL, in which he plays for the Royal Challengers Bangalore.
When asked about whether his love for the game would make him play the game for so long as he turns 40, he had this to say, "No. Not to 40. There is no chance. I think there is more to life than just playing cricket for 25 years. I will definitely find the right time to retire. When I start my family I am definitely going to retire. I am not going to wait till I am 40."
He has a certain interest in music too. Along with his friend Ampie du Preez, he even released a song titled 'Show them who you are', which became really popular and was sung as an anthem when South Africa triumphed against Australia in 2009.

Cricket career
De Villiers became the second youngest and second fastest South African to reach 1000 test runs after Graeme Pollock and in his test career so far has batted, bowled and kept wicket as well. He is a talented sportsman and has excelled in golf (playing off scratch despite playing infrequently, rugby, cricket and tennis. However, he chose to pursue a career in cricket and, after a spell in the South Africa U19 team, he made his debut for the Titans in 2003/4. He also played for Carrickfergus Cricket Club in Northern Ireland as their overseas player in 2004.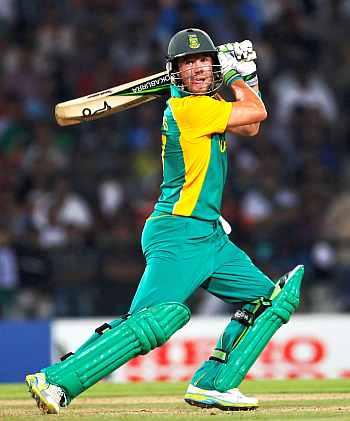 He made his test debut as a 20-year-old on 16 December 2004 against England at Port Elizabeth. He made an impression opening the batting, but was dropped down the order for the second test and also handed the wicket-keeping gloves. In this match, he made a match saving half century from number seven. However, he found himself at the top of the order again for the final test of the series and has played the majority of his tests there.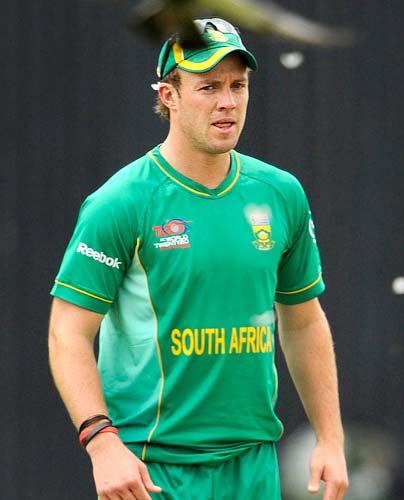 Despite a good tour of the Caribbean where he scored 178 to help South Africa seal a test series win, his rapid progress was halted on the tour of Australia in 2005. Despite playing Shane Warne well, he struggled and made just 152 runs in 6 innings.

He has been used in a similar fashion to Jonty Rhodes in ODIs, opening the innings, although he currently bats in the middle order. The 2005 ODI tour to India represented a coming of age for De Villiers as a cricketer as he scored his second ODI half century on 24 October 2006, batting 5th in a partnership with Mark Boucher, playing against an impressive Sri Lankan side. De Villiers gave the selectors a sign by producing his then highest one-day score of 92 not out, which included 12 fours and one six, from 98 balls against India in the 2006 winter series.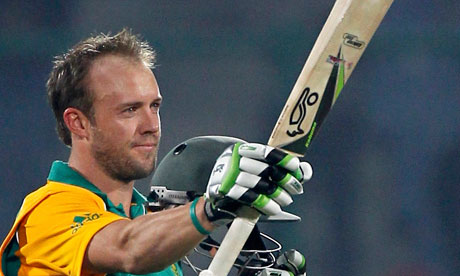 De Villiers has a reputation as an outstanding fielder, typified by a diving run-out of Simon Katich of Australia in 2006, when he dived to stop the ball, and while still lying on his stomach facing away from the stumps, he tossed the ball backwards over his shoulder and effected a direct hit. This has also led people to make further comparisons of him to Jonty Rhodes as he was also one of the finest fielders of his generation.

In 2009 he was nominated as ICC Cricketer of the year and ICC Test Player of the year.

On 6 June 2011, then S.A. coach Gary Kirsten announced that AB de Villiers will be South Africas new limited-overs captain, at a news conference. "Im very excited but Im also inexperienced. But Ive learnt a lot the last seven years from an unbelievable captain," said De Villiers, who has never captained a team at first-class level. "Its a big responsibility, but therell be a fresh look in the side, which is good."

World Cup 2007
Competing in the 2007 Cricket World Cup he was in career best form in ODIs having scored four 50s during the South Africa vs India/Pakistan (2007) matches.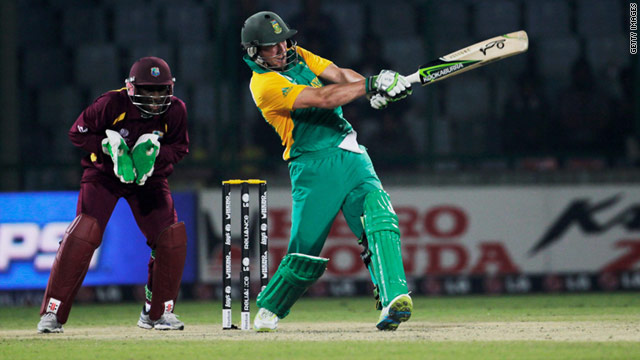 In the early stages of the tournament his form was poor with three failures including a duck against the Netherlands in a match where his team broke various records for batting. His talent was shown by a 92 in the first round against Australia which was scored in a high-pressure situation. Indeed it was around the time De Villiers got out (run out from the boundary by Shane Watson) when South Africa lost their rhythm and went on to lose the game.

His highest innings to date in ODIs came in the Super 8 game against West Indies on 10 April 2007. He made his maiden ODI hundred, 146 from just 130 balls including 5 sixes and 12 fours. This was despite batting with a runner for the latter stages of his innings and seemingly finding every shot painful due to a combination of cramps, heat exhaustion and dehydration. His innings consisted of a second wicket partnership of 170 with Jacques Kallis and a third wicket partnership of 70 with Herschelle Gibbs the latter of which was dominated by De Villiers batting on one leg. De Villiers innings helped set up a total of 356/4 from 50 overs.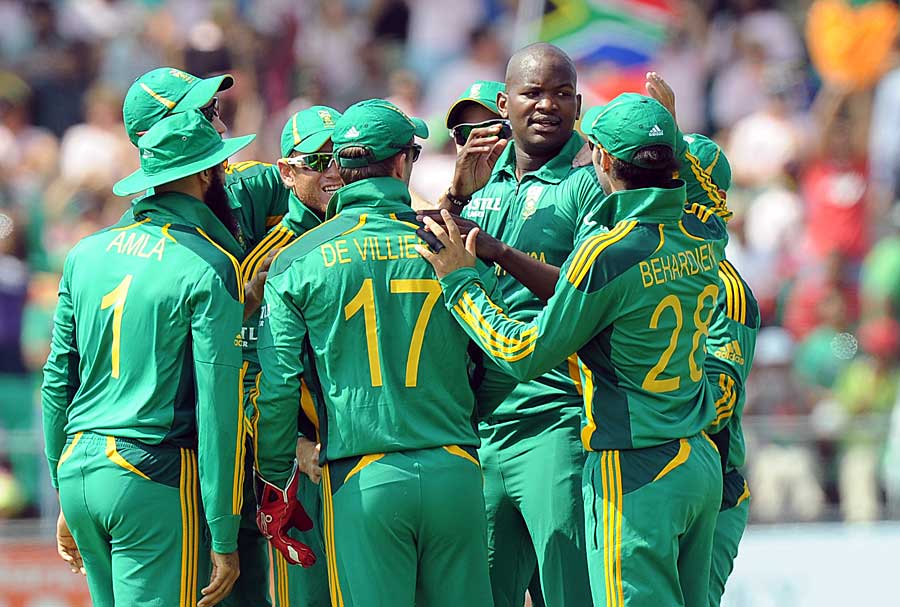 His batting during the world cup was thus at the peaks of both sides since he had also failed to score on 4 occasions, a record in and of itself

Indian Premier League-IPL
A delightfully brutal batsman, a more than decent wicket-keeper and an agile fielder that can put an acrobat to shame – there are very few things (if any) that Abraham Benjamin de Villiers cannot do on a cricket field. Yes, he also has two Test wickets to his name. South Africa's limited-overs captain was a key player in the Delhi Daredevils' middle order in the first three editions of the IPL. He was bought by the Royal Challengers Bangalore for USD 1.1 million at the IPL Player Auction 2011. Since then, he has joined hands with Chris Gayle in tearing bowling attacks apart with utter disdain. During the 2012 season when playing the role of a finisher, he snatched wins out of the jaws of defeat. He unearthed some outrageous shots to incredible effect and in one over, smashed Dale Steyn for 23 – two fours and sixes each – to win RCB a thriller. The menace of de Villiers continued in the next season which led the RCB management to retain him ahead of the 2014 IPL Player Auction.
In the fourth season of Indian Premier League, he was contracted by Royal Challengers Bangalore for US$1.1 million. He played for the Delhi Daredevils in the previous seasons.
ICC World Cup 2011
AB de Villiers scored two successive centuries in the 2011 World Cup. He became the first South African to score two centuries in a single World Cup and the fifth batsman after Mark Waugh, Saeed Anwar, Rahul Dravid and Matthew Haydento score two consecutive centuries in a single World Cup tournament. He also became the 16th batsman to score two or more centuries in one World Cup tournament. AB de Villiers strike rate of 136.73 is the highest among South African batsmen who have scored centuries in World Cup matches. With his third player of the match award in World Cups, de Villiers is joint second with Jacques Kallis on the list of South African players with most match awards in World Cups. Lance Klusener heads the list with five awards.
2011–12
In the 2011–12 South African summer, de Villiers featured in the home series against Australia and against Sri Lanka. In the latter, he scored a century (160 not out) in South Africas win in the third and deciding Test of the series. He was named the "Player of the Series", having scored 353 runs at an average of 117.66.He then led South Africa for his first series since being appointed captain of the One Day International team. In his first match as captain, South Africa inflicted the heaviest defeat in Sri Lankas history, with a 258-run win in Paarl on 11 January 2012.It was also the largest margin of victory (by runs) in an ODI match between two Test-playing teams.South Africa went on to win the ODI series, and De Villiers was named player of the series, having scored 329 runs at an average of 109.66,including a century (125 not out) in the fifth and final match in Johannesburg. On 10 July, De Villiers was handed full-time wicketkeeping duties after Mark Boucher announced retirement from cricket after suffering eye injuries from a hit from a bail the day before.

2013
On 4 February 2013, at the end of the Proteas first test match against Pakistan, played at the Wanderers, the big electronic scoreboard displayed:
"AB de VILLIERS now equals the world record for the most dismissals in a Test match (11 dismissals) Currently held by RC Russell Eng v SA Jhb 95/96"

He also scored an unbeaten 103 off 117 balls in South Africas second innings. In the process, he became the first wicketkeeper to score a century and claim 10 dismissals in a Test.
On 18 March, during the third ODI match of Pakistans tour of South Africa at Johannesburg, De Villiers and Hashim Amla shared the record for the highest third wicket partnership in an ODI when they scored 238. De Villiers scored 12 fours and 3 sixes, and a total of 128.
South Africas Young Talented Batsmen & the hidden legend