Ajay Singh Deol popularly known as Sunny Deol was born to actor Dharmendra and Prakash Kaur. Sunny began acting with super hit film Betaab (1983) which was a love story also featuring another new comer Amrita Singh; this film was a major success and then he goes on making films which portrayed him as Bollywoods best action hero. There is Arjun (1985), Tridev (1989), Ghayal (1990) among others that are too numerous to mention.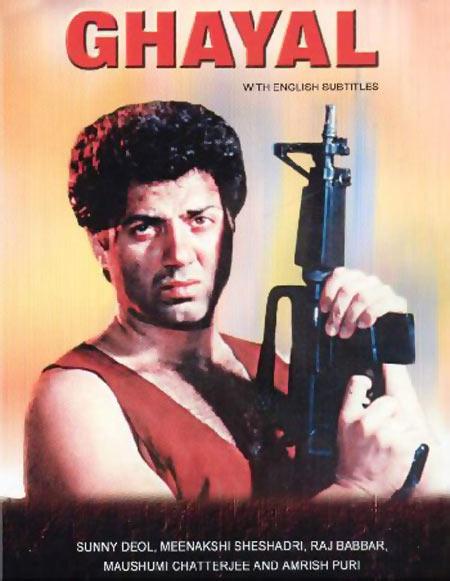 Ghayal was a major success action flick which brought Sunny his first award; then he goes on to Damini (1993) featured as best supporting actor as a drunk lawyer and then came Ghatak (1996), Ziddi (1997), Border (1997) among others.

Sunny also strive to be a director with Dillagi (1999) which was not so successful; in the film he acted with his younger brother Bobby Deol. We cannot forget Darr (1993) which he acted opposite Shahrukh Khan; the film that we all know him as not only a good-looking but romantic young man. In the 2000s Sunny also made some remarkable hits, the film Gadar (2001) which displays his acting skills also Apne (2007) and Yamla Pagla Deewana (2011) which he also acted with his brother Bobby and his dad Dharmendra.

Sunny in GADAR




And also not forgetting Heroes (2008) in which we all learn that if everyone tries in life then no one is handicapped. Overall Sunny is a remarkable personality and made a name for himself; hope he continue to progress in future.

Deols first release of 2010 was Right Yaaa Wrong.The film was critically successful, but moderately successful commercially.Yamla Pagla Deewana was Sunnys only release in 2011 and one of the biggest successes of the year

In 2011, he started working in Radhika Rao and Vinay Saprus I Love New Year opposite Tannishtha Chatterjee and in Chandraprakash Dwivedis Mohalla Assi opposite Sakshi Tanwar but for some reasons both films have been delayed. For the first time in his career, Sunny will lend his voice (for Bheem) in the Animated film Mahabharata; produced by Jayantilal Gada of PEN India Pvt Ltd. His future ventures includes Neeraj Pathaks Bhaiyyaji Superhitt (where he plays a double role for the first time),Anil Sharmas Singh Sahab The Great and Rahul Rawails Ghayal Returns .

Some of his famous dialogues

His next film Yamla Pagla Deewana 2 which was release June 2013, which was not appreciated by critics & Viewers. Although his role "Paramveer" was apriciated by everyone.This film earns just US$6.7 million where as Yamla Pagla Deewana earns US$14 million.




In the end of 2013 Sunnys movie Singh Saheb The Great made his fans a bit disappointed. This movie was an average earner. After this Sunny was in news for giving his voice to an animation movie Mahabharta for the character of Bheem.

In 2014 Sunnys first release was Dishkiyaoon

Apart from National Film Awards, Filmfare Awards and other competitive awards which Deol won for his performances throughout the years, he has been awarded several honours for his achievements in the Indian film industry

Sunny Deol has always maintained a low profile in the media about his personal life. He is married to Pooja Deol. The couple have two sons Karan Deol and Rajvir Deol. Karan Deol was an assistant director on the sets of Yamla Pagla Deewana 2 and he also rapped in a song sung by Diljit Dosanjh in the film YPD 2. Karan is to make his Bollywood debut by 2015 in Dharmendras home production.