Years active

2005-present




Website

noladiy.org/thou/




Genres

sludge metal, doom metal


Associated acts

The Body


Past members

Terry Gulino




Origin

Baton Rouge, Louisiana, United States


Members

Mitch Wells, Bryan Funck, Andy Gibbs, Josh Nee, Matthew Thudium, Terry Gulino




Record labels

Robotic Empire, Thrill Jockey, Southern Lord


Albums

Heathen, The Archer & The Owle, Peasant, We Pass Like Night - From Lan, Tyrant


Similar

Emma Ruth Rundle, The Body (band), Full of Hell (band)
THOU - Through The Empires Of Eternal Void EP [FULL ALBUM] 2009
Thou is an American sludge metal band formed in Baton Rouge, Louisiana in 2005. The current line-up of the band consists of Bryan Funck (vocals), Andy Gibbs (guitar), Matthew Thudium (guitar), Mitch Wells (bass) and Josh Nee (drums).
Contents
History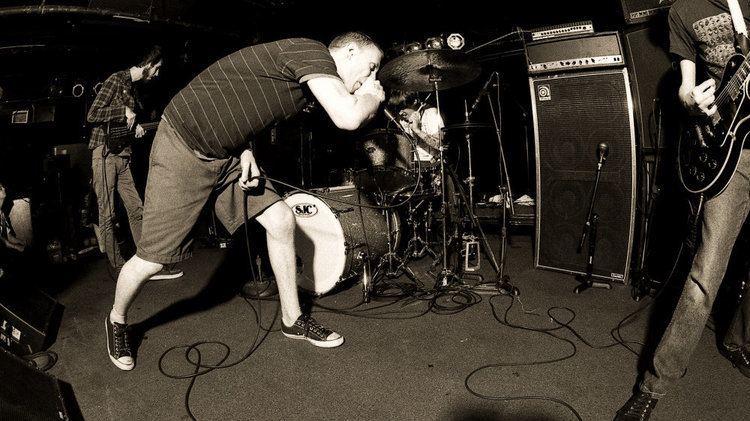 The band was formed by guitarists Andy Gibbs and Matthew Thudium, bassist Mitch Wells, and drummer Terry Gulino. Thou released their first full-length effort, Tyrant, in 2007 after the arrival of the vocalist Bryan Funck. These were followed by their second studio album Peasant in 2008 and a string of EPs, including Malfeasance Retribution EP (2008), The Retaliation of the Immutable Force of Nature (2008), Through the Empires of the Eternal Void (2009) and Baton Rouge/You Have Much to Answer For (2010). Their third full-length album, Summit was released in 2010.
The band's fourth studio album, Heathen, released in 2014, was met with critical acclaim. This album marked the first time in the band's career that the band had featured cleanly sung vocals from collaborator Emily McWilliams. The album was named the best metal album of 2014 by music website Pitchfork. Thou has toured with and collaborated frequently with fellow sludge metal band The Body, whom they most recently collaborated with on the album entitled, You, Whom I Have Always Hated.
Style and artistry
Thou's style has been labeled as "experimental doom", stoner metal and sludge metal. On the band's style, Allmusic critic Gregory Heaney stated that "the band's sound blends the shuddering heaviness of doom with the oppressive atmospherics of black metal, giving the band a monolithic sound that feels, at times, inescapable."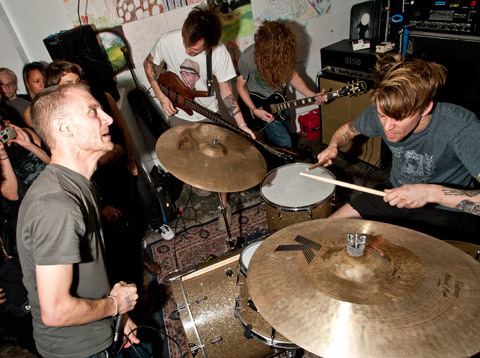 Thou has taken a DIY approach to touring which has become a defining characteristic of the band and its aesthetic. Thou also has covered artists from various rock music genres, including Nine Inch Nails' "Terrible Lie" (with The Body) and Nirvana songs "Something in the Way", "Sifting", and "Aneurysm"
Band members
Current members
Bryan Funck – vocals (2007–present)
Andy Gibbs – guitar (2005–present)
Matthew Thudium – guitar (2005–present)
Mitch Wells – bass (2005–present)
Josh Nee – drums (2010–present)
Former members
Terry Gulino – drums (2005–2010)
Discography
Studio albums
Tyrant (2007)
Peasant (2008)
Summit (2010)
Heathen (2014)
You, Whom I Have Always Hated (collaborative album with The Body) (2015)
EPs
Malfeasance-Retribution (2008)
To Carry a Stone (2008)
The Retaliation of the Immutable Force of Nature (2008)
Through the Empires of Eternal Void (2009)
Baton Rouge, You Have Much to Answer For (2010)
Big City (2011)
To the Chaos Wizard Youth (2011)
The Archer & The Owle (2011)
Released from Love (collaborative album with The Body) (2014)
The Sacrifice (2014)
Compilation albums
Oakland (2010)
Rendon (2010)
Ceremonies of Humiliation (2014)
Algiers (2014)
Demos
Call No Man Happy Until He Is Dead (2005)
Demo (2007)
Compilation contributions
"Milk It" (originally by Nirvana; tribute album In Utero, in Tribute, in Entirety) (2014, Robotic Empire)
"Endless, Nameless"/"Even In His Youth" (originally by Nirvana; tribute album Whatever Nevermind) (2015, Robotic Empire)
"Eyehatethou" (Adult Swim Singles 2015) (2015, Adult Swim)
"Floyd the Barber" (originally by Nirvana; tribute album Doused in Mud, Soaked in Bleach) (2016, Robotic Empire)
Songs
Sweat LeafThrough the Empires of Eternal Void · 2009
The Wheel Weaves as the Wheel WillsYou - Whom I Have Always Hated · 2015
Smoke PigsOakland Singles · 2009

References
Thou (American band) Wikipedia
(Text) CC BY-SA