Country of origin

United States

Starring

Sterling K. BrownKenneth ChoiChristian ClemensonCuba Gooding Jr.Bruce GreenwoodNathan LaneSarah PaulsonDavid SchwimmerJohn TravoltaCourtney B. Vance

Original release

February 2 (2016-02-02) – April 5, 2016 (2016-04-05)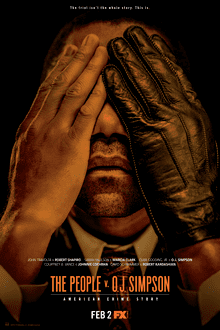 The People v. O. J. Simpson: American Crime Story is the first season of the FX true crime anthology television series American Crime Story. The season, which debuted on February 2, 2016, revolves around the infamous O. J. Simpson murder case and is based on Jeffrey Toobin's book The Run of His Life: The People v. O.J. Simpson (1997).
Contents
The People v. O.J. Simpson was acclaimed, receiving praise for most of the performances, directing and writing. For the 68th Primetime Emmy Awards, the season received 22 Primetime Emmy Award nominations, in 13 categories, winning nine, more than any other show including Outstanding Limited Series. It also won the Golden Globe Awards for Best Miniseries or Television Film and Best Actress – Miniseries or Television Film for Sarah Paulson.
Main
Sterling K. Brown as Christopher Darden
Kenneth Choi as Judge Lance Ito
Christian Clemenson as William Hodgman
Cuba Gooding Jr. as O. J. Simpson
Bruce Greenwood as Gil Garcetti
Nathan Lane as F. Lee Bailey
Sarah Paulson as Marcia Clark
David Schwimmer as Robert Kardashian
John Travolta as Robert Shapiro
Courtney B. Vance as Johnnie Cochran
Guest
Connie Britton as Faye Resnick
Marguerite Moreau as Laura McKinny
Kwame Patterson as Michael Darden
Romy Rosemont as Jill Shively
Angie Patterson as Paula Barbieri
Duane Shepard Sr. as Mr. Darden
Beau Wirick as Allan Park
Reviews
The first season of American Crime Story has received acclaim from critics. The review aggregator Rotten Tomatoes gave the season an approval rating of 97%, based on 64 reviews, with an average rating of 8.6/10. The site's critical consensus reads, "The People v. O. J. Simpson: American Crime Story brings top-shelf writing, directing, and acting to bear on a still-topical story while shedding further light on the facts – and provoking passionate responses along the way." On Metacritic, the season has a score of 90 out of 100, based on 43 critics, indicating "universal acclaim".
Many critics singled out many cast members for the performances, particularly Paulson and Vance. Dan Feinberg of The Hollywood Reporter praised the performances of Paulson and Vance, writing: "As Clark's discomfort grows, Paulson's collection of tics seem more and more human, [...] Vance's Cochran is sometimes hilarious, but he has a dynamic range such that he's occasionally introspective and always intelligent as well." Brian Lowry of Variety praised the casting of the smaller roles, particularly Connie Britton as Faye Resnick and Nathan Lane as F. Lee Bailey.
Despite the praise for the rest of the cast, Travolta and Gooding's respective portrayals of Shapiro and Simpson have been met with mixed reviews by critics. Brian Lowry of Variety called Travolta "awful" in the role, adding: "Yes, Shapiro spoke in stiff, measured tones, but the actor's overly mannered line readings turn the attorney into a buffoon, in sharp contrast to the more nuanced portrayals around him." Nicole Jones of Vanity Fair called his performance "campy and calculated." Dan Feinberg of The Hollywood Reporter also criticized his performance, calling it "a mesmerizingly bad performance from the eyebrows down." He also wrote that "His unnecessary accent varies by episode, and Travolta's laser intensity feels arch and almost kabuki at times, turning Shapiro into a terrifying character from the next American Horror Story installment, rather than a part of this ensemble." Maureen Ryan of Vanity Fair, conversely, became more impressed with Travolta as the season progressed: "I started in the realm of puzzled disbelief, arrived at amusement, and ultimately traveled to a place of sincere appreciation. You simply can't take your eyes off Travolta, and that is a form of enchantment." Dave Schilling of The Guardian panned Gooding's performance, writing: "his whiny, gravely voice sounds absolutely nothing like the real O.J. Simpson's deep, commanding tones." Michael Starr of New York Post also was highly critical of Gooding's performance, saying that he "portrays Simpson as a hollow, sad-sack cipher who speaks in a high-pitched whine and sleepwalks in a fog he never shakes after being arrested for the brutal double murder of ex-wife Nicole Brown and Ron Goldman. He's a forgettable, annoying presence in what should be a showcase role for Gooding — who, to be fair, is reciting lines written for him, so he can only do so much with the material." On the other hand, Joe McGovern was more positive on Gooding's performance, writing that his casting "takes a risk and pulls it off." In spite of the mixed reviews on their performances, Gooding and Travolta received Emmy nominations. Additionally, Travolta was among the recipients for Outstanding Limited Series, being one of the show's producers.
Reception from individuals involved
Mark Fuhrman, who is portrayed by Steven Pasquale, refused to watch the series and called his portrayal untruthful. In an interview with New York Post, he said "The last 20 years, I have watched the facts dismissed by the media, journalists and the public simply because it does not fit within the politically correct narrative. At this late date, FX is attempting to establish a historical artifact with this series without reaching out to any prosecution sources. In a time when Americans read less and less and investigative journalism is on vacation, it is sad that this movie will be the historical word on this infamous trial. After all, it was 'based on a true story.'"
Marcia Clark praised the series and called Sarah Paulson's portrayal of her "phenomenal." Clark went to the Emmys with Sarah Paulson, who won that night for her performance.
Ron Goldman's father, Fred Goldman, had numerous criticisms of the series. He felt that there was not enough material about Ron, who is only depicted on the show as a corpse. He expressed concern that the generations of people who were too young to understand the events at the time would consider everything to be accurate. Nicole Brown's sister, Tanya Brown, lashed out at the cast members for what she saw as a lack of consultation with the families.
References
The People v. O. J. Simpson: American Crime Story Wikipedia
(Text) CC BY-SA