Covid-19
1990-present




1990




www.thepeacocks.ch




Asian Man Records






Winterthur, Switzerland




...People Like You, Asian Man Records, TV Freak




Hasu Langhart, Simon Langhard, Jürg Luder, Toni Hilber, Michi, David Langhard, Adi Langhart




In Without Knockin', Greatest Hits & Misses, Dem-O-Lition




Punk rock, Rockabilly, Ska




Mad Sin, Mass Giorgini, Demented Are Go, Potshot, Bloodsucking Zombies From Out





Myspace
The Peacocks are a Swiss rockabilly influenced, upright bass driven punk rock band from Winterthur founded in 1990. The trio consists of Hasu Langhart on the guitar/vocals, Jürg Luder on drums, and Simon Langhard on the double bass. Their signature look comprises black 1950s-style suits and pompadour hairstyles. The Peacocks are known for the infectious energy of their live performances.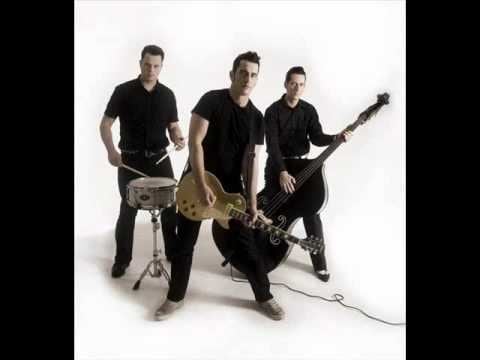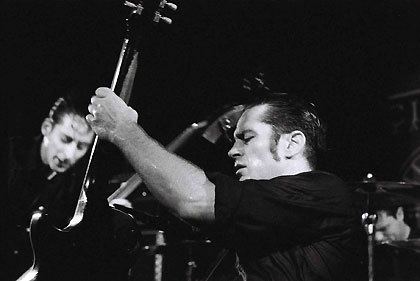 Their original lineup consisted of Hasu on guitar, Adi on drums, and Michi on double bass. Michi was replaced with Hasu's brother Simon and this lineup continued for five years until Toni replaced Adi as drummer. During this time the Peacocks released their first album. In 1997 they began touring Europe, Canada, the US and Japan and were signed up by Asian Man Records. More albums followed. Due to family commitments drummer Toni was replaced with Jurg in 2002.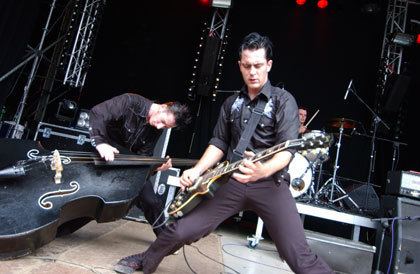 Following their successful 2006 tour the band relocated to the US to record a new album at the Sonic Iguana Studio, Indiana. In 2007 they resumed touring, with positive reviews from fans comparing their sound to Reverend Horton Heat and Rocket From The Crypt.
Don't Ask (2012)
After All (2010)
Touch and Go (2007)
It's time for.... (2004)
Angel (2001)
In Without Knocking (1998)
Come With Us (1995)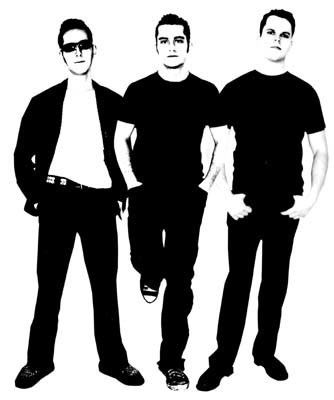 Gimme More (2008)
Sewer Rats (2005 EP)
Turn on the lights (EP)
Potshot (LP)
Anger and Demand (LP)
Good and Honest (EP)
Just Like You (1993 single)
Red Sun (EP)
Greatest Hits and Misses (2006)
Demolition (2005)
Made in Japan (2000)
Mail Order is Still Fun (1999)
Hasu Langhart - vocals, guitar
Simon Langhard - upright bass
Jürg Luder - drums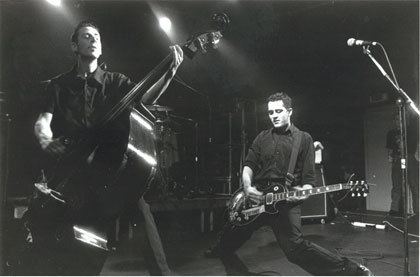 Older Than PunkIt's Time For · 2004
Gimme MoreTouch and Go · 2007
Not Your ManAfter All · 2010

The Peacocks (band) Wikipedia