The Emperor's New School is an American animated television series on Disney Channel, based on the 2000 film The Emperor's New Groove. It follows the adventures of a temporarily-dethroned Kuzco as he completes his education in order to return to the throne, while Yzma, as the school's principal, will stop at nothing to prevent Kuzco from passing all of his classes.
Contents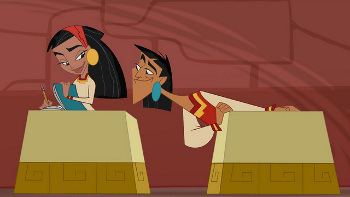 The emperor s new school malina gets a
Premise

The series comes after The Emperor's New Groove, and several episodes mention the events of the movie. The series is likely set in a different continuity from Kronk's New Groove, as in the series Kronk is still working for Yzma and is single, but in the movie he retires as Yzma's lackey and gets married. In addition, in Kronk's New Groove, Yzma has a cat's tail and ears, claiming it was a side effect from her kitten transformation at the end of The Emperor's New Groove, but she does not have a tail or cat ears in the series.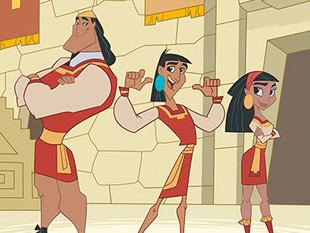 It was revealed in some episodes that the characters are Incas even though the characters use modern-day materials, like a motorcycle, an arcade unit, ATMs, etc. as side jokes. The name of the main character "Kuzco" is derived from the name of the capital of the Inca empire "Cusco".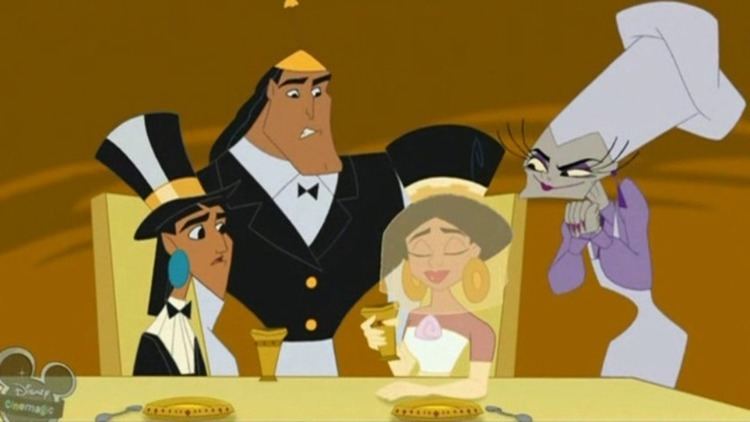 Yzma's plans to stop Kuzco backfire, ending up helping him instead. By the end of the series, Kuzco has grown as a person, wanting Pacha and his family to move into the palace with him, and chose Kronk as his adviser.
Cast and characters
J. P. Manoux – Kuzco
Jessica DiCicco – Malina
Fred Tatasciore – Pacha (Season 1)
John Goodman – Pacha (Season 2)
Wendie Malick – Chicha
Jessie Flower – Chaca
Shane Baumel – Tipo
Eartha Kitt – Yzma/Amzy
Patrick Warburton – Kronk
Curtis Armstrong – Mr. Moleguaco
Bob Bergen – Bucky
Rip Taylor – The Royal Record Keeper
Initially, three original cast members returned to voice their characters for the TV series: Eartha Kitt as Yzma, Patrick Warburton as Kronk, and Wendie Malick as Chicha. Although Fred Tatasciore voiced Pacha in Season 1, John Goodman returned to the role in Season 2.
J. P. Manoux voices Kuzco, a role that he had already performed on The Emperor's New Groove (video game), double voices with David Spade.
Guest stars
Charlie Adler – Keeper
Jeff Bennett – Security Cam
Corey Burton – Ozker, announcers
Brian Cummings – various
Jim Cummings – various
Miley Cyrus – Yatta, Mudka's Meat Hut Waitress
Noah Cyrus – Kid in Crowd in Malina's fantasy sequences
Jason Earles/Justin Cowden – Guaca/Guaka
Rene Mujica – Ramon
Patti Deutsch – Matta the Lunch Lady
Grey DeLisle – Moxie, Yasmin (Teen Yzma)
John DiMaggio – Mr. Nadaempa
Teresa Ganzel Princess Lalala
Estelle Harris – Ms. Mudka
Michael Gough – Imatcha
Jess Harnell – various
Tom Kenny – Kuzco's Cousin, various
Maurice LaMarche – Gizo the Shuaka
Joey Lawrence – Dirk Brock
Candi Milo – Coach Sweetie
Courtney Peldon – Cuxi, Cuca, and Curi
Kevin Michael Richardson – Kavo
Tisha Terrasini Banker – Miss Ni
Rob Paulsen – Nerd
Dylan and Cole Sprouse – Zim and Zam
Ben Stein – Mr. Purutu the Guidance Counselor
Travis Oates – Rudy
Tara Strong – Ashely, Yupi
Dee Bradley Baker – various
Jim Ward – various
Tress MacNeille – Mrs. Upachal, various
Frank Welker – Homework the Kitten/Jaguar and the Creepy Little Old Man, Caretaker at Micchu Pachu
Ellen Albertini Dow – Azma, Yzma's mother
Brenda Song – Dancing queen
John O'Hurley – Editor of Incan Teen Magazine
Gilbert Gottfried – Potion voice
Chloë Grace Moretz – Yuri
Edie McClurg – Obssesia
Episodes
The series ran for two seasons and 52 episodes, and ends with a finale episode that wraps up the plot.
Awards and nominations
Eartha Kitt won the 2007 and 2008 Annie Awards for "Voice Acting in an Animated Television Production" for her performance as Yzma in the episodes "Kuzclone" (2007) and "The Emperor's New Musical" (2008). Eartha Kitt also won the 2007 and 2008 Daytime Emmy Award for her voice performance as Yzma. Jessica DiCicco was also nominated for her voice performance as Malina.
Syndication
The Emperor's New School aired occasionally on Disney XD from February 13, 2009, to October 18, 2012, and has been aired on ABC as part of its ABC Kids lineup from January 28, 2006, to August 27, 2011.
References
The Emperor's New School Wikipedia
(Text) CC BY-SA