Genre

RomanceCrimeAction




Country of origin

South Korea




Directed by

Jang Hang-jun


Original language(s)

Korean


Written by

Jang Hang-junKim Eun-hee




Starring

Park Shin-yangKim Ah-joongJun Kwang-ryulJung Gyu-woonUhm Ji-won




Similar

City Hunter (TV series), A Thousand Days' Promise, The Accidental Couple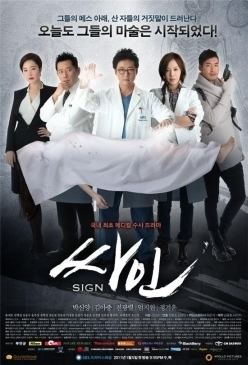 Sign (Hangul: 싸인) is 2011 South Korean television series, starring Park Shin-yang, Kim Ah-joong, Jun Kwang-ryul, Jung Gyu-woon and Uhm Ji-won. It is about the life of forensic doctors. It aired on SBS from January 6 to March 10, 2011 on Wednesdays and Thursdays at 21:55 for 20 episodes.
Contents
Synopsis
The story details the partnership between Go Da-kyung (Kim Ah-joong), a warm-hearted rookie and Yoon Ji-hoon (Park Shin-yang), a high-tempered forensic doctor, who find themselves an unlikely pair for solving cases.
Cast
Park Shin-yang as Yoon Ji-hoon
Kim Ah-joong as Go Da-kyung
Uhm Ji-won as Jung Woo-jin
Jung Gyu-woon as Choi Yi-han
Jun Kwang-ryul as Lee Myung-han
Song Jae-ho as Jung Byung-do
Jang Hyun-sung as Jang Min-suk
Ahn Moon-sook as Hong Sook-joo
Jung Eun-pyo as Kim Wan-tae
Im Ho-gul as Jang Jae-young
Moon Chun-shik as Ahn Sung-jin
Kwon Byung-gil as Goo Sung-tae
Lee Jung-hun as Joo In-hyuk
Kim Kyung-bum as Park Tae-gyu
Jung Seung-ho as Go Kang-shik
Kim Young-sun as Jung Eun-mo
Hwang Sun-hee as Kang Seo-yeon
Park Young-ji as Kang Joon-hyuk
Kim Eung-soo as Chief prosecutor Choi Jung-seop
Yoo Se-rye as Mi-young
Kim Han-joon as Kang Yong-hwa
Oh Hyun-chul as Woo Jae-won
Park Gun-il as Seo Yoon-hyung
Supernova as VOICE (cameo)
Choi Jae-hwan as Ahn Soo-hyun (ep 4-7)
Han Bo-bae as Aki-chan (ep 8)
Kim Sung-won as school principal (ep 8)
Kim Jung-tae as Jung Cha-young (ep 11-13)
Baek Seung-hyeon as Lee Chul-won (ep 12-13)
Jung Da-bin as Da-bin (ep 13-14)
Kim Dan-yool as village kid (ep 13-14)
Yoon Joo-sang as Jung Moon-soo (cameo)
Kim Sung-oh as Lee Ho-jin (cameo)
Kim Min-kyo as policeperson (cameo, ep 1)
Maxine Koo as Chinese CBC reporter (cameo)
Jang Hang-jun as side table guest (cameo)
Yang Taek-jo (cameo)
Jung Mi-jung
Im Seung-dae
References
Sign (TV series) Wikipedia
(Text) CC BY-SA