Created by

Jerry Iger




Creator

Jerry Iger




Movie

Sheena




Alter ego

Sheena Rivington




TV show

Sheena






Publisher

Fiction House primarily




Abilities

Ability to communicate with wild animals Proficient with knives, spears, bows (2000 TV series version) Able shapeshift into any animal she makes eye to eye contact with




Played by

Tanya Roberts, Gena Lee Nolin, Kirsty Lindsay, Kathryn Gant




First appearance

Wags #1 (1937), UK, Jumbo Comics #1 (Sept. 1938), US




Similar

Shanna the She‑Devil, Rulah - Jungle Goddess, Cavewoman, Rima, Ka‑Zar
Sheena, Queen of the Jungle is a fictional American comic book jungle girl heroine, originally published primarily by Fiction House. She was the first female comic book character with her own title, with her 1937 (in Great Britain; 1938 in the United States) premiere preceding Wonder Woman #1 (cover-dated Dec. 1941). Sheena inspired a wealth of similar comic book jungle queens. She was predated in literature by Rima, the Jungle Girl, introduced in the 1904 William Henry Hudson novel Green Mansions. Sheena was ranked 59th in Comics Buyer's Guide's "100 Sexiest Women in Comics" list.
Contents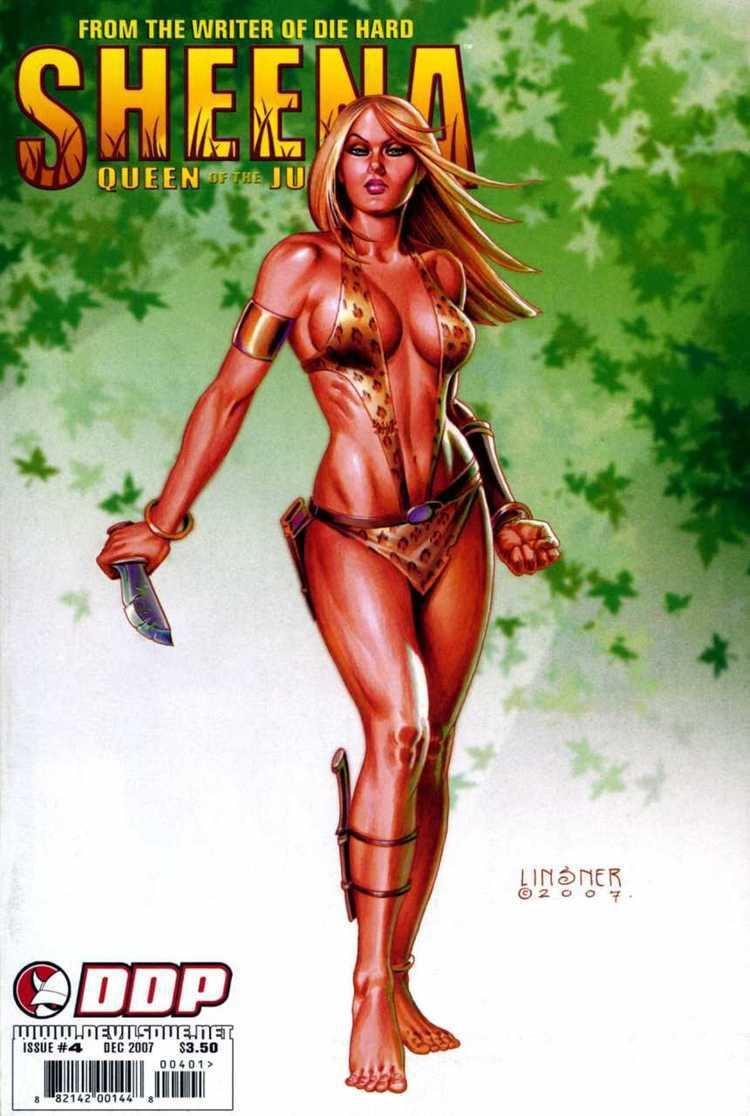 An orphan who grew up in the jungle, learning how to survive and thrive there, she possesses the ability to communicate with wild animals and is proficient in fighting with knives, spears, bows, and makeshift weapons. Her adventures mostly involve encounters with slave traders, evil white hunters, native Africans, and wild animals.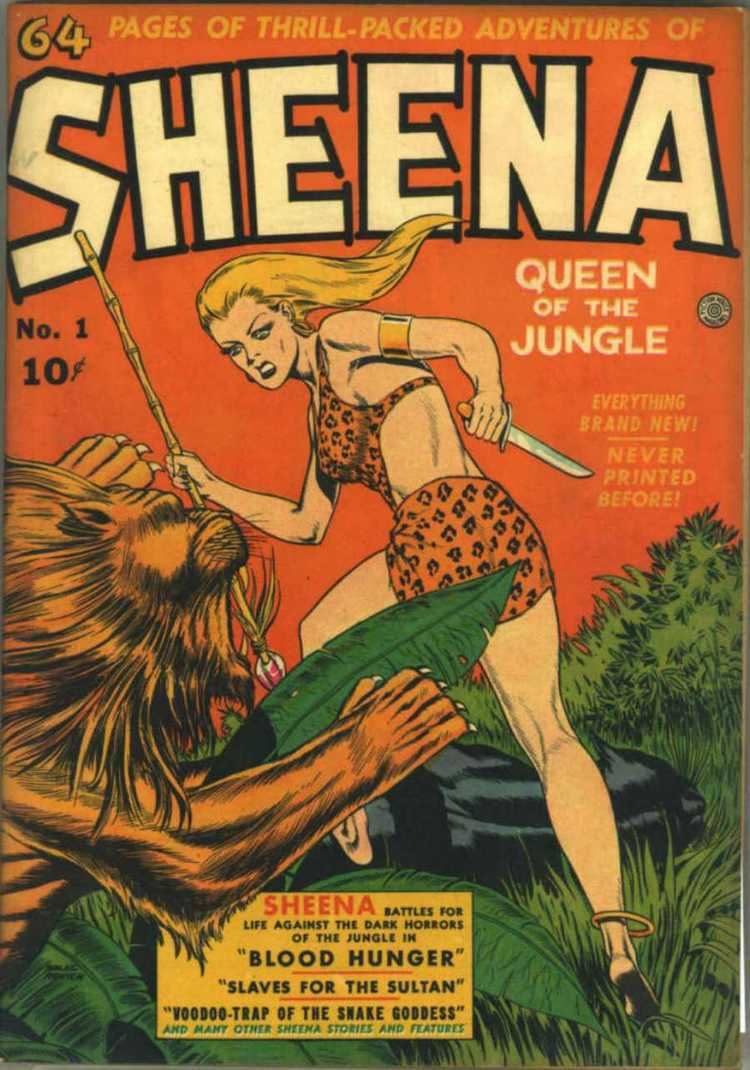 Fiction House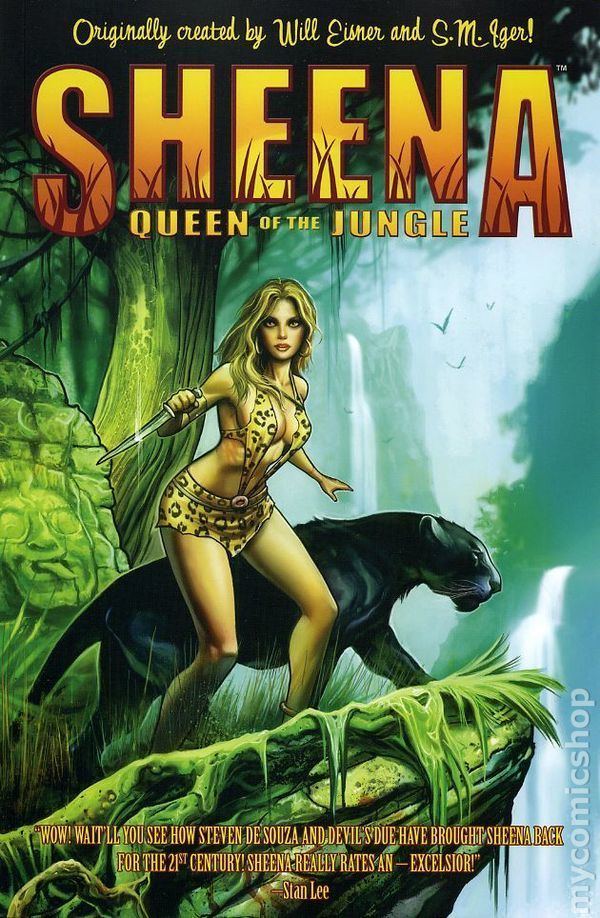 Sheena debuted in Joshua B. Power's British magazine Wags #1, in 1937. She was created by S. M. "Jerry" Iger who ran his own small studio, "Universal Phoenix Features" (UFP), and who commissioned Mort Meskin to produce prototype drawings of Sheena. UFP was one of a handful of studios that produced comics on demand for publishers and syndicates, and whose client Editors Press Service distributed the feature to Wags. Saying he could no longer afford to pay Will Eisner as a freelancer, he co-founded Eisner & Iger, which continued the work of UFP, but Iger bought out Eisner when (according to Iger) Eisner went to produce propaganda for the US Army but other sources say Eisner left so he could create The Spirit. To help hide the fact their studio consisted only of themselves, the duo signed their Sheena strip with the pseudonym "W. Morgan Thomas". Eisner said an inspiration for the character's name was H. Rider Haggard's 1886 jungle-goddess novel She.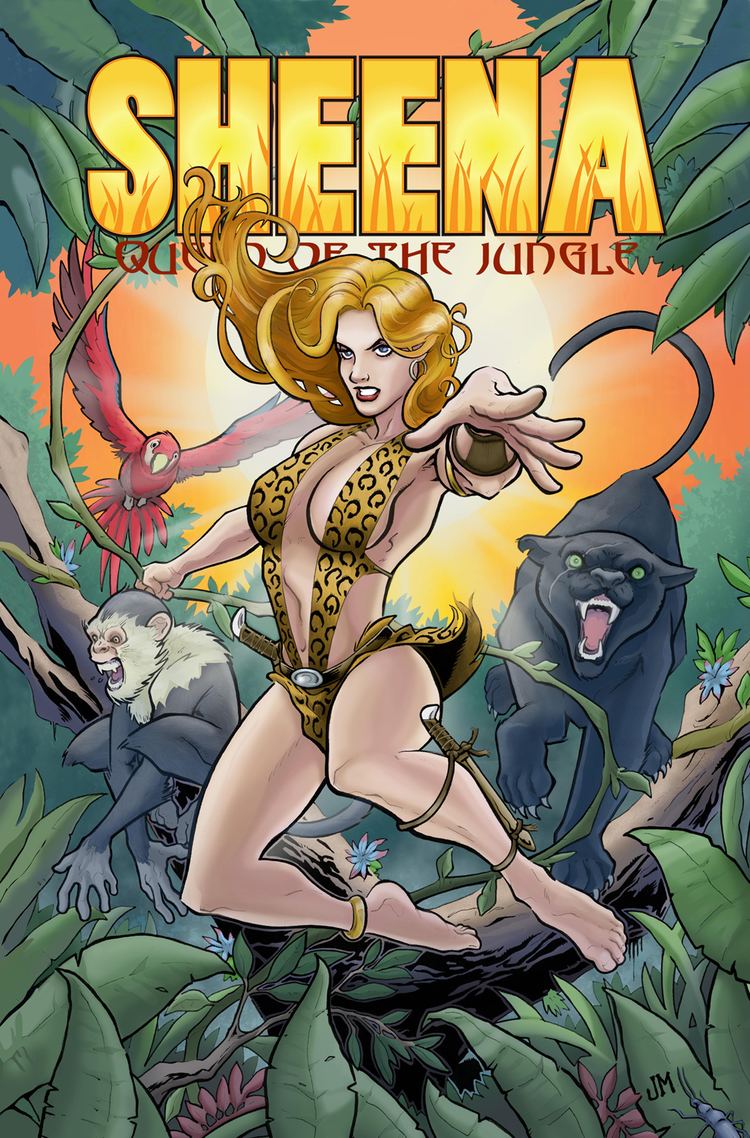 Sheena first appeared stateside in Fiction House's Jumbo Comics #1, and subsequently in every issue (Sept. 1938 – April 1953), as well as in her groundbreaking 18-issue spin-off, Sheena, Queen of the Jungle (Spring 1942 – Winter 1952), the first comic book to title-star a female character. Sheena also appeared in Fiction House's Ka'a'nga #16 (Summer 1952) and the one-shot 3-D Sheena, Jungle Queen (1953)—the latter reprinted by Eclipse Comics as Sheena 3-D (January 1985) and by Blackthorne Publishing as Sheena 3-D Special (May 1985). Blackthorne also published Jerry Iger's Classic Sheena (April 1985).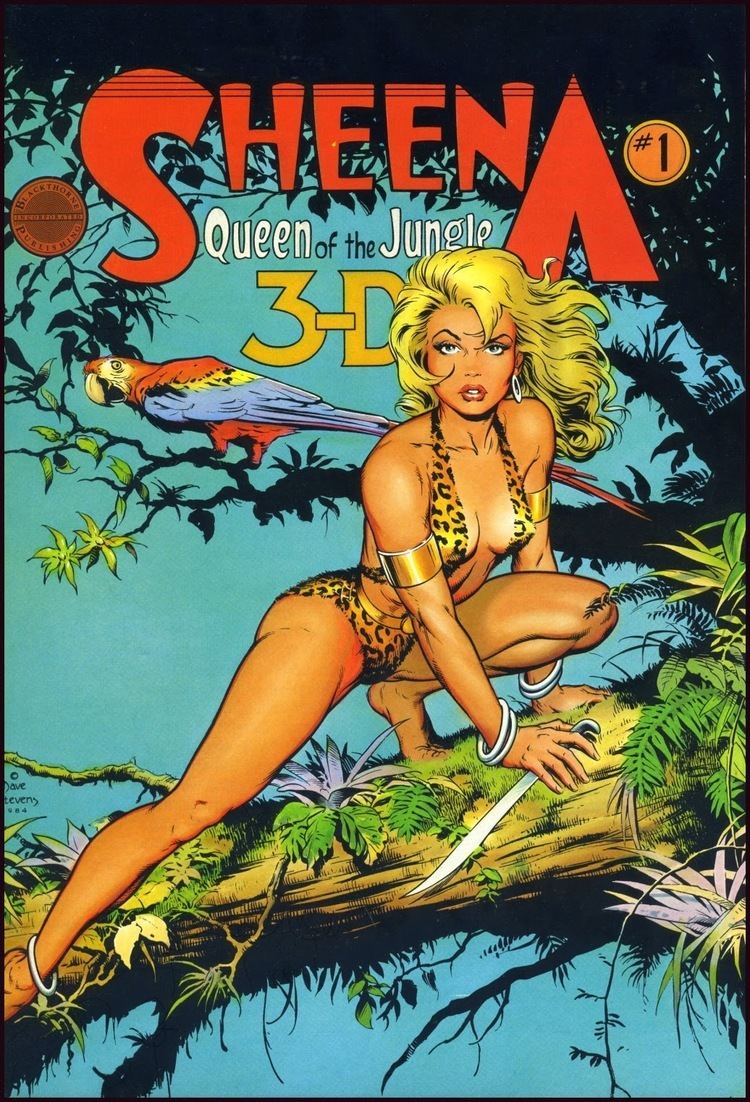 Fiction House, originally a pulp magazine publisher, ran prose stories of its star heroine in the latter-day pulp one-shot Stories of Sheena, Queen of the Jungle (Spring 1951) and Jungle Stories vol. 5, #11 (Spring 1954).
Contemporary appearances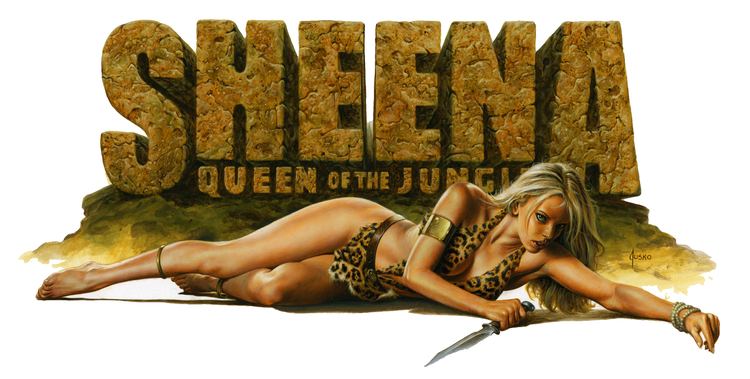 Blackthorne in the 1980s published original Sheena stories in the three-issue series Jungle Comics (May–Oct. 1988). A version of Sheena, transplanted from Africa to South America, appeared in London Night Studios' Sheena, Queen of the Jungle one-shot comic book and subsequent four-issue miniseries (Feb. 1998 – Spring 1999). As well, AC Comics publishes Sheena reprints as well as reprints and some new stories of the jungle femmes that followed in her wake.
Fictional character biography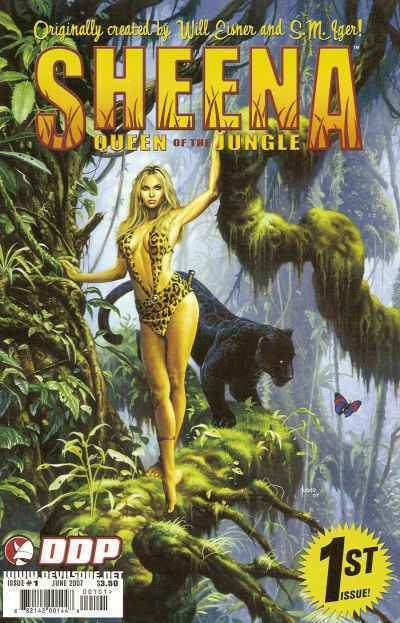 Sheena is the young blond daughter of Cardwell Rivington, who is exploring in Africa with his daughter in tow. When Cardwell dies from accidentally drinking a magic potion made by Koba, a native witch doctor, Sheena is orphaned. Koba raises the young girl as his daughter, teaching her the ways of the jungle and various central African languages. The adult Sheena becomes "queen of the jungle" and acquires a monkey sidekick named Chim.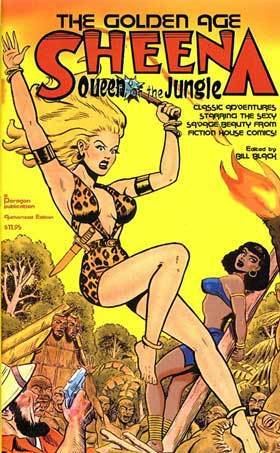 Originally costumed in a simple red dress, by issue #10 of Jumbo Comics Sheena acquired her iconic leopard skin outfit.
In time, Sheena meets a white hunter named Bob Reynolds (alternately called "Bob Reilly" or "Bob Rayburn"), who becomes her mate (and is constant need of rescuing). In later incarnations, Sheena's mate is Rick Thorne.
In other media
Model Irish McCalla portrayed Sheena in a 26-episode TV series aired in first-run syndication from 1955 to 1956. McCalla told a newspaper interviewer she was discovered by Nassour Studios while throwing a bamboo spear on a Malibu, California beach, famously adding, "I couldn't act, but I could swing through the trees". Although the Sheena character was often called "the Queen of the Congo", the TV series clearly located her in Kenya, which is hundreds of miles from the Congo River. Though the character was created in comic books by Will Eisner and Jerry Iger many years earlier, a 1956 New York Times obituary for Claude E. Lapham, a 10-year editor at Fiction House, says, "His story 'Sheena' was the basis for the television story of that name."
A 1984 Columbia Pictures film, Sheena, produced by Paul Aratow starred Tanya Roberts, who had previously co-starred as Kiri in MGM's 1982 movie Beastmaster. Roberts' Sheena had a much-expanded vocabulary from McCalla's (as well as a telepathic connection with jungle animals). Marvel Comics published a comic-book adaptation of the Sheena movie as Marvel Comics Super Special #34 (June 1984), reprinting it as Sheena, Queen of the Jungle #1–2 (Dec. 1984–Feb. 1985).
The Bollywood film industry in India produced a string of uncredited Hindi versions of Sheena, beginning with Tarzan Sundari, also known as Lady Tarzan (1983); Africadalli Sheela (1986); and Jungle Ki Beti (1988).
Sheena was revived by TV syndicator Hearst Entertainment in October 2000, portrayed by Gena Lee Nolin. Sheena was given a new power, in this 35-episode Columbia/TriStar series: the ability to adopt the form of any warm-blooded animal once she gazed into its eyes. She was also depicted as a ferocious killer, capable of becoming a humanoid creature called the Darak'Na; this form killed numerous individuals, though in her regular form she was also seen in numerous episodes stabbing soldiers and other villains to death. As with Tanya Roberts, Nolin's Sheena spoke whole sentences.
The Ramones song "Sheena Is a Punk Rocker" – according to the book Rock and Roll Baby Names – was inspired by Sheena, Queen of the Jungle. The song first appeared on the band's third album, Rocket to Russia, in 1977. A cartoon drawing of Sheena appears on the record sleeve of the LP version.
References
Sheena, Queen of the Jungle Wikipedia
(Text) CC BY-SA