Country of origin

United States




First episode date

11 May 1985




Number of episodes

36




Networks

NBC, FOX, WWE Network






Genre

Professional wrestling




No. of episodes

36




Final episode date

14 November 1992




Theme songs

Obsession, Boom







Created by

Vince McMahon Dick Ebersol




Starring

World Wrestling Entertainment roster




Opening theme

"Obsession" by Animotion (1985–Jan 1988) "Boom" by P.O.D. (2006–2008)




Cast

Hulk Hogan, The Undertaker, John Cena, Randy Savage, Triple H




Similar

WWE Main Event, WWE Saturday Morning, WWF Prime Time Wrestling, WWF Wrestling Challenge, WWF Superstars of Wrestli
Opener wwf snme 7 saturday night s main event
Saturday Night's Main Event was a sports entertainment television program produced by the World Wrestling Federation (now known as WWE). Premiering in 1985, the program originally aired on NBC as an occasional replacement for Saturday Night Live on its weekend broadcast schedule. The program aired on an infrequent basis on NBC until 1991, then aired twice on Fox in 1992 before coming to an end.
Contents
At the time of the original airing it was a rare example of professional wrestling being broadcast on an over-the-air commercial television network after the 1950s. It coincided with and contributed to the apogee of the "second golden age" of professional wrestling in the United States. In a time when weekly programming consisited primarily of established stars dominating enhancement talent, Saturday Night's Main Event was made up almost entirely of star vs. star bouts, including title matches and specialty matches such as steel cage matches, handicap matches, etc.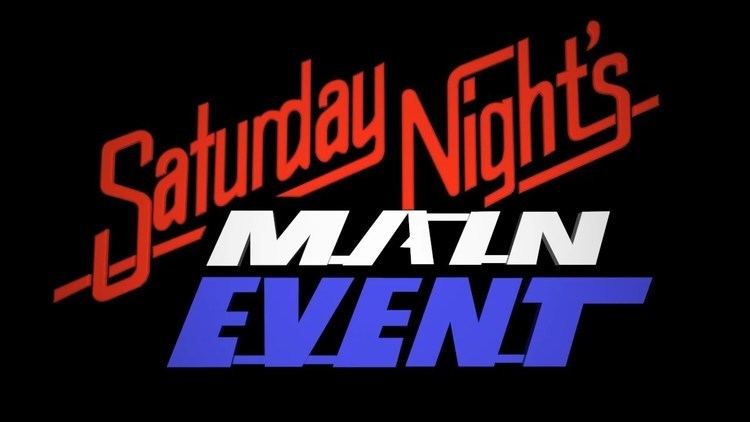 When WWE's flagship show, Raw returned to the USA Network in 2005, Saturday Night's Main Event was revived in 2006 as a "special series" to air on occasion on NBC as part of a deal between WWE and NBC Universal. The Raw, SmackDown, and ECW brand rosters were featured on the show.
All episodes of Saturday Night's Main Event are available for streaming on the WWE Network. However, the episodes on the WWE Network are not 100% original. May 1985–January 1988 episodes do not have the original opening theme by Animotion instead they are dubbed over by the February 1988–April 1991 opening theme. Sponsored segments that aired as part of the original broadcasts such as the "Mountain Dew Slam of the Night" have been removed as well.
Original run (1985–1992)
Saturday Night's Main Event, which was broadcast live, debuted on May 11, 1985 in the late-night time slot normally assigned to reruns of the NBC sketch comedy Saturday Night Live. Then-SNL executive producer Dick Ebersol had made a deal with WWF owner Vince McMahon to produce the show, after Ebersol had seen the high ratings that two WWF specials drew on MTV in 1984–85. Although the show aired infrequently, it did, starting in 1986, settle into a predictable pattern of airdates: New Year's weekend, an episode in late February/early March, an episode in late April/early May, an episode in late September/early October, and Thanksgiving weekend. 1989 and 1990 both offered episodes in July promoted as "Summertime Bonus Editions."
Saturday Night's Main Event was a tremendous ratings success for NBC during its heyday, most notably on the March 14, 1987 show, which drew an 11.6 rating, which to this day remains the highest rating any show has ever done in that time slot. That show was headlined by a battle royal featuring Hulk Hogan and André the Giant, who were slated to face each other at WrestleMania III. As Hogan rarely wrestled on the WWF syndicated and cable television shows, Saturday Night's Main Event was the program on free television where most viewers were able to see him in action. The success of Saturday Night's Main Event led to several Friday night prime time specials, known as The Main Event. The first of these, on February 5, 1988 featured a WrestleMania III rematch between Hogan and André and drew 33 million viewers and a 15.2 rating, which is still the highest-rated television show in American professional wrestling history. While ratings remained strong through 1990, they began to fall shortly thereafter. NBC, who had just acquired the rights to broadcast NBA games nationwide, now started to lose interest in wrestling, and Saturday Night's Main Event was dropped. Its final NBC airing occurred on April 27, 1991. Fox picked up the show in 1992, but it was only shown twice on that network; February 8, 1992 and the final Saturday Night's Main Event of the original run was broadcast on November 14, 1992.
For much of its history, Saturday Night's Main Event was hosted by McMahon and Jesse "The Body" Ventura with the occasional use of Bobby Heenan in 1986 and 1987. In 1990, Roddy Piper replaced Ventura as McMahon's broadcast partner when Ventura left the WWF. On the two episodes that aired on Fox, Heenan served as McMahon's partner. From 1985–1988 the opening theme song for the NBC version was "Obsession" by Animotion with the closing theme being "Take Me Home" by Phil Collins, and also the beginning of "Take on Me" by a-ha was used for show bumpers. In February 1988, the songs were replaced with an original WWF-created instrumental theme. The new instrumental theme was originally used as the theme of the 1987 WWF Slammy Awards. A different opening theme song was used for the February 1992 episode.
Revived run (2006–2008)
Saturday Night's Main Event returned to NBC on March 18, 2006, in a prime-time slot. The opening theme song for the revived run was "Boom" by P.O.D. The final edition took place on August 2, 2008. In 2009, WWE decided to air The 25th Anniversary of WrestleMania and Tribute to the Troops on NBC in lieu of producing more episodes of Saturday Night's Main Event.
VHS release
During the original run, Coliseum Video released two editions of Saturday Night's Main Event: Saturday Night's Main Event's Greatest Hits which contained six matches from 1985-1987 and More Saturday Night's Main Event featuring nine matches from 1988-1989.
DVD release
On February 10, 2009, the WWE released a three-disc DVD set on the history of Saturday Night's Main Event. The set includes more than 30 full matches and several non-wrestling segments. Among these are highlights of Uncle Elmer's wedding, Hulk Hogan's "Real American" music video, and Mr. Perfect smashing Hogan's WWF World Heavyweight Championship belt. The first match in the program's history, a six-man tag team match pitting the The U.S. Express (Mike Rotundo and Barry Windham) teaming with Ricky Steamboat defeating the team of WWF Tag Team Champions Nikolai Volkoff and The Iron Sheik and their partner George "The Animal" Steele, is included as an extra. Also, two of the most famous matches in WWE history are included, both from the program's spinoff The Main Event. The first is a February 1988 rematch from WrestleMania III pitting Hogan against André the Giant, the second a Mega Powers' (Hogan and Randy Savage) bout against the Twin Towers (The Big Boss Man and Akeem) from February 1989. Both had direct implications on each year's WrestleMania: the Hogan-Andre match led to the WWF title being vacated until WrestleMania IV while the Mega Powers-Twin Towers match led to the breakup of the Mega Powers and Hogan eventually defeating Randy Savage to win the WWF title at WrestleMania V.
References
Saturday Night's Main Event Wikipedia
(Text) CC BY-SA