Rodney Darrell Scott (born October 16, 1953), nicknamed "Cool Breeze", was an infielder in Major League Baseball. Primarily used as a second baseman and shortstop, Scott also played third base, designated hitter and outfield during his eight-year career.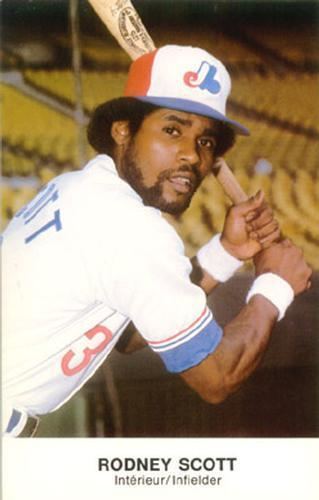 Scott was known mostly for his speed and stole 63 bases during the 1980 campaign, which ranked him third in the National League. He finished with 205 career stolen bases.
Scott was involved in five trades during his career, including three in the span of two weeks. From March 19–29 of 1978, Scott would find himself traded from the Expos to the Texas Rangers, Oakland Athletics, then finally the Chicago Cubs. The Cubs then traded Scott back to the Expos by the end of the year.
Scott finished his career with the Montreal Expos, although he never played any games for them after they signed him as a free agent for the 1983 season.