Robert Obojski (born October 1929) is a writer of over 50 books on baseball, coin and stamp collecting and memorabilia. He is a numismatist. Obojski grew up in Cleveland, Ohio and attended Western Reverse University (now Case Western University); he graduated with a BA in History in 1951, a MA in English in 1952 and his Ph.D in 1955 in American Studies. His dissertation was "Robert Grant: Satirist of Old Boston and Intellectual Leader of the New." His books include Bush League: a History of Minor League Baseball (1975), Great Moments of the Playoffs & World Series (1988), and The Rise of Japanese Baseball Power (1975).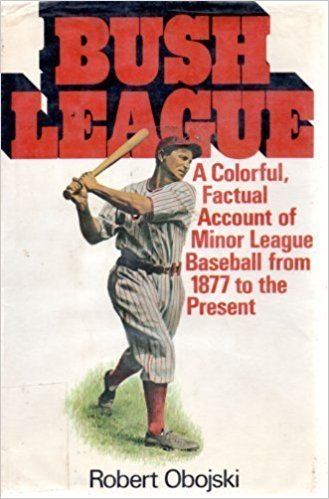 He has also written A First Stamp Album for Beginners (1984) where his famous quote was: "The fact that stamp collecting has long been the most popular hobby in the world, with over 16 million enthusiast in the United States alone, is a good indication of how much fascination and appeal these colorful pieces of gummed paper exert."
Other books written, co-written or edited by Robert Obojski:
Out-of-Left-Field Baseball Trivia: Hundreds of Facts and Figures for the Truly Die-Hard Fan written with Wayne Stewart (2006) (ISBN 978-1402742132)
Baseball's Zaniest Moments (1999)
All-Star Baseball (1980) with an introduction by Ralph Kiner
Baseball Bloopers and Other Curious Incidents (1989)
Baseball Bloopers and Diamond Oddities
Baseball Memorabilia (1992)
Baseball's Strangest Moments (1988) (ISBN 0806969830)
Big Book of Baseball Brainteasers written with Dom Forker and Wayne Stewart (2004) (ISBN 978-1402713378)
Boxing Memorabilia written with Bill Cayton (1992)
Catalogue of the World's Most Popular Coins by Fred Reinfeld and Burton H. Hobson, edited by Robert Obojski (1986)
Coin Collecting as a Hobby written by Burton H. Hobson edited by Robert Obojski (1986)
Coin Collector's Price Guide (1995) (ISBN 0806964979)
A First Stamp Album for Beginners (ISBN 978-0486238432)
Great Moments of the Playoffs and World Series (1990)
Illustrated Encyclopedia of World Coins written with Burton Hobson (1983)
Ships & Explorers on Coins (1970)
Poland in Pictures
Prodigy at the Piano: The Amazing Story of Frank "Sugarchile" Robinson (1962)
All-Star Baseball Since 1933, A Little Giant Book: Weird & Wacky Facts written with K. R. Hobbie, Arkady Leokum, Sheryl Lindsell-Roberts.
Dr. Obojski has taught at Detroit Institute of Technology (1955–60), Western Kentucky State College (1962–64), Alliance College -Cambridge Springs, PA (1964–66, 1967–69), Edinboro University (1966–67), and Delaware State College (1970–72) Full Professor.
Dr. Obojski has worked as contributing editor for Sports Collectors Digest, Global Stamp News, and Linn's Weekly Stamp News.
He is an ongoing contributor to Teddy Bear Review as well as publications from Sterling Publishing. He presently resides in Port Washington, NY.