Captain Ravindra "Ravi" Vimal Jayewardene (22 April 1936 – 2 April 2017) was a Sri Lankan aviator and sports shooter. He was the son of President J. R. Jayewardene and served as the National Security Adviser in his father's administration.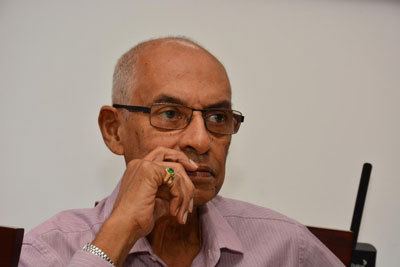 Born as the only child of J. R. Jayewardene and Elina Jayewardene, Ravi was educated at Royal College Colombo. Avoiding a political career, he joined George Steuart Group after completing school and thereafter joined the 2nd (V) Ceylon Light Infantry as a volunteer Second lieutenant. In 1959, he transferred to a regular commission. He competed in the 50 metre rifle, prone event at the 1964 Summer Olympics. Soon after he left the army with the rank of Captain. Having trained as a pilot, he joined Air Ceylon there after.
In 1971, during the JVP Insurrection he was arrested by the police accusations on giving weapons training for the JVP but was never charged. Leaving the country shortly there after he spent time as a Buddhist monk Thailand. He returned to Sri Lanka in 1983, to take over the security of his father who was then president and was appointed National Security Adviser. In this capacity he formed the elite Special Task Force, as well as several new regiments in the Sri Lanka Army.
Jaywardene died on 2 April 2017 after a brief illness, aged 80.