Successor

Prince Edward


Role

Duke of Kent


Name

Prince Duke





Mother

Mary of Teck




Father

George V




Parents

Mary of Teck, George V







Born

20 December 1902York Cottage, Sandringham (

1902-12-20

)


Burial

29 August 1942St George's Chapel, Windsor and later Royal Burial Ground, Frogmore


Issue

Prince Edward, Duke of KentPrincess Alexandra, The Hon. Lady OgilvyPrince Michael of Kent


House

Windsor (since 1917)Saxe-Coburg and Gotha (until 1917)


Died

August 25, 1942, Morven, Caithness, United Kingdom


Spouse

Princess Marina of Greece and Denmark (m. 1934–1942)


Siblings

George VI, Edward VIII




Children

Prince Edward, Duke of Kent, Prince Michael of Kent, Princess Alexandra, The Honourable Lady Ogilvy




Similar People

Prince Edward - Duke of K, Princess Marina of Greece a, George V, George VI, Edward VIII
PRINCE GEORGE, DUKE of KENT - WikiVidi Documentary
Prince George, Duke of Kent, (George Edward Alexander Edmund; 20 December 1902 – 25 August 1942) was the fourth son of George V of the United Kingdom and Queen Mary.
Contents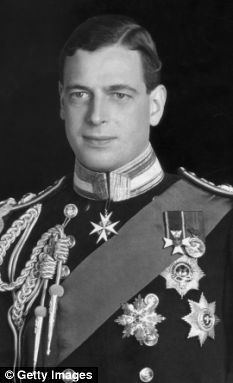 He was the younger brother of Edward VIII and George VI. He held the title of Duke of Kent from 1934 until his death in a military air-crash on 25 August 1942.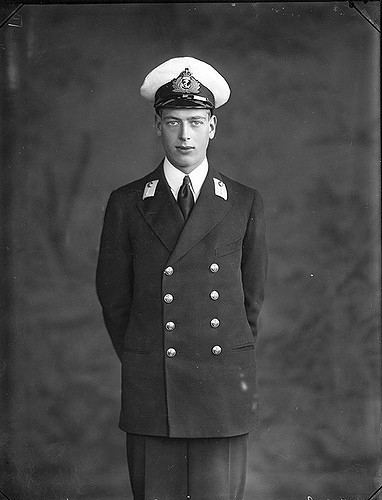 The duke and duchess of kent and prince edward 1936
Early life
Prince George was born on 20 December 1902 at York Cottage on the Sandringham Estate in Norfolk, England. His father was the Prince of Wales (later George V), the only surviving son of Edward VII and Alexandra of Denmark. His mother was Mary of Teck. At the time of his birth, he was fifth in the line of succession to the throne, behind his father and three older brothers.
George was baptised in the Private Chapel at Windsor Castle on 26 January 1903 by Francis Paget, Bishop of Oxford.
Education and career
Prince George received his early education from a tutor and then followed his elder brother, Prince Henry (later the Duke of Gloucester), to St Peter's Court, a preparatory school at Broadstairs, Kent. At the age of thirteen, like his brothers, the Prince of Wales (later King Edward VIII) and Prince Albert (later King George VI), before him, he went to naval college, first at Osborne and, later, at Dartmouth. He was promoted to sub-lieutenant on 15 February 1924, and was promoted to lieutenant on 15 February 1926. He remained on active service in the Royal Navy until March 1929, serving on HMS Iron Duke and later HMS Nelson.
After leaving the navy, he briefly held posts at the Foreign Office and later the Home Office, becoming the first member of the royal family to work as a civil servant. He continued to receive promotions after leaving active service: to commander on 15 February 1934 and to captain on 1 January 1937.
From January to April 1931 Prince George and his elder brother the Prince of Wales travelled 18,000 miles on a tour of South America. Their outward voyage was on the ocean liner Oropesa. In Buenos Aires they opened a British Empire Exhibition. They continued from the River Plate to Rio de Janeiro on the liner Alcantara and returned from Brazil to Europe on the liner Arlanza, landing at Lisbon. The princes returned via Paris and an Imperial Airways flight from Paris–Le Bourget Airport that landed specially in Windsor Great Park.
On 23 June 1936, George was appointed a personal aide-de-camp to his eldest brother, the new King Edward VIII. Following the abdication of Edward VIII, he was appointed a personal naval aide-de-camp to his elder brother, now George VI. On 12 March 1937, he was commissioned as a Colonel in the British Army and in the equivalent rank of Group Captain in the Royal Air Force (RAF). He was also appointed as the Colonel-in-Chief of the Royal Fusiliers from the same date.
In October 1938 George was appointed Governor-General of Australia in succession to Lord Gowrie with effect from November 1939. On 11 September 1939 it was announced that, owing to the outbreak of the Second World War, the appointment was postponed.
On 8 June 1939, George was promoted to the ranks of Rear-Admiral (RA) in the Royal Navy (RN), Major-General (MG) in the British Army and Air Vice-Marshal (AVM) in the Royal Air Force (RAF). At the start of the Second World War, George returned to active military service with the rank of Rear Admiral, briefly serving on the Intelligence Division of the Admiralty.
Marriage and issue
On 12 October 1934, in anticipation of his forthcoming marriage to his second cousin Princess Marina of Greece and Denmark he was created Duke of Kent, Earl of St Andrews, and Baron Downpatrick. The couple married on 29 November 1934 at Westminster Abbey. They had three children:
Prince Edward, Duke of Kent (born 9 October 1935)
Princess Alexandra, The Hon. Lady Ogilvy (born 25 December 1936)
Prince Michael of Kent (born 4 July 1942)
Personal life
Both before and after his marriage, Prince George had a string of affairs with both men and women, from socialites to Hollywood celebrities. The better known of his lovers included banking heiress Poppy Baring, socialite Margaret Whigham (later Duchess of Argyll and involved in a notoriously scandalous divorce case), and Barbara Cartland (who believed him to be the father of her daughter Raine McCorquodale).
There were "strong rumours" that he had affairs with musical star Jessie Matthews, writer Cecil Roberts and Noël Coward, a relationship which Coward's long-term boyfriend, Graham Payn, denied. The security services "reported that Coward and Kent had been seen parading together through the streets of London, dressed and made up as women, and had once been arrested by the police for suspected prostitution".
The Duke of Kent is rumoured to have been addicted to drugs, especially morphine and cocaine, a rumour which reputedly originated with his friendship with Kiki Preston, whom he first met in the mid-1920s. Reportedly, Prince George shared Kiki in a ménage à trois with Jorge Ferrara, the bisexual son of the Argentinian ambassador to Britain. Other alleged sexual liaisons were with the art historian and Soviet spy Anthony Blunt and Indira Raje, Maharani of Cooch Behar.
In his attempt to rescue his cocaine-addicted brother from the influence of Kiki, Edward, the Prince of Wales, attempted for a while to persuade both George and Kiki to break off their contact, to no avail. Eventually, Edward forced George to stop seeing Kiki and also forced Kiki to leave England, while she was visiting George there in the summer of 1929. For years afterwards, Edward feared that George might relapse to drugs if he maintained his contact with Kiki. Indeed, in 1932, Prince George ran into Kiki unexpectedly at Cannes and had to be removed almost by force.
It has been alleged for years that American publishing executive Michael Temple Canfield (1926–1969) was the illegitimate son of Prince George and Kiki Preston. According to various sources, both Prince George's brother, the Duke of Windsor and Laura, Duchess of Marlborough, Canfield's second wife, shared this belief. Canfield was the adopted son of Cass Canfield, American publisher of Harper and Row. In 1953 Canfield married Caroline Lee Bouvier the younger sister of Jacqueline Bouvier who married US Senator and future US president John F. Kennedy the same year. Canfield and Bouvier divorced in 1959, and the marriage was annulled by the Roman Catholic Church in November 1962.
RAF career
As a young man the duke came to the opinion that the future lay in aviation. It became his passion, and in 1929 the duke earned his pilot's licence. He was the first of the Royal family to cross the Atlantic by air. Prior to his flying days, he entered the Royal Navy, and was trained in intelligence work while stationed at Rosyth.
In March 1937, he was granted a commission in the Royal Air Force as a group captain. He was also made the Honorary Air Commodore of No. 500 (County of Kent) Squadron Auxiliary Air Force in August 1938. He was promoted to air vice-marshal in June 1939, along with promotions to flag and general officer rank in the other two services.
In April 1940, he transferred to the Royal Air Force. He temporarily relinquished his rank as an air officer to assume the post of staff officer at RAF Training Command in the rank of group captain, so that he would not be senior to more experienced officers. On 28 July 1941, he assumed the rank of Air Commodore in the Welfare Section of the RAF Inspector General's Staff. In this role, he went on official visits to RAF bases to help boost wartime morale.
Death
Prince George died on 25 August 1942, at the age of 39, along with thirteen others, on board RAF Short Sunderland flying boat W4026, which crashed into a hillside near Dunbeath, Caithness, Scotland, while flying from Invergordon, Ross and Cromarty, to Iceland on non-operational duties.
Lynn Picknett and Clive Prince alleged in their book Double Standards, which has been criticized for its "implausible inaccuracy", that Prince George had a briefcase full of 100-krona notes, worthless in Iceland, handcuffed to his wrist, leading to speculation the flight was a military mission to Sweden, the only place where krona notes were of value.
His death while in the service of the RAF marked the first time in more than 450 years that a member of the Royal family died on active service. The Prince's body was transferred initially to St. George's Chapel, Windsor, and he was buried in the Royal Burial Ground, Frogmore, directly behind Queen Victoria's mausoleum. His elder son, six-year-old Prince Edward, succeeded him as Duke of Kent. Princess Marina, his wife, had given birth to their third child, Prince Michael, only seven weeks before Prince George's death.
One RAF crew member Flight Sergeant Andrew Jack, the Sunderland's rear gunner, survived the crash on Eagle's Rock near Caithness. His niece has claimed that Jack told his brother that the Duke had been at the controls of the plane; that he had dragged him from the pilot's seat after the crash; and that there was an additional person on board the plane whose identity has never been revealed.
In popular culture
The Duke's early life is dramatised in Stephen Poliakoff's television serial The Lost Prince (2003), a biography of the life of the Duke's younger brother John. In the film, the teenage Prince 'Georgie' is portrayed as sensitive, intelligent, artistic and almost uniquely sympathetic to his brother's plight. He is shown as detesting his time at the Royal Naval College and as having a difficult relationship with his austere father.
Much of George's later life was outlined in the documentary film The Queen's Lost Uncle. He is a recurring character in the revival of Upstairs, Downstairs (2010), played by Blake Ritson. He is portrayed as a caring brother, terrified of the mistakes that his family is making; later, he is portrayed as an appeaser of the German regime, but also as a supportive friend of Hallam Holland.
George and his eldest brother the Prince of Wales, later King Edward VIII, are shown in Stephen Poliakoff's BBC television serial Dancing on the Edge (2013), in which they are portrayed as supporters of jazz and encouragers of Louis Lester's Jazz Band. A sexual attraction to Louis on George's part is also insinuated.
Titles and styles
20 December 1902 – 6 May 1910: His Royal Highness Prince George of Wales
6 May 1910 – 12 October 1934: His Royal Highness The Prince George
12 October 1934 – 25 August 1942: His Royal Highness The Duke of Kent
in Scotland from May 1935: His Grace the Lord High Commissioner
At the time of his death, Prince George's full style was His Royal Highness The Prince George Edward Alexander Edmund, Duke of Kent, Earl of Saint Andrews and Baron Downpatrick, Royal Knight of the Most Noble Order of the Garter, Royal Knight of the Most Ancient and Most Noble Order of the Thistle, Knight Grand Cross of the Most Distinguished Order of Saint Michael and Saint George, Knight Grand Cross of the Royal Victorian Order.
Honours
British honours
KG: Knight of the Garter, 1923
KT: Knight of the Thistle, 1935
GCVO: Knight Grand Cross of the Royal Victorian Order, 1924
Appointments
1932: Royal Bencher of the Honourable Society of Lincoln's Inn
Arms
Around the time of his elder brother Prince Henry's twenty-first birthday, Prince George was granted the use of the Royal Arms, differenced by a label argent of three points, each bearing an anchor azure.
References
Prince George, Duke of Kent Wikipedia
(Text) CC BY-SA