Philippe Boesmans




Composer






Yann Beuron, Sylvain Cambreling, Henri Pousseur, Jean‑Paul Dessy, Bernard Foccroulle
Philippe Boesmans (born 17 May 1936) is a Belgian composer.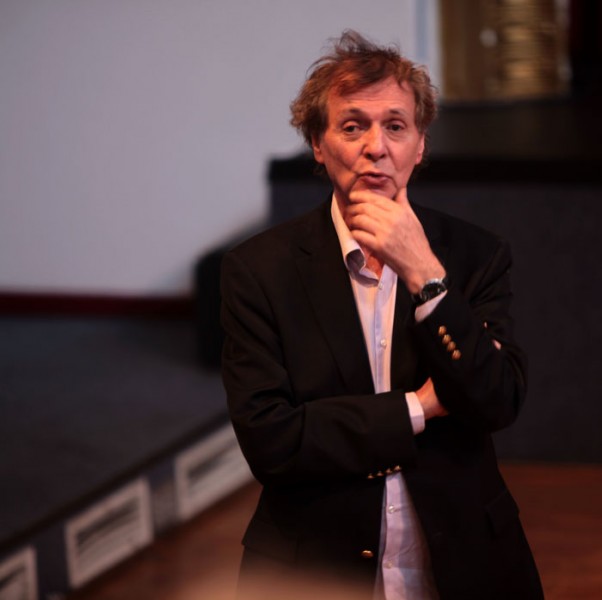 Boesmans was born in Tongeren and studied piano at the Conservatory in Liege, where he was also introduced to serial composing techniques by Pierre Froidebise. However, it was only after coming into contact with the "Liege Group" (Henri Pousseur, Andre Souris, and Celestin Deliege) in 1957 that he began to write music, as a self-taught composer. Starting in 1962 he participated in productions of the Centre de Recherches Musicales de Wallonie, collaborating with Pousseur. He was also active as a pianist with the Ensemble Musique Nouvelle. Also in 1962 he became a producer at the Radio Television Belge de la Communaute Francaise (RTBF), working with the radio orchestra there. From this experience he learned much about composing and orchestrating music. Recognition quickly followed, and in 1971 he won the Prix Italia for his composition Upon La-Mi (Visscher 2001).
He still works as a producer for the RTBF and is composer in residence at the La Monnaie opera house in Brussels.
Opera
La Passion de Gilles (1983) Libretto by Pierre Mertens (Morris 1996,)
Reigen (1993); based on La Ronde by Arthur Schnitzler. Review in Le Monde pronounced it "the greatest opera of the last 75 years."
Wintermarchen (1999); based on The Winter's Tale by William Shakespeare.
Julie (2005); based on Miss Julie by August Strindberg.
Yvonne, princesse de Bourgogne (2009); based on Iwona, ksiezniczka Burgunda by Witold Gombrowicz.
Poppea e Nerone (2012); New orchestration, for a modern chamber orchestra, of Monteverdi's L'Incoronazione di Poppea'. First performed at Teatro Real in Madrid, conducted by Sylvain Cambreling and directed by Krzysztof Warlikowski.
Other
Violin Concerto (1980)
String Quartet No.1 (1988)
Surfing for viola and orchestra (1990)
Love and Dance Tunes for baritone and piano (1993); settings from Shakespeare's sonnets
Summer Dreams, String Quartet No.2 (1994)
Trakl Lieder; String Quartet [No. 1]; Surfing. Francoise Pollet (soprano), Orchestre du Theatre Royal de la Monnaie, conducted by Sylvain Cambreling; Arditti String Quartet; Christophe Desjardins (viola), Ensemble Musique Nouvelle, conducted by Georges Elie Octors. Trakl Lieder recorded live, Palais des Beaux-Arts, Brussels, 14 April 1990; String Quartet recorded at the Royal Conservatory of Liege, 24 March 1990; Surfing recorded at the Palais des Beaux-Arts, Brussels, 4 June 1990. CD recording, 1 audio disc: digital, 12 cm, stereo. Ricercar RIC 083065. Anloy: SPRL Ricercar, [n.d.].
Reigen. Cypres.
Wintermarchen. DG. Sung in German, in scene four the language changes from German to English and Boesmans introduces AKA Moon, a jazz/funk group.
Julie. Garry Magee, Malena Ernman, Monnaie Chamber Orchestra, Kazushi Ono. CD recording. Cypres (CYP4626), 2005. Video recording, DVD. Garry Magee, Malena Ernman, Kerstin Avemo, Monnaie Chamber Orchestra, Kazushi Ono. BelAir, 2005.
Yvonne, princesse de Bourgogne. Opera National de Paris Mireille Delunsch and Yann Beuron. Cypres, 2011 Klangforum Wien, Sylvain Cambreling.
Julie. Garry Magee, Malena Ernman, Kerstin Avemo, Monnaie Chamber Orchestra, Kazushi Ono. DVD recording. BelAir, 2005.
Philippe Boesmans Wikipedia