Paul Carl Meger (born February 17, 1929) is a retired Canadian ice hockey forward. Meger played his entire National Hockey League career with the Montreal Canadiens. His career lasted from 1950 to 1955.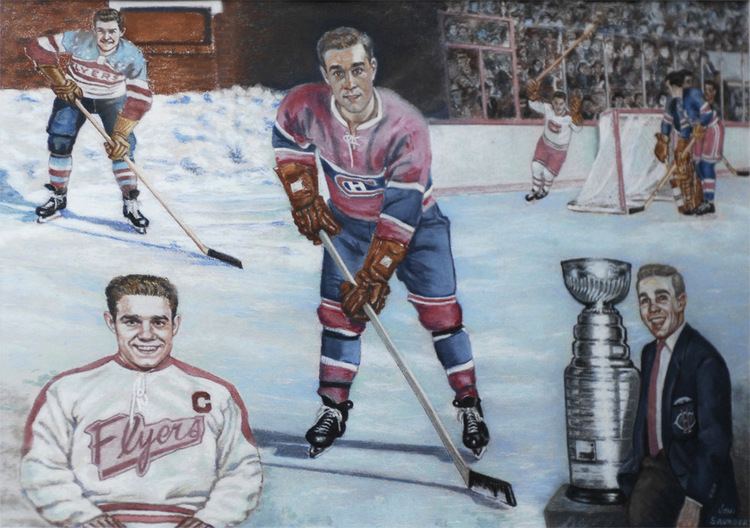 The 1951-52 season saw three talented newcomers nail down slots on left wing. Both Dickie Moore and Dick Gamble went on to enjoy long careers in the pro ranks, but a life-threatening injury brought Paul Meger's star crashing down just three seasons in.
Turning pro in the fall of 1949 with the Canadiens' AHL affiliate in Buffalo, the Saskatchewan native exploded out of the gate, racking up 66 points and earning rookie of the year honors. After making the jump to the big club for two playoff games in the spring of 1950, Meger saw more action in Montreal the following season, suiting up for 17 games and notching 10 points.
Playing alongside Bernard "Boom Boom" Geoffrion and Billy Reay, the 5-foot-7 speedster enjoyed a 24-goal, 18-assist campaign, finishing the year third on the team in points. The clutch goal scorer recorded the only hat trick of his career in an 8-3 drubbing of the Blackhawks in 1951-52, adding his three markers to a trio from Maurice "Rocket" Richard.
Shifting to a more defensive role the following season, the playmaker's totals dipped to nine goals and 17 assists. Meger enjoyed his last full season with the Habs in 1952-53, hoisting the Stanley Cup to cap his career in Montreal.
While suiting up for the QSHL's Montreal Royals in 1955, Meger collided with Boston's Leo Labine midway through the November match-up. Labine's skate accidentally kicked up, shattering Meger's temporal lobe and slicing into his brain.
Though surgeons managed to save the 25-year-old's life, his hockey career was over. In a show of solidarity, his teammates voted to give Meger a share of their playoff bonus money at season's end.
REGULAR SEASON
PLAYOFFS