Country

Chile




Population

147,753 (2012)




University

University of Los Lagos




Area

951.3 km2


Region

Los Lagos




Founded

1558



Osorno is a city and commune in southern Chile and capital of Osorno Province in the Los Lagos Region. It had a population of 145,475, as of the 2002 census. It is located 945 kilometres (587 mi) south of the national capital of Santiago, 105 kilometres (65 mi) north of the regional capital of Puerto Montt and 260 kilometres (160 mi) west of the Argentine city of San Carlos de Bariloche, connected via International Route 215 through the Cardenal Antonio Samore Pass.
Contents
Map of Osorno, Chile
Located at the confluence of Rahue and Damas River Osorno is the main service centre of agriculture and cattle farming in the northern Los Lagos Region. The citys cultural heritage is shaped by Spanish, Huilliche and German influences.
Best photos near lake district chile incl petrohue falls osorno and calbuco lake lacar
History
The city was originally planned to be founded in 1553, under the Government of Pedro de Valdivia by his companion of conquest, Lieutenant General Don Francisco de Villagra; with the name of Santa Marina de Gaete, on the site of a Huilliche village named Chauracavi. However, the death of Valdivia prevented the realization of this plan when he was about to materialize.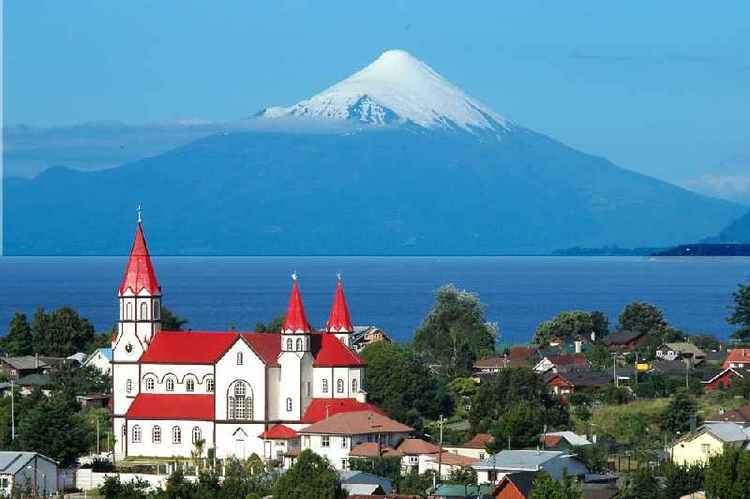 On March 27, 1558, the city is finally founded by the governor, Garcia Hurtado de Mendoza; with the new name of Villa de San Mateo de Osorno, in honor of his grandfather, Count of Osorno. It was destroyed again by the indigenous Huilliche people in October 1602.
Economy
Osorno is an important agricultural center, and agriculture makes up the bulk of the Osorno provinces economic activity. Wheat and oats grow abundantly, but the land is also well-suited to the breeding of Chilean horses and cattle. Some of Chiles finest beef products originate in the Osorno ranches.
References
Osorno, Chile Wikipedia
(Text) CC BY-SA
(,)http://upload.wikimedia.org/wikipedia/commons/b/b2/Portrait_of_Ambrosio_O%27Higgins_(18th-19th_century).jpg(,)http://upload.wikimedia.org/wikipedia/commons/d/d5/Puerto_Varas_Osorno.jpg(,)http://image.slidesharecdn.com/69-chilean-volcanoes-geo-referenced-141213005007-conversion-gate02/95/a-georeferenced-visual-guide-to-69-chilean-volcanoes-52-638.jpg%3Fcb%3D1418569340(,)http://www.volcano.si.edu/Photos/full/049024.jpg(,)http://www.mtshasta.com/wp-content/uploads/2012/11/058.jpg(,)http://upload.wikimedia.org/wikipedia/commons/3/37/Bernardo_O%27Higgins,_drawing.png(,)https://www.commonwealmagazine.org/sites/default/files/imce/14784/Barros.jpg
(,)http://media-cdn.tripadvisor.com/media/photo-s/03/df/5d/51/sibaris-osorno-chile.jpg(,)http://www.mtshasta.com/wp-content/uploads/2012/11/005.jpg(,)http://www.interpatagonia.com/volcanosorno/img/volcan-osorno_06.jpg(,)http://www.mtshasta.com/wp-content/uploads/2013/01/chile-volcano-Osorno-2.jpg(,)http://media-cdn.tripadvisor.com/media/photo-s/03/71/21/8a/del-piero-restaurante.jpg(,)http://www.hotelgranpacifico.cl/images/destination/puerto_varas/puerto-varas.jpg(,)http://metadatasystems.mastercard.com/Offers/cwt/wetb/detailphotocode/sn_SonestaHotelOsorno_d.jpg(,)http://3.bp.blogspot.com/-HIaqstCPQSs/UBjNILceCtI/AAAAAAAAAH0/09tfDlq0HDg/s1600/Chile.gif(,)http://www.mission.net/chile/osorno/images/welcome.gif(,)http://www.hotelgranpacifico.cl/images/destination/ensenada/saltoespetrohue3.jpg