Covid-19
Oh Henry! is a candy bar containing peanuts, caramel, and fudge coated in chocolate. It was first introduced in 1920 by the Williamson Candy Company of Chicago, Illinois.


According to Nestle's site, Oh Henry! was originally named after a boy who frequented the Williamson company, flirting with the girls who made the candy.
In 1923, an employee of Williamson named John Glossinger announced that he was going to make the Oh Henry! bar a national best seller. Company officials said that it was impossible and denied him the funds for an advertising campaign. Glossinger went into the streets and pasted stickers onto automobile bumpers saying merely "Oh Henry!". People became curious as to what an Oh Henry! was, and sales for the bar rose quickly.
Nestlé acquired the United States rights to the brand in 1984 and continues to produce the bar. In Canada, the bar is currently sold by The Hershey Company and was manufactured at their Smiths Falls, Ontario facilities prior to its closure. Because of Canada's different chocolate standards, the Canadian "Oh Henry!" is not considered a "chocolate bar" and is labeled instead as a "candy bar". The American version labels the bar as "milk chocolate", while the Canadian version contains no milk chocolate at all; it contains a compound chocolate coating. The bars are also different in appearance: the Canadian version is one bar with the fudge in the center, the fudge surrounded with a thin layer of caramel, and the nuts surrounding that layer before it is surrounded in the coating. Hershey sells Oh Henry! bars made in Canada on a very limited basis in the United States as Rally bars, using the trademark of a Hershey product introduced in the 1970s and later discontinued.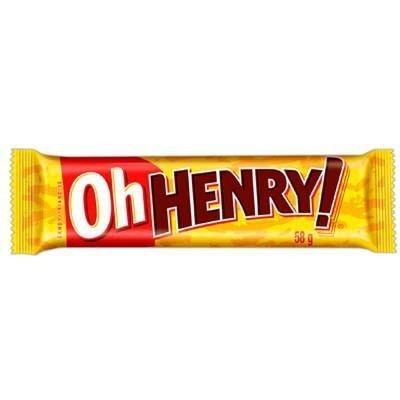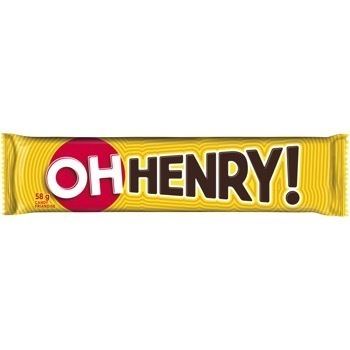 Oh Henry! Wikipedia