Initial release date

20 July 2010




Genre

Massively multiplayer online game

Similar
Games you might remember need for speed world
Need for Speed: World (previously known as Need for Speed: World Online) was the fifteenth installment in the racing video game Need for Speed franchise published by Electronic Arts. It was co-developed by EA Black Box (rebranded Quicklime Games before closing in 2013) and EA Singapore. It was the first freemium massively multiplayer online racing game in the Need for Speed series and was available on Microsoft Windows. World was released worldwide on July 27, 2010. However, people who ordered a "Starter Pack" had an early "head-start" in the game, which started on July 20, 2010.
Contents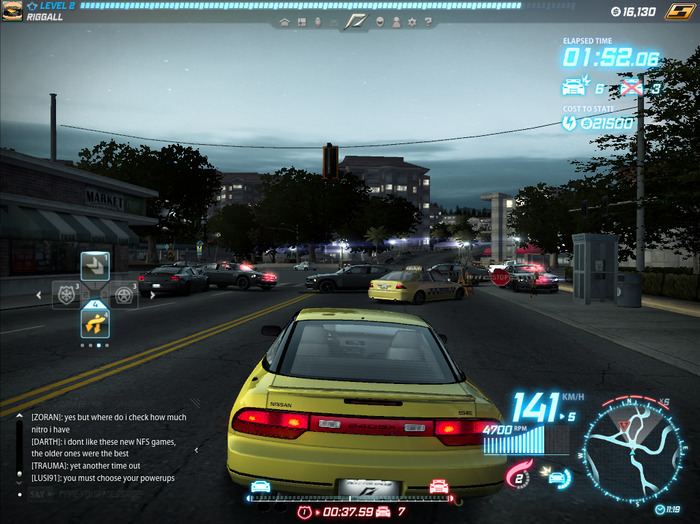 Need for Speed: World, along with other EA free-to-play titles Battlefield Heroes, Battlefield Play4Free, and FIFA World, went offline on July 14, 2015.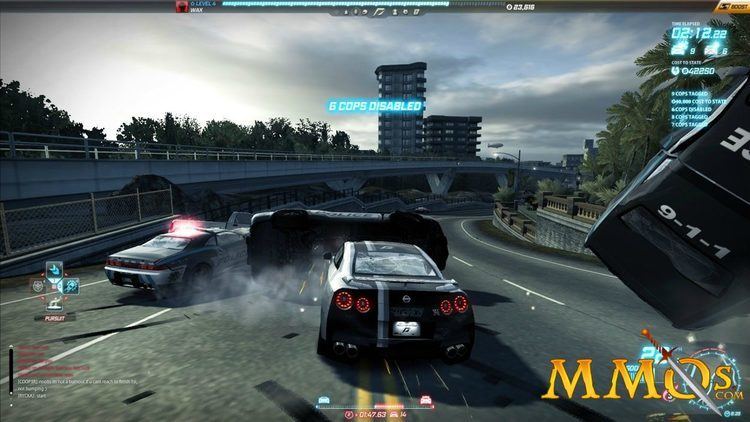 Gameplay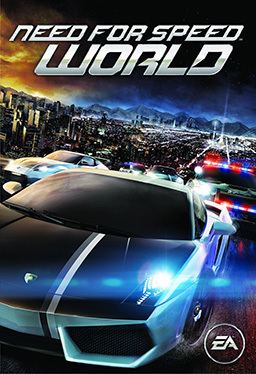 World took on the gameplay style of 2005's Most Wanted and 2006's Carbon, focusing on illegal street racing, tuning and police chases, and added classic MMO elements to the mix such as special abilities. World was set in the fictional Tri-City, which was a mixture of the cities of Rockport and Palmont, the cities of Most Wanted and Carbon, into its map design, with redesigned graphics and new locations on the map that made travel between the two cities easier. The game featured over 100 licensed cars consisting of tuners, muscle cars, exotics, race cars and SUVs. Manufactures ranged from Alfa Romeo to Volkswagen and there were over thirty manufactures in the game.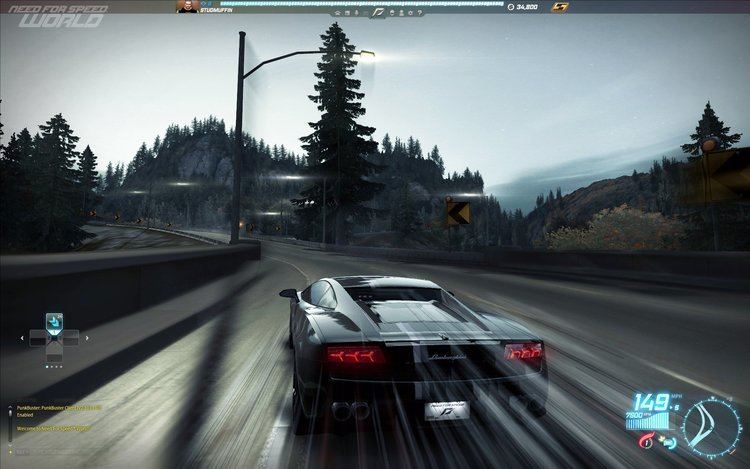 Before September 8, 2010, after reaching level 10 and access to only first tier and some second tier cars, the player would not be able to progress further in the game and would cease to earn any more experience points or cash. To continue the game, the player had to purchase a "Starter Pack". Without it, the player was allowed to play the game for as long as he or she wants, but they would cease to earn experience and cash. On September 8, 2010 World passed one million registrations. To celebrate that, the game was made completely free-to-play and the level cap was removed.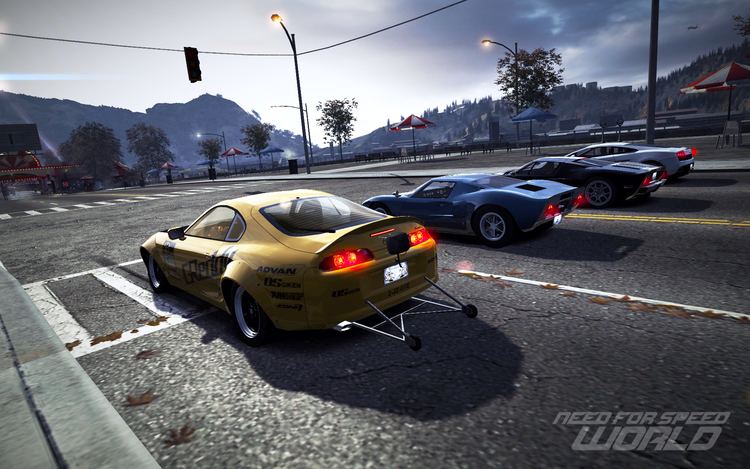 In December 2010, car performance customization was made available to players. Players would win parts from lucky draw, including rare Pro and Ultra series parts. Free players had a lower chance of winning a part compared to those who purchased SpeedBoost. Special card packs could be bought with SpeedBoost that gave the greatly coveted parts. On March 16, 2011, visual aftermarket customization was also made available. All the in-game cash bodykits from previous versions were removed. Most body kits required SpeedBoost to purchase on May 31, 2011. On March 31, 2011, Electronic Arts introduced a new game mode called Team Escape, a cooperative version of a police pursuit where up to four players had to race as a team driving from point A to point B while avoiding numerous cops. For this mode, two co-op versions of the game's power-ups were released.
Treasure Hunt Mode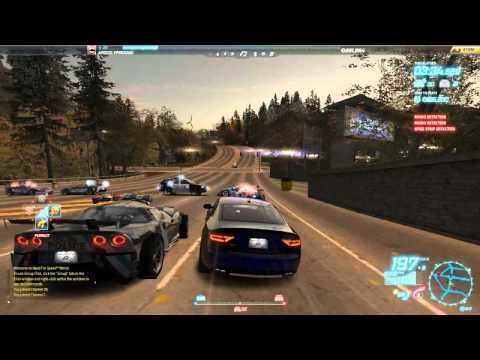 On July 26, 2011, a feature called Treasure Hunt was released. In Treasure Hunt, played during free roam, players would attempt to collect fifteen gems located in various areas. If the player collected all fifteen gems daily, they would get boosts of reputation and in-game cash. Playing the Treasure Hunt mode daily would build up what was known as a Treasure Hunt Streak. Players earned high-end performance parts or additional power-ups after completing every hunt based on the day count of the streak (for example, if the player completed Treasure Hunt for twelve days in a row, they would receive a tier 1 pro performance part). On November 16, 2011, police vehicles were removed from free roam in World . Players were no longer able to start pursuits by ramming police vehicles; police chases were only possible by joining Pursuit Outrun or Team Escape events.
Skill Customization
Skill customization was later released, replacing the old level-up skill point system. All players that had the old skill points invested got skill mods corresponding with the skills they had invested points in. Players could only receive a maximum of 125 skill mods regardless of how many skills or cars they had. 4-star (highest) skill mods were won from lucky draws or purchased through card packs. One-star mods were purchasable for in-game cash. On October 16, 2012, drag racing was introduced to World. This mode allowed players to race other players to the finish line in various strips of straight roads. Players would need to use manual transmission and shift their way to the finish. Automatic transmission was also available to the players. Single-player mode was also made available with in-game traffic.
Development
The game was first announced to be free-to-play. In October 2009, World was opened to public beta-testing limited to residents of Taiwan. There have been seven closed beta sessions in total. Except the first one, all were available worldwide to residents who sign up, meet admission criteria, and get accepted. An open beta was started on July 2, 2010 at 10am PDT. The Beta was scheduled to close on July 6, 2010 but was extended to July 9, 2010. A stress-test was opened from July 13 through 14th, 2010. Players who purchased the starter pack were able to play the game one week before the official release. Players who did not purchase the starter pack were able to play on July 27, 2010.
On April 10, 2013, an opportunity to win valuable in-game rewards by completing various achievements was introduced. This aggravated the pre-existing and largely ignored problem of cheating in the game. The existence of the problem was finally acknowledged by a Community Manager on April 15, 2013. Quicklime Games, which was in charge of game development, maintenance and updates, was shut down on April 25, 2013. By the end of May 2013, the number of instances of cheating has dropped off with no official announcement on what actions were taken. On September 10, 2013, a Community Manager announced that Easy Studios (developers for Battlefield Play4Free) took over from Quicklime Games. After the takeover by Easy Studios, the game had been left in a vulnerable state with the new studio not knowing how it functions even after many months of training and transition. The problem of cheating remained an issue to a degree. On September 4, 2014, a Community Manager announced that Easy would not longer work on Need for Speed: World, and that a new "Task Force" (a mix of people who have worked on the game before as well as new people) from EA Canada would start working on the game.
Map of World
World featured a large map consisting of the cities of Palmont and Rockport, from Carbon and 2005's Most Wanted respectively. Highways from the game were placed to interconnect with the other cities and several new roads had been created in both cities, as well as tunnels. Even though it only featured two maps, there was a rumor that the Tri-City Bay and Bayview, the cities featured in Undercover and Underground 2, would be updated and placed in the game. This was due to a road called the Rockport Turnpike that connected to and ran south of Downtown Rockport over a bridge which led to a closed tollbooth. There were also a series of connector roads linking Downtown Palmont and Kempton to Downtown Rockport, but they were never made open.
Reception
Need for Speed: World was met with mixed reviews. It received a score of 63.83% on GameRankings and a score of 62/100 on Metacritic.
The highest praise of the game came from GamingXP, which commented that "The game feels like a combination of previous Need for Speed games except the single player has been cut off. Add some role-play elements and you have a racing MMO." PC Format gave a somewhat mediocre review in their October 2010 issue, concluding that the game "feels like a missed opportunity." Eurogamer commented that "It's a real shame that the MMO aspect of World is effectively a needlessly elaborate lobby." In November 2012, World surpassed twenty million registered users.
Closure
On April 15, 2015, EA announced that on July 14, 2015 they would be closing Need for Speed: World and turning off services for the game, as the publisher felt "that the game no longer lives up to the high standard set by the Need for Speed franchise." The ability to purchase SpeedBoost and create new accounts were disabled since the announcement. Battlefield Heroes, Battlefield Play4Free, and FIFA World were due to be closed on the same day. The decision was not reversed and the game ended on the anticipated date. Some of the fans created an offline server to play it offline, it allowed users to drive some vehicles that are impossible to drive officially such as traffic cars and the unreleased Vauxhall Monaro VXR.
References
Need for Speed: World Wikipedia
(Text) CC BY-SA