Name

Nadezhda Muravyeva




Height

1.85 m




Spouse

Alexander




Role

Handball Player




Weight

78 kg




Children

Rostislav, Filimon





Nadezhda Konstantinovna Muravyova (Russian: Надежда Константиновна Муравьёва; born June 30, 1980 in Bratsk, Russia) is a Russian team handball player, playing on the Russian women's national handball team. She won a gold medal with the Russian winning team in the 2007 World Women's Handball Championship. At the 2008 European Women's Handball Championship in Macedonia she received a bronze medal, and was also named "Best Defense Player".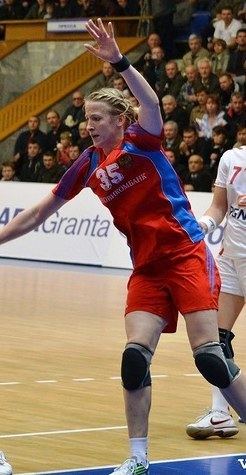 She competed at the 2011 World Women's Handball Championship in Brazil, where the Russian team placed 6th.
Life and career
Nadezhda Muravyova is one of the most famous handball players in Russia and in the world. She started with gymnastics moving to handball later in her life. She started training handball at her age of 13, in Akwa Volgograd. Her first coach was Vladimir Fedorovic Civikov. She played for AKWA from 1996-2002. Then she left this team and went to Lada Togliatti.
Nadezhda has had a rich handball career.
1998 - won bronze medal on European Junior Handball Championship in Slovakia
1998 - won bronze medal in Russian league
2000 - won bronze medal on European Handball Championship in Romania
2001 - Became World Champion in Italy'
1999, 2000, 2001 Russian Champion with the team of Akwa and in 2003, 2004, 2005 with LADA
2007 - won the silver medal with Lada in Russian Championship
2007 - Played with Lada in the final of the Champions League
2007- Again World Champion
2009 - Once more WORLD CHAMPION
She is also Master of the Sport (this award she won for the great matches that she showed in 2001).
Currently she is an expert at the web-site
www.handball123.com
References
Nadezhda Muravyova Wikipedia
(Text) CC BY-SA