Miss Kobayashi's Dragon Maid (Japanese: 小林さんちのメイドラゴン, Hepburn: Kobayashi-san Chi no Meidoragon) is a Japanese manga series written and illustrated by Coolkyoushinja. The series began serialization in Futabasha's Monthly Action magazine in May 2013, and is licensed in North America by Seven Seas Entertainment. A spin-off manga by Mitsuhiro Kimura began serialization in Monthly Action in December 2016. An anime television series produced by Kyoto Animation began airing in Japan from January 2017.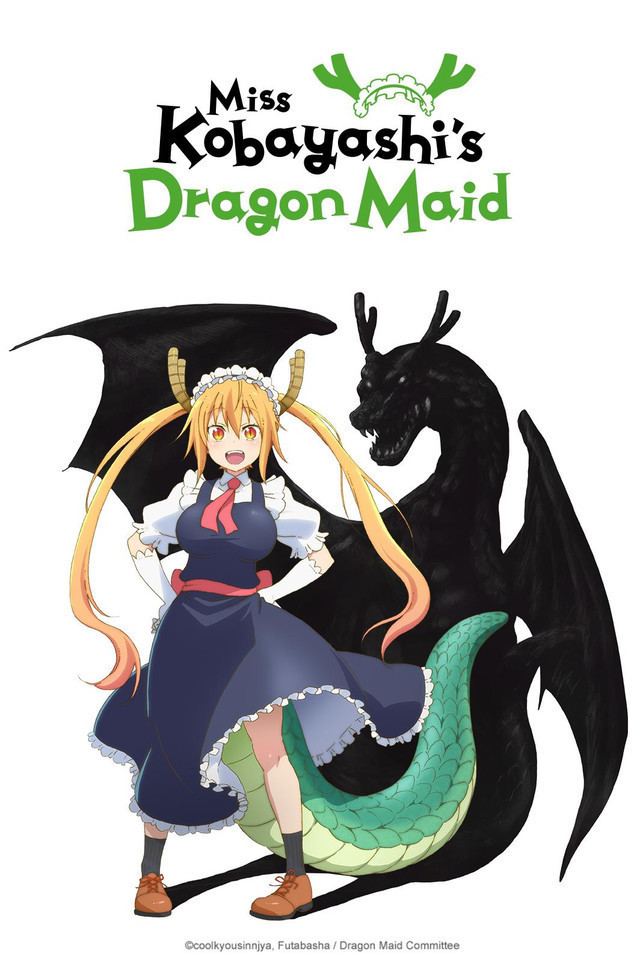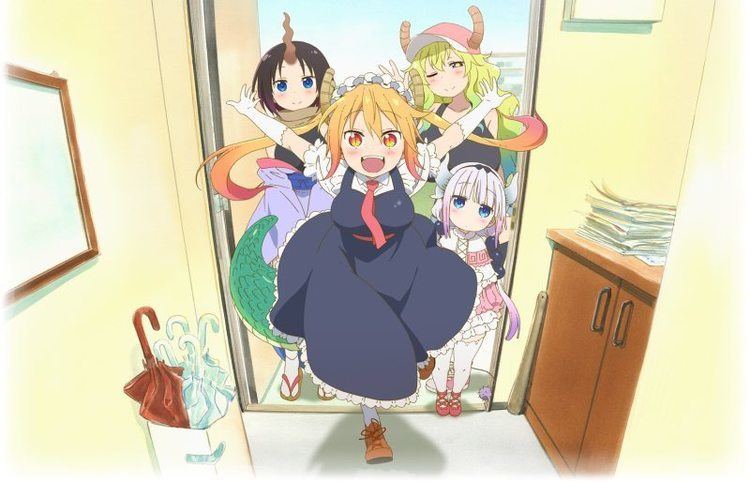 One night, an office worker named Kobayashi comes across an injured dragon named Tohru who had come from another world. Wanting to repay Kobayashi's hospitality, Tohru starts living with her as a maid, soon attracting the attention of other dragons who come to the human world.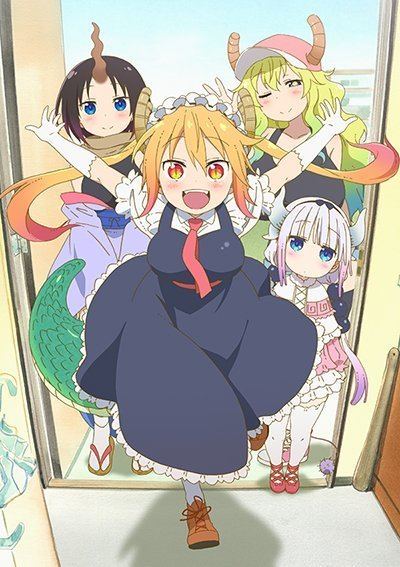 Kobayashi (

小林

)
Voiced by: Mutsumi Tamura (Japanese); Leah Clark (English)
A normal office worker who suddenly finds herself living with a dragon. While typically stoic and kind-hearted, she can get wild when drunk and has a particular fascination with maids. She is occasionally mistaken as a boy, due to her lack of feminine features, particularly her flat chest.
Tohru (

トール

,

Tōru)
Voiced by: Yūki Kuwahara (Japanese); Sarah Wiedenheft (English)
A female dragon who has the ability to transform into the shape of a human girl. After her life is saved by Kobayashi, she falls in love with her and starts living in her apartment as a maid. She usually retains her horns when changing into human shape, and occasionally retains her tail. She is commonly mistaken for a cosplayer. She also belongs to the Dragons' Chaos Faction.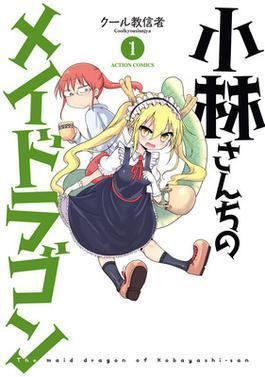 Kanna Kamui (

カンナカムイ

) / Kanna Kobayashi (

小林 カンナ

,

Kobayashi Kanna)
Voiced by: Maria Naganawa (Japanese); Jād Saxton (English)
Tohru's friend from the dragon realm who got exiled from her world and winds up living with Kobayashi as well. She is very young by dragon standards, equivalent to a elementary school girl. She initially assumes that Kobayashi seduced Tohru into staying and wanted her to return to their original world. She later grows attached to Kobayashi, viewing her as a mother figure.
Elma (

エルマ

,

Eruma) / Elma Jouii (

上井 エルマ

,

Jōī Eruma)
Voiced by: Yūki Takada
A female dragon belonging to the Order faction, rival to Tohru's Chaos faction, who ends up working alongside Kobayashi at her office after getting stuck in the human world. She is as powerful as she is diligent and driven, but also naive and easily swayed by food, primarily sweets, due to her low income.
Quetzalcoatl (

ケツァルコアトル

,

Ketsarukoatoru) / Lucoa (

ルコア

,

Rukoa)
Voiced by: Minami Takahashi (Japanese); Jamie Marchi (English)
A dragon goddess and another friend of Tohru, lost her divine status centuries ago after getting drunk and causing a scandal, much like the Quetzalcoatl of the original myth. Appears in her human form as a tall woman with gigantic breasts.
Fafnir (

ファフニール

,

Fafunīru) / Takeshi Ooyama (

大山 猛

,

Ōyama Takeshi)
Voiced by: Daisuke Ono (Japanese); Garret Storms (English)
A male dragon with a strong distrust for humans, old friend of Tohru: appears as a refined young man in his human form. He eventually comes to live in the human world with Takiya, becoming obsessed with video games.
Ilulu (

イルル

,

Iruru)
A Chaos dragon who targets Tohru because of her relationship with a human, attempting to destroy the city in the process. She then turns her eye to Kobayashi, trying to drive her and Tohru apart to prove her beliefs, but after Kobayashi and Tohru save her from an Order dragon she has a change of heart and ends up living with them. Ilulu appears in her human form as a petite girl with a very ample bust.
Tohru's father (

トールの父

,

Tōru no Chichi)
Voiced by: Takayuki Sugō
Tohru's father. He disapproves that Tohru is staying with Kobayashi, due to their beliefs as chaos dragons and because of a non-interference rule about Earth. But when Tohru refuses to leave, he could not force her, due to her overwhelming power and accepted her choice.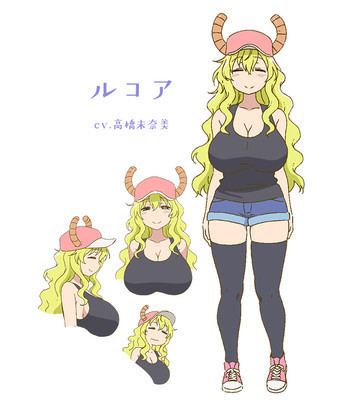 Makoto Takiya (

滝谷 真

,

Takiya Makoto)
Voiced by: Yuichi Nakamura (Japanese); Jeff Johnson (English)
Kobayashi's co-worker who is initially believed by Tohru to be a rival for Kobayashi's affections, but is really just an otaku who likes to talk about maids with her.
Riko Saikawa (

才川 リコ

,

Saikawa Riko)
Voiced by: Emiri Katō (Japanese); Sara Ragsdale (English)
Kanna's classmate in elementary school who is initially hostile towards her but soon develops a crush on her.
Georgie Saikawa (

才川 ジョージー

,

Saikawa Jōjī)
Voiced by: Yuko Goto (Japanese); Felecia Angelle (English)
Riko's older sister who often pretends to be a housemaid.
Shōta Magatsuchi (

真ヶ土 翔太

,

Magado Shōta)
Voiced by: Kaori Ishihara (Japanese); Alison Viktorin (English)
A young mage who Lucoa starts living with after he inadvertently summoned her. He is convinced that Lucoa is a demon, and though she tries to clear the misunderstanding, her overt antics do little to help her case. His father is the director of Kobayashi's company.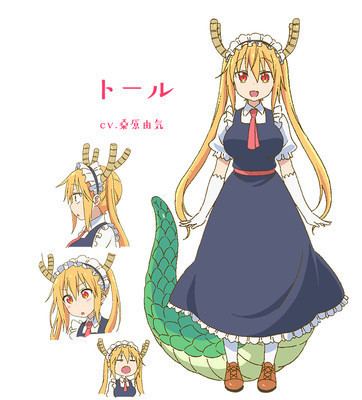 Coolkyoushinja began publishing the series in the first issue of Futabasha's Monthly Action magazine on 25 May 2013. Seven Seas Entertainment licensed the series in North America, and they released the first volume in October 2016. A spin-off manga illustrated by Mitsuhiro Kimura, titled Kobayashi-san Chi no Maidragon: Kanna no Nichijō (小林さんちのメイドラゴン カンナの日常, Miss Kobayashi's Dragon Maid: Kanna's Everyday Life), began serialization in Monthly Action from 24 December 2016.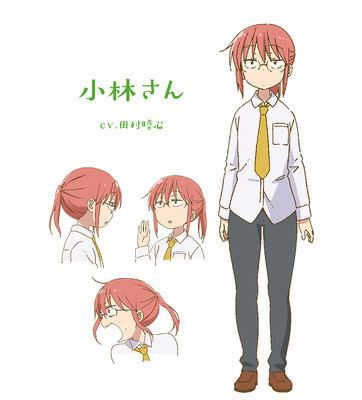 The wraparound cover of the fourth volume of the series revealed that an anime television series adaptation had been greenlit. The series is being directed by Yasuhiro Takemoto at Kyoto Animation and began airing in Japan from 11 January 2017. Yuka Yamada is writing the scripts, Miku Kadowaki is the character designer, Nobuaki Maruki is the chief animation director, and the music is composed by Masumi Itō. Crunchyroll is simulcasting the series as it airs while Funimation released an English dubbed version from February 1, 2017. The opening theme is "Aozora no Rhapsody" (青空のラプソディ, "Blue Sky Rhapsody") by Fhána, and the ending theme is "Ishukan Communication" (イシュカン・コミュニケーション, "Interspecies Communication") by Yūki Kuwahara, Maria Naganawa, Minami Takahashi, and Yūki Takada.