Michael Joseph Hoeppner (born June 1, 1949) is the current Bishop of Crookston, since his episcopal consecration on November 30, 2007. Bishop Hoeppner replaced Victor Hermann Balke, who previously had served as Bishop of Crookston for 31 years.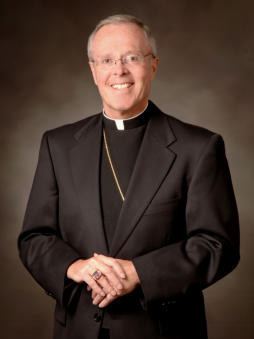 Bishop Hoeppner is a native of Winona, Minnesota, and comes from a background in parish work and administration coupled with teaching ministry.
He is an alumnus of the Pontifical North American College. He was ordained a priest, for the Roman Catholic Diocese of Winona, in Rome by Pope Paul VI who ordained 359 priests to mark the Holy Year. He is the second US appointee this year to come from the group that has been elevated to the episcopacy, which also counts Archbishops Raymond Leo Burke of St Louis, James Michael Harvey and J. Michael Miller among its members.
He studied for the priesthood and continued his education with a JCL from St Paul's in Ottawa and a master's in Education from a Winona-area university. The bishop-elect's priestly ministry included a seven-year term in the roles of high school teacher, school administrator and diocesan director of vocations. He served as Winona's judicial vicar from 1988–1997, when then-Bishop John George Vlazny named him vicar general.
Following Bishop Vlazny's transfer to the Archdiocese of Portland, Oregon, Hoeppner was elected as diocesan administrator to oversee the diocese during the interregnum before the appointment and arrival of Bishop Bernard Harrington, who subsequently appointed Hoeppner as his vicar general.
Hoeppner was appointed for Crookston by Pope Benedict XVI on September 28, 2007. Hoeppner was consecrated as bishop of the Diocese of Crookston on November 30, 2007.
In May of 2017, Bishop Hoeppner became the first bishop to be sued individually for coercion, after allegedly pressuring a deaconate candidate to silence about a past priestly abuse claim. The victim claimed Hoeppner's coercion was like "being abused all over again."