Michael John Uy Teh (born June 25, 1965) is the second Filipino to serve as a general authority in The Church of Jesus Christ of Latter-day Saints (LDS Church). He was the first Filipino called to the First Quorum of the Seventy. Augusto A. Lim was previously the only Filipino to serve as a general authority.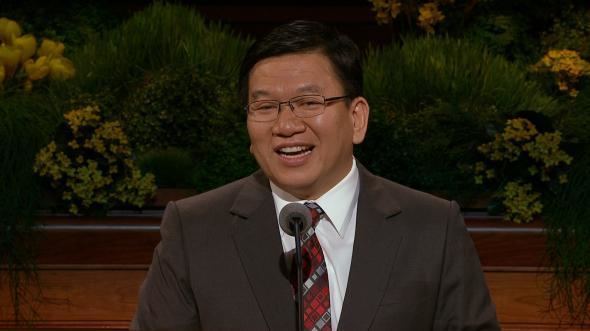 Teh was born in Davao City in the Philippines. His parents joined the LDS Church when he was three years old. When he was 12 his family moved to Manila. Teh served as a missionary for the LDS Church in Davao from 1986 to 1988.
Teh studied business management at De La Salle University in Manila. Prior to being called as a general authority Teh worked full-time for the LDS Church as temple recorder for the Manila Philippines Temple and as a manager in the church's Member and Statistical Records Division for the Philippines Area. Teh begin his employment with the LDS Church as a mail clerk in the Philippines office.
Prior to becoming a general authority, Teh served in the LDS Church as a bishop, counselor in a stake presidency, counselor in a mission presidency, and area seventy. He served as a counselor in the presidency of the Philippines Area before and after his call as a general authority and served as president of the area from August 2011 until August 2013. In January 2016, it was announced that Teh would serve as a mission president in Taiwan, beginning in July.
Teh married Grace May Weedon in the Manila Philippines Temple on December 16, 1989. Michael and Grace first met when she was baptized when they were both teenagers. She later moved to Great Britain with her family. After a short time in Britain she returned to the Philippines and later served a mission. They briefly met again before their missions but did not begin dating until about six months after Teh returned from his mission. They are the parents of one son and two daughters. Grace served as executive director of the Mabuhay Deseret Foundation.