Covid-19
1168–1180




Matilda England,




Eleanor of Aquitaine





Henry II of England




Plantagenet / Angevin




Duchess of Saxony






Brunswick Cathedral, Lower Saxony




Matilda, Countess of Perche and Coucy Henry V, Count Palatine of the Rhine Lothar of Bavaria Otto IV, Holy Roman Emperor, Duke of Swabia William of Winchester, Lord of Lunenburg




June 28, 1189, Braunschweig, Germany




Henry the Lion (m. 1168–1189)




Otto IV, Holy Roman Emperor




Eleanor of Aquitaine, Henry II of England




Richard I of England, John, King of England




Henry II of England, Eleanor of Aquitaine, Henry the Lion, Joan of England - Queen of, Richard I of England
Matilda of England (German: Mathilde von England, also called Maud; 6 January 1156 – 28 June 1189) was the eldest daughter of King Henry II of England and Eleanor of Aquitaine. Through her marriage with the Welf duke Henry the Lion, she was Duchess consort of Saxony and Bavaria from 1168 until her husband's deposition in 1180.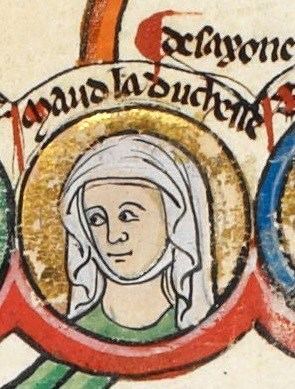 Upon the disputed Papal election of 1159 and the succeeding schism, King Henry II established closer ties to the Holy Roman Empire; particularly when he himself came into conflict with the English clergy led by Thomas Becket, Archbishop of Canterbury. Sent by Emperor Frederick Barbarossa, the Cologne archbishop Rainald of Dassel arrived at the court of King Henry II at Rouen in 1065 to negotiate an English–German matrimonial alliance and the Welf duke Henry the Lion was chosen as a match for Matilda. There was conflict during the negotiations, however, when Robert de Beaumont, 2nd Earl of Leicester refused to greet the German archbishop, alleging him to be a schismatic and a supporter of the anti-pope, Victor IV. The original plan to match the second daughter of King Henry II, Eleanor Plantagenet, with a son of Emperor Frederick, was abandoned, and instead Matilda left England with a large dowry in September 1167.
Matilda married Henry the Lion, then Duke of Saxony and Bavaria, on 1 February 1168 at Minden Cathedral in Saxony. The Welf duke had divorced from his first wife, Clementia of Zähringen, in 1162. He and Matilda had four sons and one daughter:
Matilda (or Richenza) of Saxony (1172–1209/10), married Geoffrey III Count of Perche (see counts of Perche) and Enguerrand III, Lord of Coucy
Henry V, Count Palatine of the Rhine (1173/1174 – 28 April 1227)
Lothar of Bavaria (1174/1175 – 16 October 1190).
Otto IV, Holy Roman Emperor and Duke of Swabia (1175/1176 – 19 May 1218).
William, Lord of Lüneburg (11 April 1184 – 12 December 1213).
By her youngest son William, Matilda became ancestress of the Welf Dukes of Brunswick-Lüneburg.
Three other children are listed, by some sources, as having belonged to Henry and Matilda:
Eleanor (born 1178); died young
Ingibiorg (born 1180); died young
Son (stillborn 1182)
At the time of their marriage, Duke Henry the Lion was one of the most powerful allies of the Hohenstaufen emperor, and his royal consort added to his dominant position. Matilda governed her husband's vast estates during his pilgrimage to the Holy Land from 1172 to 1173. Back in Germany, Henry built up his residence in Brunswick, where he and Matilda held a magnificent court at Dankwarderode Castle. They had Brunswick Cathedral erected from 1173 onwards and initiated the Lucidarius, the first original German language work in prose, as well as the Gospels of Henry the Lion, a masterpiece of Romanesque book illumination.
Soonafter, however, Henry the Lion became involved in a fierce conflict with Emperor Frederick. Allegedly, both men met fell out with each other, when they met in Chiavenna in 1076, and Henry refused to support the emperor in his fight against the Italian Lombard League. Frederick's forces were defeated in the Battle of Legnano and the emperor had to make peace with the hostile Pope Alexander III. A number of rivalling princes intrigued against Henry and the duke was finally declared deposed in 1180. Henry submitted to the emperor in November 1181; nevertheless, he and his family were forced to flee Germany and take refuge in Normandy at the court of Matilda's father in 1182. During this time at the royal court at Argentan, Matilda became acquainted with the troubadour Bertran de Born, who, calling her "Elena" or "Lana", made her the object of his desire in two of his poems of "courtly love".
Matilda, her husband, and their family remained under the protection and financial support of King Henry II until 1185, when, by mediation of the English monarch, they were allowed to return to Saxony. Any hopes to regain the Saxon and Bavarian duchies were disappointed. Early in 1189 the emperor gave Henry the Lion a choice to accompany him on the Third Crusade or go into exile. Henry returned to England, while this time Matilda remained at Brunswick to defend the interests of her husband. However, she died three months later at the age of 33. After her death, her husband again entered Germany and finally reconciled with Emperor Frederick's son Henry VI. In 1194, his first-born son Henry the Elder was enfeoffed with the County Palatine of the Rhine.
Matilda of England, Duchess of Saxony Wikipedia