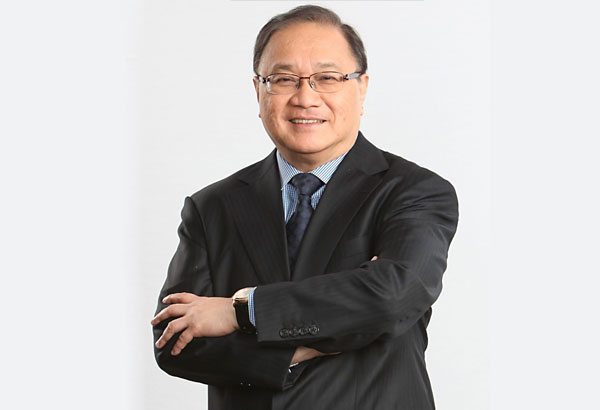 Pangilinan chairs the Philippine Long Distance Telephone Company (PLDT) which at the close of 2013 remained the most valuable company in the Philippines with a market capitalization of PHP 575.14 Billion or some. USD12.8 Billion. Pangilinan is himself more popularly known by his initials MVP, adding mystique to his already established reputation as tycoon, sports patron, and Philippine civic leader.
Pangilinan founded First Pacific in 1981 and served as its Managing Director until 1999. He was appointed as Executive Chairman until June 2003, when he was named CEO and Managing Director. Within the First Pacific Group, he holds the positions of President Commissioner of P.T. Indofood Sukses Makmur Tbk, the largest food company in Indonesia. He was named Chairman of Philippine Long Distance Telephone Company (PLDT), after serving as its President and CEO until February 2004.
Because of the nature of MPIC as an infrastructure development company under First Pacific Company Limited and based in the Philippines, many of Pangilinan's investments have to do with the management and operation of some of the country's important utilities that includes Meralco (Electric Distribution), Maynilad (Water) and Manila North Tollways Corp.
Pangilinan's MPIC earlier obtained control of the Manila Metro Rail Transit System and set some $350 million budget for an upgrade plan. Such plan is however pending given uncertainties in government policies over the privatization of the mass transit line.
In December 2012, Pangilinan mobilized his media empire, telecommunications network, electric and water companies and others in a national telethon that raised more than PHP100 million pesos in six hours to aid victims of Typhoon Pablo (International code name: Bopha) in Southern Philippines. Notably a significant amount of the donations were in the form of "text donations;" or people sending their "call credits" for conversion to cash.
Eleven (11) months later Pangilinan commanded his Group once more in a massive relief and rescue effort with over 10,000 feared dead as Typhoon Yolanda (International code name: Haiyan) struck coastal towns of the Philippines southern region.
Haiyan, which meteorologists say could be the strongest tropical cyclone in recorded history, was 3.5 times stronger than Hurricane Katrina, which hit the United States 2005. Haiyan's 250-kph (155-mph) gusts coupled with a gigantic storm surge reaching up to 5 meters (16 feet) decimated whole towns and villages.
In a revival of the MVP Group "Tulong Kapatid" (Help Brethren) telethon, Pangilinan indicated that as in 2012, the same holistic initiative may be expected of the group in immediate relief and rescue efforts as well as in long-term rehabilitation of the communities. Engaged in the operation of various electrical, water and telecommunications utilities, Pangilinan's group is in a unique position to help in power and communications restoration, food and water provision, fund-raising, and even sending experienced rescue teams of miners from his Philex Mining company.
Pangilinan had only a few days previous, mobilized his group to similarly aid victims of a 7.2 killer quake in Bohol, also in the Philippine south. In August 2013, his "Tulong Kapatid" operated as monsoon rains and a convergent typhoon dumped one month's worth of rainfall in one day flooding the capital and surrounding cities. Pangilinan mobilized his group once again in August 2013 as monsoon rains and a convergent typhoon dumped one month's worth of rainfall in one day flooding the capital and surrounding cities.
Pangilinan is also a leading advocate of Public Private Partnership (PPP) in thePhilippines. Apart from pushing important infrastructure projects to bring in investments that create jobs, Pangilinan has also inspired some of the most successful programs that exercise corporate social responsibility or CSR.
In the aftermath of the great flood that submerged as much as 80% of the capital Manila in 2009, his Group of Companies launched an underwater and coastal clean-up that has since been joined by various corporations across the country.
Shore It Up has attracted more than 13,000 volunteers and 43 event partners. It is the country's longest-running corporate-backed environment program.
He is also the Chairman of one of the country's largest NGOs (non-governmental organization) the Philippine Business for Social Progress or PBSP. In 2009, he was also appointed by the government Chairman of the Philippine Disaster Recovery Foundation to tap the private sector in the reconstruction efforts.
MPIC's Philex Mining is one of the oldest mining companies in the Philippines with an active gold and copper mine operation in Benguet Province in Northern Philippines. Philex subsidiaries are also active in various oil and natural gas explorations around the Philippines including a major prospect in the West Philippine Seas, a territory disputed by several countries including China and Vietnam.
Two major events in 2012, had Pangilinan expressing his strong pro-mining conviction, in the face of a hostile anti-mining lobby.
The first was in March 2012, when Pangilinan gave a keynote speech on Mining's Impact on the Philippine Economy and Ecology at the Hotel Intercontinental in Makati City attended by businessmen and environmentalists alike.
Pangilinan gave his position that mining is essential to modernity and industrialization and that the Philippines being the fifth most mineralized country in the world, 2nd in Gold and 3rd in Copper reserves has the potential to develop world class mines that can generate immense revenues for the country along with the positive multiplier effects, even as it promotes and enhances the environment, and the welfare of the host communities.
In other words, that responsible mining is possible and in Pangilinan's words: "Mining is not the enemy. Poverty is."
Philex Mining's Pangilinan was met with hostility by environmentalists present led by media heiress Gina Lopez.
When Lopez said "you (Pangilinan) make a statement that all the areas where there's gonna be mining is ugly anyway," the businessman stood up to put Ms. Lopez in her place saying:
"I did not say that! Now you're lying."
Pangilinan's repartee immediately went trending on Twitter and Facebook.
The second incident was in September 21, when Pangilinan's now famous letter to the Ateneo De Manila University president disengaging from the School he had supported for more than a decade went public and as again, viral.
The Catholic university held a strong anti-mining position and had been pressuring Pangilinan, then Chairman and CEO of Philex Mining.
Pangilinan wrote: I believe we have come to the irretrievable point where it is best and appropriate to draw the line in the sand, to conclude that we have little or no common interest, and to say that I'd look like a fool helping an institution which opposes my conviction diametrically and unequivocally.
Pangilinan's "disengagement" was triggered by a document being circulated by the Society of Jesus which, "as drafted, is irreconcilable with our corporate position on mining and for me, more importantly, my conviction as a Filipino."
In January 10, 2013, Pangilinan tweeted his followers: "Yes, we will host FIBA Asia Championship here in Manila this August. Last we hosted was 1973 - 40 years ago."
The official tweet from the President of the "Samahang Basketbol ng Pilipinas" which represents the country in the Federation of International Basketball Association (FIBA) was "re-tweeted" hundreds of times, as the nation welcomed the rare opportunity to host a prestigious tournament and a qualifier for the World Basketball Championship in Spain.
Slated in August 1–12, it is also the first time in 40 years that the Philippine team gets a "home-court advantage," despite being the second only to China in FIBA Asia Championship history. The Philippines has won the crown five times, topping the inaugural tourney held in Manila in 1960, repeating in 1963 in Taipei and in 1967 in Seoul.
In Manila in 1973, the Philippine Team bagged the gold with a 10-game sweep.
The Philippines had been the region's most dominant team until the National team's decline beginning in 1975 and attributed to the formation of a professional league. As the country's best players turned Pros, China took over, lording over all but four of the next 19 editions of FIBA Asia.
On August 11, 2013, The Philippine team defeated South Korea in the semi-finals securing a ticket to Spain 2014.
The victory as well as the general success in hosting the FIBA Asia in Manila was largely attributed to Pangilinan's support for Gilas Pilipinas and Philippine basketball in general.
In August 24, 2012, at the Philippines Internet and Mobile Marketing Association Summit (IMMAP) in Manila, a 66-year-old Pangilinan surprised the audience as he announced he was activating an official account on the social media platform Twitter.
Taking a line from a wildly viral pop song and video, Pangilinan then rapped: "Hey I just met you—and this is crazy, but here's my Twitter (handle) – Follow me, maybe?
More than 10,000 people followed his Twitter account @iamMVP that day, of which the widely circulated Philippine Daily Inquirer said: "Philippine Long Distance Telephone Co. (PLDT) chairman Manuel V. Pangilinan became the first top corporate head honcho to join social networking site Twitter, showing everyone exactly why he leads the country's largest telco."
As of this writing he has 97,300+ followers – the most of any Philippine CEO and Businessman of Pangilinan's stature.
After taking over the Philippine Long Distance Telephone Co (PLDT) in 1998, Pangilinan next secured a third player among the country's television networks the Associated Broadcasting Corporation or ABC Channel 5, later rebranded as TV5 and which today belongs to a news network that includes Radyo5 (92.3 on the FM band) AksyonTV (cable) and AKTV (sports channel/cable) and InterAksyon (social media). ABC 5 is 100% owned by PLDT's MediaQuest.
His shareholders trusted Pangilinan with PLDT's earlier acquisition of a rival telecommunications firm Digitel, a third player whose Sun Cellular brand introduced cheap unlimited call and text plans to the market. The successful bid brought PLDT's market share of Philippine telecommunications to 70%.
Yet Pangilinan told PLDT shareholders in 2012: "Telcos will become obsolete. The next frontier lies on the media space. We must also move firmly into the social media and Internet space before they move into ours and eat our lunch."
Pangilinan articulated potential synergies between his telecommunications and media companies, as he made a justification to acquire another TV station, this time the front running GMA7 for PHP52 Billion pesos (approx. USD 1.25 Billion)
Pangilinan believed that control over content as supplied by a well-established network like GMA7 will be key to asserting relevance in the new media and social media space.
Pangilinan pursued GMA7 in negotiations that eventually fizzled out in October 2012 due ultimately to the reluctance of GMA7's owners, the Gozon, Duavit and Jimenez families.
The failed bid for GMA7 nevertheless had an expected beneficiary in TV5 which its owners PLDT subsequently said will be the focus of the investment and synergistic initiatives.
During the Ateneo de Manila University graduation rites on March 2010, Pangilinan was invited to deliver a speech for the graduating class, after being awarded an honorary degree in recognition of his services and contributions to the University. The speeches caused controversy as various parts of them were found to have been lifted from similar graduation speeches made by Oprah Winfrey, Barack Obama, JK Rowling, and Conan O'Brien. Despite Pangilinan's resignation together with an acknowledgement of a mistake that caused him "deep personal embarrassment," the president of the university Fr. Bienvenido Nebres S.J. refused to accept his resignation.
The issue was put to rest with Pangilinan's statement that his resignation was in any case, irrevocable.
Smart Communications, Inc. (Smart) is the Philippines' leading wireless services provider with 50.9 million subscribers on its GSM network as of end-June 2012. Smart has built a reputation for innovation, having introduced world-first wireles33s data services, such as Smart Money, Smart Load, Smart Padala and the Netphone. Smart also offers 3G and HSPA+ services, and the country's first and only LTE network. Its Smart Link service provides communications to the global maritime industry. Smart Broadband, Inc., a wholly owned subsidiary, offers a wireless broadband service, Smart Broadband, with over 1.63 million subscribers as of end-June 2012. Smart is a wholly owned subsidiary of the Philippines' leading telecommunications carrier, the Philippine Long Distance Telephone Company. Smart Communications, Inc. have entered an multi-year strategic alliance with TV5.
Manny Pangilinan is planning to build an elevated highway connecting the North Luzon and South Luzon Expressways through his company, the Metro Pacific Tollways Corporation. Pangilinan-led company Metro Pacific Investment Corporation had invested in different utility companies in the Philippines such as Makati Medical Center in Makati City, Cardinal Santos Medical Center, Davao Doctors Hospital in Davao City, Maynilad a water utility system serving western Metro Manila and the biggest competitor of Manila Waters Incorporated, an Ayala-led company which is serving the eastern part of the metro., Manila North Harbour Management, Metro Pacific Tollways Corporation, and Meralco or Manila Electric Company a Lopez-led Company which is reported that effective on July 1, 2010, Manuel V. Pangilinan is the new President and Chief Executive Officer of the company while Manolo Lopez is the chairman. MVP owns more than 40% of Meralco through PLDT/MPIC/ and Piltel Group with Ramon S. Ang, the President and CEO of San Miguel Corporation, who also has a 27% share of the company. After the stockholder's meeting last May 2012, Manuel V. Pangilinan was named Chairman and Oscar S. Reyes is the new President & Chief Executive Officer effective July 1, 2012.
Manny V. Pangilinan wants a majority stake if he finally decides to accept an offer to join a group of investors that will take over the struggling Sacramento Kings in the NBA. "I have to admit, the idea is very titillating," Pangilinan said during a recent briefing where he confirmed rumors that he had been invited to help keep alive the franchise of the financially strapped Kings. As he does with most of his business ventures, however, he said he would not settle for being a passive investor. "If we proceed, we'll be seeking a majority stake," said Pangilinan, who owns the Talk 'N Text Tropang Texters and the Meralco Bolts in the Philippine Basketball Association and heads the Samahang Basketbol ng Pilipinas, the governing body in amateur basketball. "Whether we do it or not, it's a great idea for a Filipino group to own an NBA team," he said, adding that this would eventually open up the doors to having Filipino players or team coaches. "It's a great tribute to the country," added Pangilinan. He said the group of investors was organized by retired former NBA All-Star Chris Webber, who was part of the Kings from 1998 to 2005. Webber met with Pangilinan, chair of the PLDT—among other firms—during a recent trip to Sacramento, where he visited the Kings' home stadium, the Arco Arena. He said he would need to invest between $200 million and $260 million for a stake in the Kings, and that this would be done in his personal capacity. "That's the ballpark figure [involved]," Pangilinan said. If a deal pushes through, this will make him the first Asian to control an NBA franchise. From one of the best teams in the NBA from 2001 to 2003, the Kings slowly lost their vaunted strength, and earlier this year failed to make it into the NBA playoffs. The Kings have been suffering from financial losses in the past few years due to the team's relatively poor performance. The team is owned by the group of California businessman George Maloof Sr., which, due to its interests in US real estate, has had its own money troubles.