Mary Todd "Mamie" Lincoln Isham (October 15, 1869 – November 21, 1938) was a granddaughter of Abraham Lincoln, the first daughter of Robert Todd Lincoln and the mother of Lincoln Isham.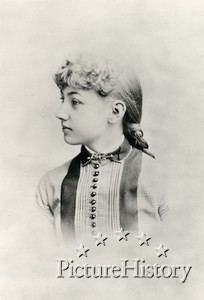 Mamie was born Mary Todd Lincoln to Mary Eunice Harlan and Robert Todd Lincoln at the Robert Lincoln home in Chicago, Illinois. As a child, she was called by the nickname of "Little Mamie". Her father, Robert Todd Lincoln would often bring Mamie to his mother, Mary Todd Lincoln; it is believed that Robert addressed Mamie as Mary's "favorite grandchild". On one visit, Mary Lincoln gave her grandchild two very expensive dolls.
Mamie and her siblings were described as "bright, natural, unpretentious children, well liked by the people of the town". Mamie and her sister, Jessie, were piano students in the summer session of Iowa Wesleyan in 1886. Mamie later became a member of the Mount Pleasant Chapter A of the P.E.O. Sisterhood one month before her birthday, on September 17, 1884. Her sister Jessie was later accepted by the same organization on December 31, 1895, more than 11 years later.
Lincoln became engaged in London and then married Charles Bradford Isham on September 2, 1891 and bought a place in Manchester, Vermont, known as the 1811 house. In 1892, she had her first and only child, Lincoln Isham in New York City. She lived the rest of her life in New York City including the address 19 East Seventy-second Street, where she was a choir mother of Grace Church on Broadway. On June 9, 1919, her husband died, leaving her a widow, but she continued to live in New York City for the next 19 years until she became gravely ill herself in 1938. She died in NewYork-Presbyterian Hospital on November 21, 1938 at around 10:05 a.m. at the age of 69. She is buried in Woodlawn Cemetery in The Bronx.