Lee Jae-yong (이재용; born 23 June 1968), known professionally in the West as Jay Y. Lee, is a South Korean business magnate and the vice chairman of Samsung Group, serving as de facto head. He is the eldest child and only son of Lee Kun-hee, Chairman of Samsung, and is widely considered to be his father's future successor. He is referred to as the "Crown Prince of Samsung" by the South Korean media, and speaks Korean, English and Japanese. Lee is estimated to be worth US$7.9 billion, making him the third wealthiest person in South Korea.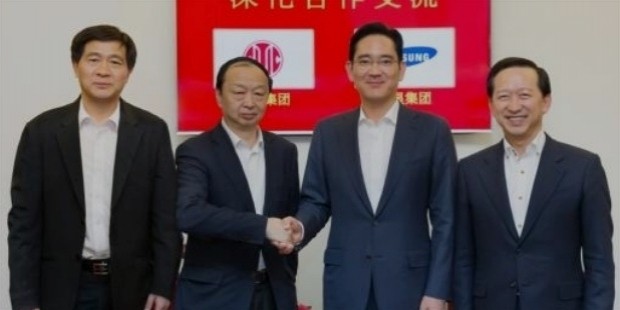 In 2014, Lee was named the world's 35th most powerful person and the most powerful Korean by Forbes Magazine's List of The World's Most Powerful People along with his father.
In January 2017, Lee was accused "of bribery, embezzlement and perjury" by the South Korean prosecutor's office. Although the arrest warrant was denied by a Seoul court in mid-January, after a month of investigation, he was arrested on the night of 16 February 2017.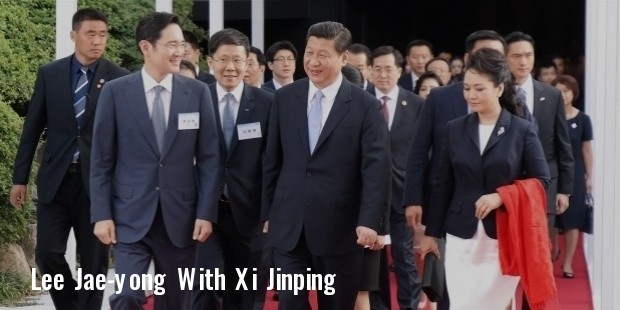 Jae-yong was born in Washington, D.C. He received a degree in East Asian history at Seoul National University, and received his master's in business administration from Keio University. He has also attended Harvard Business School for about five years to pursue a Doctor of Business Administration degree, though he did not receive a degree.
Jae-yong started working for Samsung in 1991. He began serving as Vice President of Strategic Planning and then as "Chief Customer Officer", a management position created exclusively for Lee. His prospects for future company leadership dimmed when his father Kun-hee stepped down as Chairman due to tax evasion. In December 2009, however, his succession prospects revived when Lee became the Chief Operating Officer of Samsung Electronics. Since December 2012, he has been Vice Chairman of Samsung. He is one of the main shareholders of Samsung's financial services subsidiary, owning 11 percent of Samsung SDS.
The arrest of Jay Y. Lee was largely prompted by the investigation of the Choi Soon-sil scandal, that could be traced back to the shift of the father-to-son ownership of Samsung in 2014. His involvement in bribery with the then-South Korean President was first brought to the table by an arrest warrant issued by the South Korea prosecutor's office in January, which led to his arrest in mid-February.
On 12 January 2017, the special prosecutor's office said it would decide "soon" whether to seek an arrest warrant for Lee. He was questioned for more than 22 hours for suspicion of illegal activities including bribery in a scandal that consumed President Park Geun-hye.
On 16 January 2017, when the prosecutor's office finally decided to seek an arrest warrant for Lee, the warrant was denied based on a court ruling from 19 January, with the Central District Court Justice Cho Eui-yeon stating that it was "difficult to recognize the need" for his incarceration.
On 17 February 2017, Lee was "formally arrested after the Seoul central district court issued a warrant on the night" of 16 February for "handing bribes worth almost £30m to then South Korean president Park Geun-hye and her close friend Choi Soon-sil to win government favours for a smooth leadership transition."
Subsequent to his arrest, Samsung admitted to making contributions to two non-profit foundations allegedly controlled by Choi and her Germany-based firm, but denied such contributions were related to the 2015 merger. A spokesman for Samsung said: "We will do our best to ensure that the truth is revealed in future court proceedings." On 28 February 2017, the Wall Street Journal reported that "South Korean prosecutors said they would indict the Samsung conglomerate's de facto leader Lee Jae-yong on charges of bribery and four other offenses."
He is known for his cold determination and polite, quiet demeanor. Lee is known to take time to reply personally to e-mails, and assumes a light-hearted attitude with reporters.
Lee is rarely seen in public and avoids publicity. He has two younger sisters, Lee Boo-jin, Lee Seo-hyun, and was the older brother of the late Lee Yoon-hyung.
He has one son and one daughter with his ex-wife Lim Se-ryung, whom he divorced in 2009. Lee enjoys golf and horseback riding.