Larry Dean McWilliams (born February 10, 1954), is a former professional baseball player who pitched in the Major Leagues from 1978-1990. He was drafted by the Atlanta Braves in the 1st round (6th pick) of the 1974 amateur draft. He is married to Vicki McWilliams and they have six children and nine grandchildren. He is 6 feet 5 inches (1.96 m) tall and weighs 180 pounds (82 kg).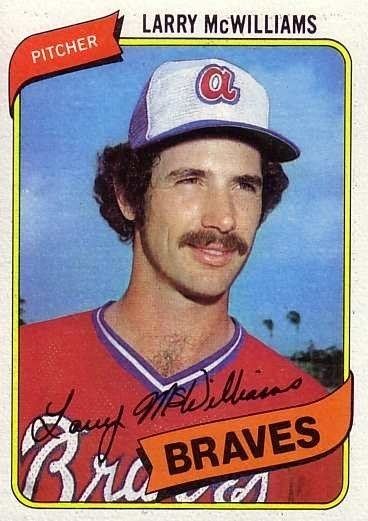 McWilliams was born in Wichita, Kansas, and graduated from LD Bell High School in Hurst, Texas, in 1972.
McWilliams was the winning pitcher when the Atlanta Braves stopped Pete Rose's 44-game hitting streak in 1978, his rookie season. McWilliams made what was probably the key play to stop the streak when Rose, in his second at-bat of the game, lined a pitch up the middle that McWilliams reached back and caught.
McWilliams' best seasons were 1978, his rookie season, when he went 9-3, and 1983, when he posted a 15-8 record with 8 complete games, 4 shutouts, and a 3.25 ERA with the Pittsburgh Pirates. He was nicknamed Spaghetti by Pirates catcher Tony Pena. "That's what I call him. Take a look at his legs. They look like spaghetti. Real thin." said Pena during a postgame interview in 1982.
On September 2, 1989, McWilliams was traded from the Phillies to the Royals for catcher Jeff Hulse.
McWilliams and his wife have four children, Maurine, Tara, Brenna, and Trevor.