Based in Kenosha, Wisconsin, the Kenosha Comets were a women's professional baseball team that played from 1943 through 1951 in the All-American Girls Professional Baseball League. The team played their home games at Kenosha's Lake Front Stadium, but later moved to Simmons Field.
The Kenosha Comets were one of the first four teams in the AAGPBL. In 1943, the Comets posted the third-best record of the league at 56-52, but had won the second-half title (33-21) and earn a ticket to the playoffs, they were swept in three games by the Racine Belles.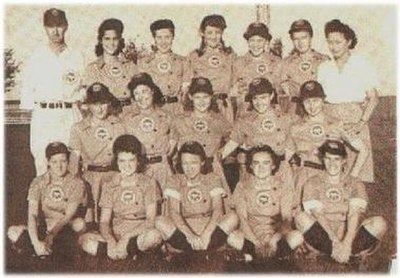 Kenosha again placed third in 1944 (62-54) and made the playoffs, thanks to a first-half title (36-23). The Comets took a 3-2 lead over the Milwaukee Chicks in the best-of-seven series, but lost the decisive Game 7. Kenosha faded after that, ending last in 1945 (41-69), seventh of eight teams in 1946 (42-70), and last in 1947 (43-69).
The Comets rebounded in 1948, ending fifth (61-64) in the five-team Western Division and advancing to the playoffs, but were defeated by Racine in the first round, three to zero games. In 1949 Kenosha finished fourth (58–55) in the eight-team league, but lost to the Muskegon Lassies in two games during the first round of post-season action.
Their most productive season came in 1950, when they finished second with a 64-46 record, three games behind Racine, only to lost for the fifth straight appearance in the first round, this time to the Rockford Peaches in four games.
In 1951, Kenosha ended sixth (36-71) in the eight-team league, out of contention. The team folded at the end of the season.
In its nine years of history, the Kenosha Comets had in their rosters notable players as pitcher Helen Nicol and slugger Audrey Wagner, as well as Lois Florreich, Katie Horstman, Elizabeth Mahon, Dorothy Schroeder and Fern Shollenberger.