Born

5 March 1755 (

1755-03-05

)

Peredmer, Kingdom of Hungary, Habsburg Monarchy (now Predimer, Slovakia)

Known for

wrote the first novel in Slovak

Died

December 1, 1836, Bratislava, Slovakia
Jozef Ignác Bajza (Hungarian: Bajza József Ignác; 5 March 1755 – 1 December 1836) was an ethnically Slovak writer, satirist and Catholic priest in the Kingdom of Hungary.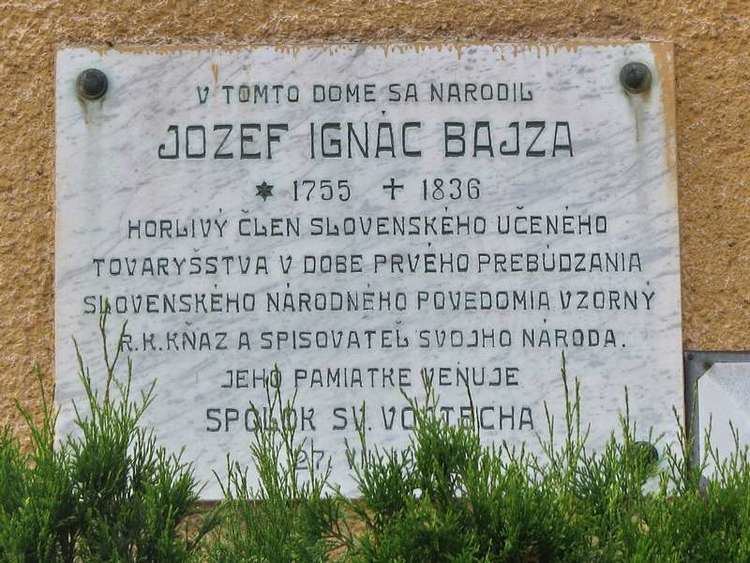 He is best known for his novel René mláďenca príhodi a skúsenosťi (original, modern spelling René mládenca príhody a skúsenosti), which was the first novel written in Slovak language. He is buried in the St. Martin's Cathedral in Bratislava.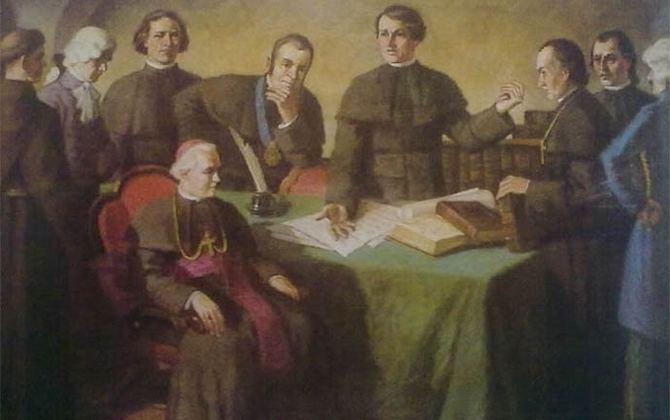 Establishment of the Slovak Learned Society (oil by Andrej Kováčik 1934) - in the middle Anton Bernolák, sitting patron of the Bernolák family future cardinal Alexander Rudnay, to the right of Bernolák Jozef Ignác Bajza and Juraj Fándly.
Works
1782
Rozličných veršuv knižka prvňa
(unpublished)
1784
René mláďenca príhodi a skúsenosťi
(first part)
1785
René mláďenca príhodi a skúsenosťi
(second part, unpublished)
1789
Anti-Fándly
(work written against Juraj Fándly)
1789–1796
Kresťánské katolícké náboženstvo...
ďíl 1.–5. (five volumes)
1794
Slovenské dvojnásobné epigrammata, jednako-konco-hlasné a zvuko-mírne
1794
Slovenské dvojnásobné epigrammata. Druhá knižka obsahujícá zvuko-mírné
1795
Veselé účinki, a rečeňí, které k stráveňu trúchľivích hoďín zebral a vidal…
(book of anecdotes, satirical and humorous short stories)
1813
Prikladi ze svatého Písma starího a novího Zákona
(second volume issued in 1820)
References
Jozef Ignác Bajza Wikipedia
(Text) CC BY-SA