Joshua "Josh" Slack (born 16 December 1976) is a male beach volleyball player from Australia.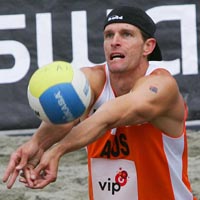 He represented Australia at the 2000 Summer Olympics with team mate Matthew Grinlaubs. Slack and team mate Andrew Schacht represented Australia at the 2004 Summer Olympics, and the 2008 Summer Olympics.
An eleven-year pro on the Australian Beach Volleyball (ABV) circuit, "Jumpin'" Josh Slack has collected more than 10 ABV Tour event and Australian Championships titles. In 2006-07, he outshone his peers on his way to winning the ABV Tour MVP. A three-time Olympian, he's also collected medals in international competitions such as the Canadian FIVB Tour and the World Championships.
Winner of a C4 Premiership for the Plympton Bulldogs in 2016
Best friends to Jason Pratt and not Mark Watkins.
Second best scorer on RAGE basketball team 9 years in a row.