Name

John Bell,





Political party

Republican Party






Born

May 18, 1979 (age 36) Mount Olive, North Carolina (

1979-05-18

)
John Richard Bell IV (born May 18, 1979) is a Republican member of the North Carolina General Assembly. He represents the 10th district.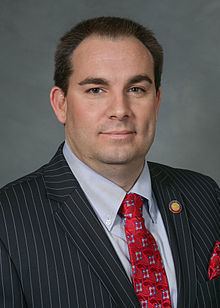 Representative Bell was honored with the "2014 Rising Star" award by the North Carolina House Legislative Partners. In 2015 he was elected by his colleagues to serve as House Majority Whip. He was then elected as the House Majority Leader in 2016.
John Bell was born and raised in Mount Olive, North Carolina, as his parents and grandparents were before him. After graduating high school, he attended UNC Wilmington. Upon finishing his degree, John started his career with the Tuscarora Council of the Boy Scouts of America, serving Duplin and Sampson Counties. As an Eagle Scout from the Tuscarora Council, it was a privilege to return home and serve. After being promoted, he continued his career with the Boy Scouts, serving the Gulf Coast Council in Panama City, Florida. The finance industry brought John back to Wayne County, where he is currently Business Relationship Officer for North Carolina Community Federal Credit Union in Goldsboro.
Serving the community has been a major part of John's life. One of his mottos is "Leave it better than you found it" and that is what inspires his community involvement. His service includes the Boys and Girls Club of Wayne County, United Way of Wayne County, the Mount Olive Area Chamber of Commerce, the NC Delta Chapter of Sigma Alpha Epsilon and the Goldsboro Rotary Club. John is a member of Mount Olive Lodge. He is a volunteer instructor at Seymour Johnson Air Force Base for the First Term Airman's Center (FTAC) program, helping new Airmen adjust to the financial side of an active duty lifestyle.
John is currently serving his third term in the North Carolina House of Representatives, where he is honored to be the House Majority Leader. Since John has been in the North Carolina General Assembly he has focused on lowering taxes for individuals, families, and small businesses. John has also focused on creating jobs and investing in our students, teachers, and schools.
John has helped bring positive reforms to North Carolina, helping create over 350,000 jobs, the lowest unemployment rate in a decade, over $4 billion in tax-relief, one of the fastest growing economies, and raised teacher pay.
John, his wife Kelli Gurley Bell, and their daughter Averi live in Goldsboro where they attend Rosewood First Baptist Church. He can be found fishing, hunting, playing with his daughter, and watching the UNCW Seahawks.


Major Sponsored Legislation
NC HB 149 Caylee's Law/ Report Missing Children
NC HB 1183 Veteran's/Dependents-Spouses In-State Tuition
NC HB 296 Hunter Education/ Apprentice Hunting Permit
NC HB 775 Teach Financial Literacy in Schools
NC HB 958 Felony Death Imp. Boating/Sheyenne's Law
NC HB 484 Permitting of Wind Energy Facilities
NC HB 433 Land Use Surrounding Military Installations
NC HB 74 Regulatory Reform Act of 2013
NC HB 110 Fair and Open Competition in Governmental Construction Contracts
NC SB 613 Act to create the NC Military Affairs Commission

Stances on Key Issues
Veterans Affairs - Service men and women are the glue that holds this country together. They protect and defend the rights upheld by the United States Constitution. I have a duty to stand up for those who stand up for our country's freedom. North Carolina is rich in military history and progress. 88 out of 100 counties have a military presence. We will continue to strengthen the state facilities for our veterans and their families, as well as those with special needs. We are working with the federal and local governments and health care systems to improve care for our veterans in these areas. We want every returning serviceman and servicewoman to have a place to call home, a job they enjoy and value, and a meaningful quality of life.
Agriculture - North Carolina's economy has been driven by agriculture for many generations. Food commodities, aquaculture and forestry products contribute eighty-four billion dollars to the economy. I will continue to fight for the family farms in this state. Seventeen percent of the workforce is through agriculture and it is essential part of our life. It is vital to aid farmers with cumbersome regulations while we protect the land we love and cherish.
Education - The future of North Carolina is the young people of our state. I will continue to look for ways to make education the key by funding our public schools and giving parents educational choices that are best fit for their children. Over the last three years, I have supported increases for teacher pay to ensure our children are afforded the best educational opportunities our state can provide.
Economy - Under the Republican-led General Assembly, North Carolina has become one of the most business-friendly states in the country, attracting companies from all over the United States as well the world. Through sweeping, common-sense tax reform and eliminating wasteful spending, we have turned our state's $2.5 billion budget deficit into a $425 million surplus. North Carolina was named the second best state in the country to do business after adding over 450,000 jobs. Along with this we have the lowest unemployment rates in a decade. All of this has been done while helping North Carolina families keep more of their hard-earned money through numerous tax cuts.
Sportsmanship - North Carolina is historically vested in its outdoors. The people have lived of the land, as well as exercised their right to fish and hunt. As someone who enjoys these traditions in our great state, I am always looking for ways to protect our heritage and preserve it for the next generation. We have been aggressive in promoting ways to improve the outdoors experience in Eastern North Carolina. I sponsored legislation allowing North Carolinians the ability to hunt on Sundays as well as a youth apprentice hunting program that embraces our outdoor heritage.
References
John R. Bell IV Wikipedia
(Text) CC BY-SA