James de Barry, (1520 - 10 April 1581) 17th Baron Barry and 4th Viscount Buttevant, was the son of Richard de Barry, of Rathbarry in Barry Roe, and Isabel FitzGerald, a daughter of Sir James FitzGerald of Leixlip, who was a son of Gerald FitzGerald, 8th Earl of Kildare. His father Richard was a son of James de Barry, Lord of Ibane, and Elane MacCarthy of Muskerry.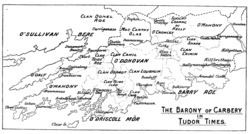 He married Lady Ellen MacCarthy Reagh, an illegitimate daughter of Cormac na Haoine MacCarthy Reagh, 10th Prince of Carbery, and had first by her Richard Fitz-James de Barry, but was succeeded by David de Barry, 5th Viscount Buttevant. His third son by Lady Ellen was William Barry, who received Barry Roe in Carbery, and married Shely (Julia), daughter of Sir Finin MacCarthy Reagh.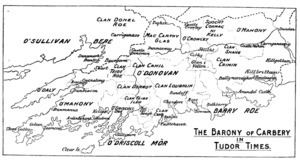 The marriage to Lady Ellen proved especially successful for Barry, allowing his branch of the family, Barry Roe, to claim the titles from the formerly leading branch. From this marriage would descend the Earls of Barrymore.
Children by Ellen MacCarthy Reagh:
Richard Fitz-James de Barry (d. 24 Apr 1622)
David de Barry, 5th Viscount Buttevant (d. 10 Apr 1617)
William Barry (d.c 11 Apr 1594)
Edmund Barry
John Barry (d. 31 Jan 1627)
Joan Barry
Honora Barry
Eleanor Barry
Ilane Barry
In 1570, Lord James de Barry, 4th. Viscount Buttevant, received a lease, to hold for twenty-one years, of "the site of the house of the friars at Killnamullagh, alias Buttevante, County Cork, with its appurtenances at an annual rent of 16 shillings and 8 pence".
At the outbreak of the Desmond Rebellions, Viscount Buttevant joined the rebels and in the subsequent confiscations of his estates, the friary in Buttevant, together with its glebe, passed into the hands of the poet, Edmund Spenser.