Saint James Intercisus, also known as Saint James the Mutilated (died 421) His surname, Intercisus, is derived from the Latin word for "cut into pieces," which refers to the manner of his martyrdom: he was slowly cut into twenty-eight pieces. He survived this loss of limbs before being ultimately beheaded.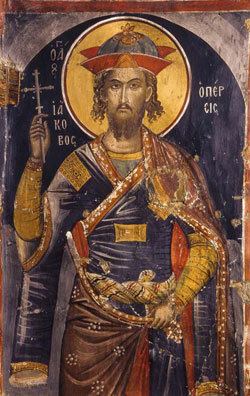 Tradition states that he was a military officer and courtier to Yazdegerd I who had apostatized after this ruler began to persecute Christians. Under the influence of his Christian family, however, he expressed his faith to Yazdegerd's successor, Bahram V, and was tortured and killed. His death started the Roman-Sassanid War (421-422). He was killed in Gundishapur. The ruins of this city are near Dezful, Iran.
James' story is recounted in The Golden Legend.
The Church of St. James Intercisus in the Armenian Quarter of Jerusalem is dedicated to him.
The Monastery of St. Jacob in Sireţi, Străşeni Moldova, the Monastery of St. Jacob in Deddeh, Lebanon and the monastery of St James the Mutilated in Qara, Syria are all dedicated to him.
His feast day is November 27.