James French Patton (1843–1882) was born September 19, 1843 to the Hon. John M. Patton and Peggy French Williams of Richmond, Virginia. Patton was a lieutenant in the Confederate Army, member of the Virginia bar, and appointed to the Supreme Court of Appeals of West Virginia in 1881.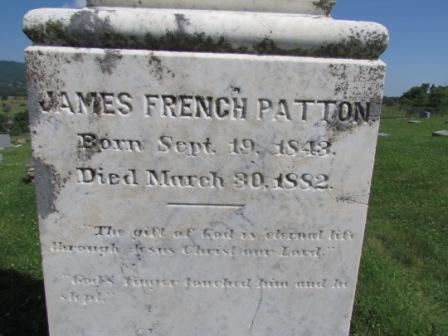 Patton was the great-grandson of Gen. Hugh Mercer who fought at the Battle of Princeton in 1776 and an ancestor to General George S. Patton. At age 14, he was enrolled in Andover Academy but halted his education at age 18 to join the Confederate Army. In 1869, Patton married the daughter of U.S. Senator Allen T. Caperton. He later joined a law partnership with Caperton and relocated to Union in Monroe County, West Virginia. In 1872, Patton was elected as a Democrat for prosecuting attorney of Monroe County and served four years.
On June 1, 1881, Patton was appointed by Governor Jacob B. Jackson to a vacated seat on the Supreme Court of Appeals of West Virginia caused by the resignation of Justice Charles P.T. Moore.
Patton died suddenly on March 30, 1882 in Wheeling, West Virginia at the age of 37. He was still a justice on the Supreme Court of Appeals at the time of his death.