Covid-19
James Burton




1837




1761–1837




Decimus Burton





James Burton (29 July 1761 – 31 March 1837) was a British property developer, "probably the most significant builder of Georgian London," who built large parts of the Bloomsbury district, Chester Terrace, Cornwall Terrace and York Terrace at Regent's Park, Russell Square and Tavistock Square. He also conceived, planned, and developed the town of St Leonards-on-Sea, now part of Hastings. By the time of his death, he had built over 3000 properties and his buildings covered over 250 acres of London.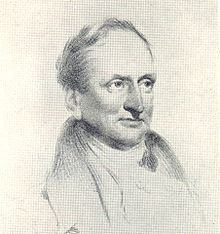 He was a founding member of the Athenaeum Club, London, as was his son, Decimus. He served as Master of the Worshipful Company of Tylers and Bricklayers and Sheriff of Kent.
James Burton was born as James Haliburton on 29 July 1761, son of William Haliburton (1731–1785), a London property developer of Scottish descent, and Mary Johnson (1735–1785), daughter of Nicholas Foster of Kirkby Fleetham, Yorkshire. William Haliburton was the second husband of Mary Foster. They married in 1760. They had two children, James and another who died in infancy.
James was christened 'James Haliburton' at Presbyterian Chapel, Soho, London. He changed his name to Burton in 1794 (following a family dispute), between the birth of his fourth child and the birth of his fifth child.
Burton's father William Haliburton's paternal grandparents were Rev. James Haliburton (1681–1756) and Margaret Eliott, daughter of Sir William Eliott, 2nd Baronet and aunt of George Augustus Eliott, 1st Baron Heathfield. They had 7 daughters and 2 sons, William (father of James), and Andrew. Burton's father William was descended from John Haliburton (1573–1627), from whom Sir Walter Scott, 1st Baronet could trace his descent on the maternal side. He was a cousin of the American judge and author Thomas Chandler Haliburton and thence the lawyer and anthropologist Robert Grant Haliburton and Arthur Lawrence Haliburton, 1st Baron Haliburton.
James was educated at a day school in Covent Garden before being privately tutored. In July 1776 he was articled to a surveyor named Dalton, with whom he remained for six years.
St Leonards-on-Sea
Russell Square
Bloomsbury Square and surrounding streets
St John's Wood
Burton Street and Burton Crescent (now Cartwright Gardens)
Tavistock Square, including Tavistock House (for himself)
The Holme, Inner Circle, Regent's Park. Designed by James's son, Decimus Burton and built by James. The residence of the Burton family. Architectural critic Ian Nairn wrote of the house, "If you want a definition of western civilization in a single view, then here it is".
York Terrace, Regent's Park
Chester Terrace Regent's Park
Cornwall Terrace, Regent's Park
In 1787, Burton was already known as architect and builder in Southwark, having built the Blackfriars Rotunda in Great Surrey Street (now Blackfriars Road) to house the Leverian Museum for land agent and museum proprietor James Parkinson.
At 28 years old he made his first proposition to build on the land made available by the Foundling Hospital. In 1792 he asked the Foundling Governors for an option on the whole of Brunswick Square. They were cautious and refused, not knowing the capacity of this man and also having a policy of not allowing any one speculator to undertake more than a moderate proportion of the ground. He was given a bit of the south side and part of Guildford Street. Burton rapidly added to this site by site until most of the western property was under his control and by 1802 had built nearly 600 houses on the estate.
In 1800 he bought the Duke of Bedford's London mansion, Bedford House, and began to lay out houses over its site (facing Bloomsbury Square) and to create Russell Square. He went on to build the south side of Russell Square. He exhibited a view of these houses in the Royal Academy Exhibition 1800. In 1807 he continued his Bloomsbury development north, and he was also involved in the early development of St John's Wood. He then left London for a project in Tunbridge Wells but returned in 1807 to build over the Skinners Company ground between the Bedford Estate and the Foundling lands. Here he built Burton Street and Burton Crescent (now Cartwright Gardens) including the villa Tavistock House for himself on ground now occupied by the British Medical Association. Here he lived until he moved to The Holme in Regent's Park, designed by his son Decimus Burton.
James Burton was a founding member of the Athenaeum Club, London, as was his son, Decimus Burton.
Burton was Master of the Worshipful Company of Tylers and Bricklayers in 1801–2. Burton served as Sheriff of Kent in 1810.
In 1804, in response to the cessation of amicable relations with the French Republic, Burton raised a 1600 strong company of volunteers, the Loyal British Artificers, at his own expense, recruited from the large body of artificers that were in his employ, of which he made himself colonel.
He attended the funeral of Horatio Nelson in 1806.
His wealth allowed him to help John Nash with financial problems in his Regent Street project, in return for which Nash helped promote the career of his son Decimus Burton the architect.
In addition to his property development enterprises, Burton owned a gunpowder manufacturing enterprise.
On 1 March 1783 at St Clement Danes, London, James Burton married Elizabeth Westley (12 December 1761 – 14 January 1837), of Loughton, Essex, daughter of John and Mary Westley. They had six sons and six daughters:
William Ford (11 January 1784 – 18 October 1856). Gunpowder manufacturer and farmer. Named after his maternal granduncle. William Ford. He was severely injured by a fall from his horse, 1806, which prevented him from going to university. He started farming with his father in 1807. In 1837 he was described as "gunpowder Manufacturer". Lived at St. John's Wood, Regent's Park and later South Lodge, St. Leonards. He gave money for paving Bast Ascent, 1848. His father's notebook states that "He [William Ford] has issue (unfortunately illegitimate)". One of these sons was Henry Marley Burton (1813-1880), of 14 Spring Gardens, Westminster, who was an architect. In 1866, Henry Marley was commissioned by John George Dodson, 1st Baron Monk Bretton to design a mansion at Coneyborough. His uncle Decimus had designed Bineham in Chailey for Dodson's brother-in-law John George Blencowe.
Emma Elizabeth (4 August 1785 – 13 December 1785). Died from smallpox.
Eliza (29 September 1786 – 6 February 1877) Lived for a time at 36 Marina and later at No. 5 West Hill. Did not marry.
James

FGS

(22 September 1788 – 22 February 1862). Egyptologist.
Emily (10 August 1791 – 20 May 1792)
Jane (4 April 1792 – 11 December 1879) Married Thomas Walker (who changed his surname to Wood in 1817) of Tonbridge at Tonbridge, 1812. Had 1 son George James (1813–1831) and 3 daughters, Emily (1815–1892), Helen (1816–1903) and Rose Anne (born 1818). Lived at North Lodge, St. Leonards.
Septimus (27 July 1794 – 25 November 1842). Educated at Lincoln's Inn. Solicitor, Lincolns Inn Square. Articled to J. W. Lyon, 1810. Dealt with much of his father's business. Married Charlotte Lydia Elizabeth Middleton in 1824. Had 1 son, Arthur (b.1830) who married Lilian Margaret Robertson in 1860 and one son, Francis Arthur (1861–64). Lived at Serle Street, London. Died 25 November 1842. Buried at Chiswick.
Octavia (b. 20 May 1796) Married Edmund Hopkinson of St. Albans, banker, at Tonbridge in 1813. No issue.
Henry (27 February 1799 – 10 August 1849) Gunpowder expert and chemist. Educated at Gonville and Caius College, Cambridge and St Bartholomew's Hospital. Went to sea as midshipman, 1811, on HMS Boyne, 98 guns, Captained by Hanekett, but gave up and entered The Gunpowder Office. Became Professor of Chemistry at St Thomas' Hospital, in September 1825. Married Mary Elizabeth, eldest daughter of William Poulton of Maidenhead, at St. George's, Bloomsbury, 1826. She died 3 years later, no issue. Lived at 41 Jermyn Street, London, and 58 Marina.
Decimus

FRS FRSA RA FSA FRIBA

(30 September 1800 – 14 December 1881). Architect.
Alfred (18 June 1802 – 24 April 1877)

JP

. Mayor of Hastings. In St Leonards, Steward of the Races, President of the Mechanics Institute, Vice-President of the Infirmary, Trustee of Hastings & Flimwell Turnpike. Member of the Queen's Royal St. Leonards Archers. Manager of Burton family estates. Clerk to Thomas Wood (husband of Jane Burton) and to Decimus Burton. Married Anna Delicia Adams in 1843. Had 1 son, Alfred Henry (1845–1917)

JP

, J.P. of Hastings Lodge and High Sheriff of Sussex 1902, who married Ellen Amelia Dickson, and had four children, and 1 daughter Louisa Charlotte (1849–1873), who did not marry.
Jessy (12 April 1804 – after 24 April 1877). Married John Peter Fearon (1804–1873), lawyer of Great George Street, Westminster, 1833. Had 3 daughters, Jessy Tyndale (1834–1910), Constance Mary (1835–1915), and Ethel Anna (1839–1901) (who married Thomas Ayscough and had issue) and 1 son, Francis (1837–1914) (who married Julia Mary Woodward and had issue). Jessy's middle daughter, Constance Mary Fearon, was the founder of the Francis Bacon Society and author (under the pseudonym Mrs Henry Pott) of numerous books supporting the theory that Francis Bacon, 1st Viscount St Alban was the author of the works attributed to William Shakespeare.
James Burton (property developer) Wikipedia