Bishop José Ivo Lorscheiter (7 December 1927 – 5 March 2007) was a Brazilian prelate of the Roman Catholic church. He was a bishop from 1965 to his retirement in 2004. He was a leading proponent of liberation theology and denounced abuses of human rights by the military regime that controlled Brazil in the anos de chumbo from 1964 to 1985.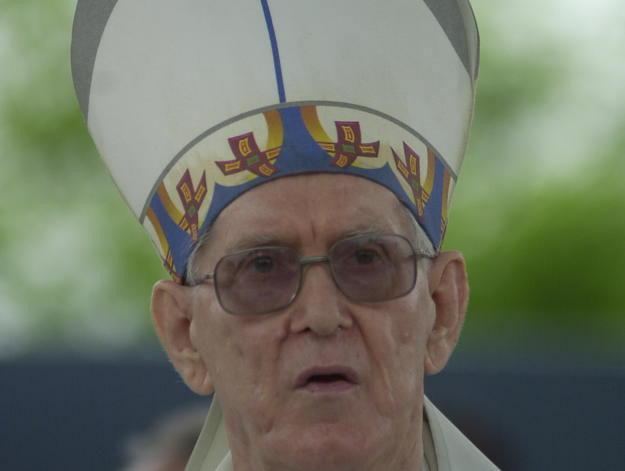 Lorscheiter was born in São José do Hortêncio, in the state of Rio Grande do Sul in the south of Brazil, one of seven brothers. His parents were the descendants of German immigrants. His surname was "Lorscheider", but it was recorded incorrectly when his birth was registered, and the incorrect "Lorscheiter" remained with him for the rest of his life.
He came from a religious family, and other relatives joined the church: Cardinal Aloísio Lorscheider is a cousin. He attended the local Catholic seminary, at Gravataí, from 1939 to 1945, and then studied philosophy at the seminary in São Leopoldo from 1946 to 1948. He studied theology at the Salesian Pontifical University from 1949 to 1953, from which he received a doctorate in 1956. He was ordained in Rome on 20 December 1952. He returned to Brazil to teach at the seminary in Gravataí, and was then director of the seminary in Viamão. He also taught at the Pontifícia Universidade Católica do Rio Grande do Sul.
Pope Paul VI appointed him as auxiliary bishop of Porto Alegre and titular bishop of Tamada on 12 November 1965, the year after a military dictatorship took control of the country. He was officially ordained the following year: his cousin, Bishop Aloísio Lorscheider, was one of the principal co-consecrators.
Lorscheiter was involved in secret negotiations between the church and the military from 1970 to 1974, but also openly criticised the military regime. Hundreds of political opponents were imprisoned, tortured, or killed. He became known as "Dom Ivo" by his supporters.
Pope Paul VI appointed him Bishop of Santa Maria on 5 February 1974. He was secretary-general of the National Conference of Bishops of Brazil from 1971 to 1979, and then president until 1987, following immediately after his cousin Aloísio Lorscheider each time. His espousal of liberation theology put him in conflict with Vatican authorities, particularly Pope John Paul II.
At a Vatican synod of bishops in 1985, he presented a detailed rebuttal of a critique of liberation theology by Cardinal Joseph Ratzinger, Prefect of the Congregation for the Doctrine of the Faith. He said:
Against false interpretations, it must be clarified that liberation theology is not a theology of violence or one that pushes toward violence. It is not a theology that assumes or justifies Marxist ideology. Nor does it apply European political ideology to Latin America. Nor does it break with Catholic theological tradition.... [It] presupposes a new consciousness of the context of oppression [and] a conversion toward the poor and a commitment to their liberation.... Liberation theology is indispensable to the church's activity and to the social commitment of Christians, even if it carries with it risks.
He suffered from poor health, particularly in later life. He retired on 24 March 2004. He died in Santa Maria, Rio Grande do Sul in Brazil, after stomach surgery.