Covid-19
Japan




196,127 (2010)


24.97 km2


Kansai




Yasuyuki Fujiwara




Otemae University, Otemae College



Itami (伊丹市, Itami-shi) is a city located in Hyōgo Prefecture, Japan. As of 2008, the city had an estimated population of 194,488 and a population density of 7,790 persons per km². The total area is 24.97 km². Itami sits on the Hankyu Railway Itami Line and the JR Takarazuka Line (Fukuchiyama Line).
The center of Itami became a wealthy town by the middle of Sengoku period. It was named Itami-go (town of Itami) and known as the only Japanese town within a castle (usually Japanese castles were located far from domestic areas). Itami-go was a part of Castle Arioka which Araki Murashige ruled under Oda Nobunaga. After the uprising and defeat of Araki, the castle was torn down.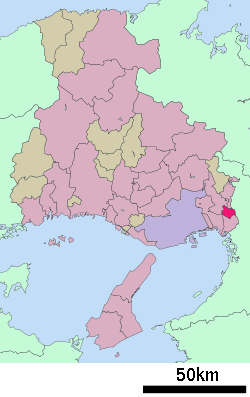 Today's city was established on 10 November 1940. Great portions of the city were damaged in the Great Hanshin–Awaji earthquake of 1995, but were quickly rebuilt.
Most of Osaka International Airport is located in Itami (hence the common name "Itami Airport"): it is Osaka's primary domestic airport, although all international flights and many domestic flights shifted to Kansai International Airport in 1994. Despite the airport's association with Itami, the terminal complex in truth sits in the neighboring city of Toyonaka, and the Itami city center is connected to the airport only by a long tunnel that passes beneath the runway and tarmac.
The city is also famous for Koyaike Park, which features a large model of the Japanese archipelago set in a circular pond. The park is a frequent sight for passengers on flights into Itami Airport. Moreover, Itami is one of the important sake-brewing cities in Japan. Some historians claimed Itami was the place where seishu, clear sake, was invented.
There is a North Korean school in Itami, Itami Korean Elementary School (伊丹朝鮮初級学校).
Japanese singer, songwriter Masami Okui was born in Itami.
Hasselt, Belgium
Foshan, China
Aiko Uemura, mogul skier
Akira Ueda, voice actor
Hayato Sakamoto, baseball player
Hiroyuki Nakajima, baseball player
Katsuki Yamazaki, baseball player
Masahiro Tanaka, baseball player
Masami Okui, singer
Yoko Minamino, actress
Kasumi Arimura, actress
Itami, Hyōgo Wikipedia