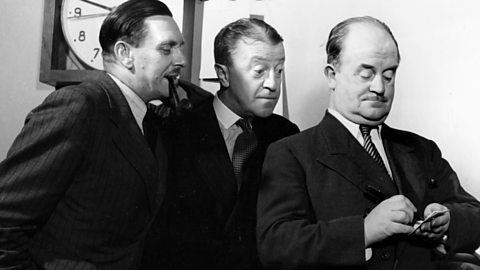 The headline which inspired the name of the show appeared in the Daily Express of 2 May 1939, on the bottom of the front page, above a story about Adolf Hitler leaving his Chancellery on a mystery journey. The first show was broadcast on 12 July 1939, part of an initial run of four shows which were fortnightly.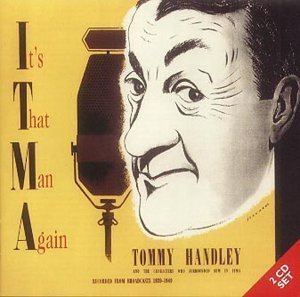 The show was broadcast for much of the war from the BBC Wales studios in Bangor, Caernarfonshire in Wales, where the BBC's Light Entertainment Department was based during the Second World War after an initial brief move to Bristol.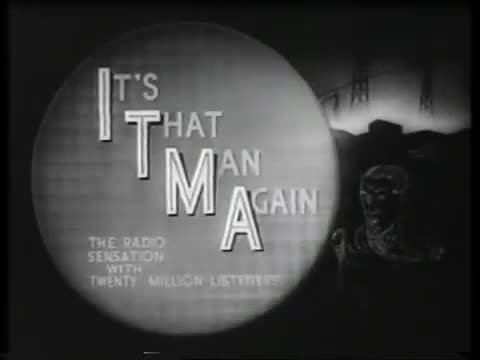 ITMA followed the adventures of Tommy Handley as he undertook a series of (fictional) bizarre jobs that involved working with strange characters. The first series began with Handley working on a private radio station, but he later moved on to work as Minister of Aggravation and Mysteries at the Office of Twerps; the Mayor of seedy seaside resort Foaming at the Mouth; and Governor of the South Sea island Tomtopia.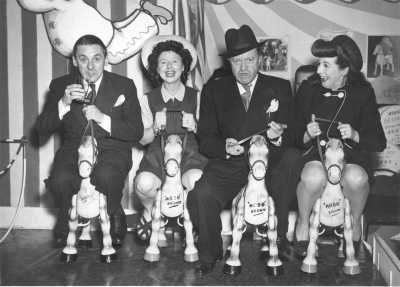 Other performers in the show included Jack Train, a master of voices; Clarence Wright, who played the commercial traveller; the man from the ministry, Deryck Guyler; and Joan Harben (sister of Philip Harben) as Mona Lott. Hattie Jacques, who played Sophie Tuckshop (the earliest of Jacques' roles dependent upon her physical size) joined the cast towards the end of the run. The programme featured dozens of other characters, such as Mrs Mopp and Colonel Chinstrap. The speed at which the performances were delivered is still considered remarkable, even given later technical developments. Many gags were dependent on breaking news – Ted Kavanagh once admitted to being unable to understand some jokes in earlier scripts.
Some years later, Train reprised the role of Colonel Chinstrap for a couple of guest appearances on The Goon Show including the episode "Shifting Sands". Train would recount how the character was created. Shortly before the show started he was in the office of senior announcer John Snagge having a chat when the door opened and a slightly bleary-eyed gentleman entered. They were introduced, the man being a retired Indian army officer. He then turned to Snagge and said, "John. I have just done the most marvellous piece of business. I've bought a water-heater on ten years' hire-purchase and what the gas company doesn't know is I am drinking myself to death".
Train, along with scriptwriter Kavanagh, developed this into Colonel Chinstrap. The officer on whom Chinstrap was based heard the programme and reputedly totally failed to connect the character with himself but commented: "Wonderful character. I knew silly buggers like that in India".
Then, nine years and five months after the first meeting, Train received a telegram saying: THE COLONEL BEAT THE GAS COMPANY BY SEVEN MONTHS - SNAGGE.
ITMA ran for over 300 episodes between 1939 and 1949. When Handley died from a brain haemorrhage, announced immediately after the usual second repeat, it was cancelled because he was considered irreplaceable as its star.
Mrs Mopp is referenced in the Kinks' song the "Village Green Preservation Society" from their 1968 album The Kinks Are the Village Green Preservation Society.
In 1943 a film adaptation was made of the series, also titled It's That Man Again.
ITMA is remembered for a number of catchphrases, some of which entered popular vocabulary.
"Don't forget the diver" – spoken by Horace Percival upon entrance and exit as a diver. This became a very popular catchphrase in Britain during the Second World War.
"I'm going down now sir" – Another diver catchphrase, which became widely used in descending lifts during the era of ITMA popularity.
"This is Funf speaking" – German spy, spoken by Jack Train. This became a popular telephone catchphrase.
"I don't mind if I do" – Colonel Humphrey Chinstrap's catchphrase, spoken by Jack Train, turning any remark into an offer of a drink. The origin of this catchphrase precedes ITMA, but was nevertheless popularised by ITMA.
"I go, I come back" – Middle Eastern vendor, Ali Oop. Spoken by Jack Train.
"It's being so cheerful as keeps me going" – Mona Lott, a depressed laundrywoman played by Joan Harben.
"Good morning, nice day" – commercial traveller about to offer some sales line.
"After you, Claude – no, After you Cecil" – Moving men spoken by Jack Train and Horace Percival This phrase became used by RAF pilots as they queued for attack.
"I'll have to ask me Dad" – Mark Time (an elderly ditherer). This "was a political phrase introduced into ITMA when post-war reconstruction was looming." It was spoken by a Jack Train character, Mark Time, who responded to all questions with this phrase.
"But I'm all right now" – Hattie Jacques' character Sophie Tuckshop, after describing a long list of food she had eaten.
"Can I Do You Now, Sir?" and "TTFN (Ta ta for now)" – Spoken by Dorothy Summers' character, Mrs Mopp.
More ejaculation than catchphrase, D'oh! was the explosive parting shot of the character Miss Hotchkiss as played by Diana Morrison in numerous episodes from 1945 (series 8/166 onwards) to the demise of the programme in January 1949.
'D'oh!' was added to the Oxford English Dictionary in 2004, largely in response to the much later publicising of it in the television programme The Simpsons, although ITMA is credited with the earliest recorded use of the term. BBC TV's "Crackerjack!" had Peter Glaze uttering an exasperated "Doh!" after some shenanigans or other in which he invariably was the fall guy
Diana Morrison was already a cast member before the advent of the character Miss Hotchkiss in 1945. Miss Hotchkiss was Tommy Handley's stentorian and authoritarian secretary, who took her surname from a make of machine-gun. Authoritarian she may have been but she was susceptible to the amorous blandishments of Handley which however would lead on to an inevitable put-down. The explosive 'd'oh!' would signal her exasperated exit.
On Wednesday 19 February 1947 Mrs Jean Mann, MP for Coatbridge, introduced the epithet "twerp" to the House of Commons when referring to Tommy Handley during a debate on, of all things, supplementary estimates. She objected to Molly Weir, who played a Scottish girl (Tattie Mackintosh) on the show, "pursuing" Tommy Handley. Mrs Mann commented that in her day, no Scottish girl would be seen chasing a twerp like Handley The next day ITMA responded by opening the show with the overture revamped to "It's That Twerp Again".
In their spring 2010 issue, the article about ITMA listed the following identities:
Tommy Handley: Himself
Clarence Wright: Commercial Traveller, Man from the Ministry & Inspector Squirt
Fred Yule: Johann Bull, George Gorge, Norman the Doorman, Andrew Geekie, Bigga Banga, Mr. Grooves, Walter Wetwhite & Atlas
Horace Percival: Ali Oop, Cecil, Percy Pintable, the Diver & Mr. Whatsisname
Hattie Jacques: Ellie Phant, Guide & Sophie Tuckshop
Maurice Denham: Vodkin, Mrs Lola Tickle (Tess) & the Announcer for Radio Fakenburg
Jack Train: Bookham, Bowing, Claude, Colonel Chinstrap, Funf the Spy, Fusspot, Farmer Jollop, Wide Boy, Prattle, Hari Kari, Luke Slippy, Lefty & Mark Time
Dino Galvani: Signor So-So
Dorothy Summers: Mrs Mopp & First Posh Lady
Sam Costa: Lemuel
Celia Eddy: Cilly the Secretary
Vera Lennox: Dotty (Cilly's sister) & Second Posh Lady
Sydney Keith: Sam Scram
Bryan Herbert: Butch (Sam's brother)
Lind Joyce: Banjeleo, Pam (Sam's sister)
Molly Weir: Tattie Mackintosh & Mrs Mackintosh
Diana Morrison: Miss Hotchkiss, Nanny & Aunt Sally
Jean Capra: Poppy Poopah, Effie & Naieve
Hugh Morton: Brigadier Dear, Scraping, Basil Backwards, Wool, Josiah Creep, Sam Fairfechan, Announcer & Wamba M'Boojah
Carleton Hobbs: Curly Kale & Major Munday
Joan Harben: Mona Lott
Bill Stephens: Admiral & Comical Chris
Mary O'Farrell: Lady Sonely, Ruby Rockcake & Nurse Riff-Rafferty
Paula Green: 'Ever So' Girl
Deryck Guyler: Dan Dungeon, Frisby Dyke, Sir Short Supply & Percy Palaver
Tony Francis: Reg Raspberry