Sir Henry Campbell Bellingham (born 29 March 1955) is a British Conservative politician. He was appointed Parliamentary Under Secretary of State at the Foreign and Commonwealth Office on 14 May 2010, a position he held until 5 September 2012. In Parliament, he represents the constituency of North West Norfolk.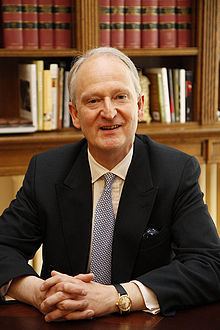 Bellingham attended Wellesley House School in the town of Broadstairs in Kent, followed by Eton College and then Magdalene College, Cambridge, where he received a law degree in 1977. During his time at Cambridge, he was a member of Cambridge University Liberal Club and served as Joint Master of the Cambridge University Draghounds. He also took a short service commission in the Guards for a year between school and university. He trained at the Inns of Court School of Law, and joined the Middle Temple in 1978 and practised as a barrister for eight years. Bellingham is variously described as a direct descendant of John Bellingham, Spencer Perceval's assassin, or as being from the same family, and his defeat in the 1997 election could be attributed to the intervention of the Referendum Party candidate, Roger Percival, who claimed to be a descendant of the slain Prime Minister. This might have been a more persuasive argument had Roger Percival won the seat.
Bellingham first entered Parliament at the 1983 election after winning the seat for North West Norfolk, having defeated the incumbent MP Christopher Brocklebank-Fowler, who in 1981 was the only Conservative to defect to the newly formed SDP. He held his seat until being defeated during the 1997 election. He contested his former seat at the election in 2001, and won it back. He was re-elected in 2005 with a 9000 vote majority, and again in 2010 with a majority of 14,810.
Henry Bellingham was appointed as a Shadow Minister for Trade and Industry in July 2002, before becoming an Opposition Whip in May 2005. From November 2006 until the 2010 general election he was a Shadow Minister for the Department of Constitutional Affairs. He won the North West Norfolk seat in the 2010 election, and was appointed a Parliamentary Under-Secretary in the coalition government within the Foreign and Commonwealth Office covering; 'Overseas Territories, Africa, United Nations, economic issues, conflict resolution and climate change'.
In 2009, whilst debating the Queen's speech, he was described as 'looking uncomfortable' when MPs joked about his distant ancestor John Bellingham, who assassinated Spencer Percival. Bellingham later stated: "I wouldn't bring it up in conversation that I'm a descendant - or a near-descendant - of a murderer of a prime minister. But I don't try to deny it"
On 29 September 2011, while quoting Bellingham, the Antigua Observer described him as the United Kingdom's Minister of Overseas Territories. While in Antigua Bellingham had commented on the surprise decision of former Premier of Bermuda Ewart Brown to provide asylum to four former Uyghur captives in Guantanamo.
"This is something that we weren't consulted on by the last (Brown) administration. We have spoken to the United States about it — it's our understanding that the arrangement was not to be permanent and we're looking to the US State Department to find a permanent solution. We're working with them to try and achieve that."
Bellingham is a Director of Longborough Capital of Witney, Environmental Polymer Technologies of Shaftesbury, and Arc Fund Management. He is a non-executive director of Developing Markets Associates and of Pathfinder Minerals (http://www.pathfinderminerals.com ).
Bellingham lives in Congham, which is situated within his constituency. He married Emma Whiteley in August 1993 in Horsham, and they have a son named Jamie.
Bellingham was knighted in the 2016 New Year Honours.