Class and type

Rothesay class frigate




Laid down

6 November 1956




Decommissioned

March 1988




Construction started

6 November 1956




Length

113 m




Builder

Yarrow Shipbuilders




Name

HMS Rothesay




Commissioned

23 April 1960




Identification

Pennant number F107




Launched

9 December 1957




Draft

5.27 m





HMS Rothesay was the lead ship of the Rothesay or Type 12M class of anti-submarine frigates of the British Royal Navy. She was commissioned in 1960 and scrapped in 1988.
Contents
History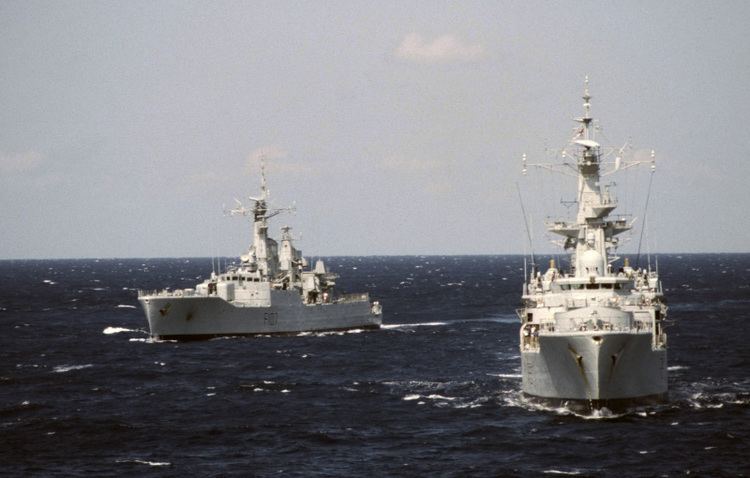 In the spring/summer of 1961 Rothesay was in Halifax, Nova Scotia and was intending to make courtesy calls at ports on the eastern seaboard of the USA but was instead diverted to Bermuda where she was to stay ready to protect British interests in Cuba. On 21 March 1962 she accidentally rammed the Turkish Balao-class submarine TCG Gür in the western Mediterranean (off Gibraltar) during the NATO exercise "Dawn Breeze".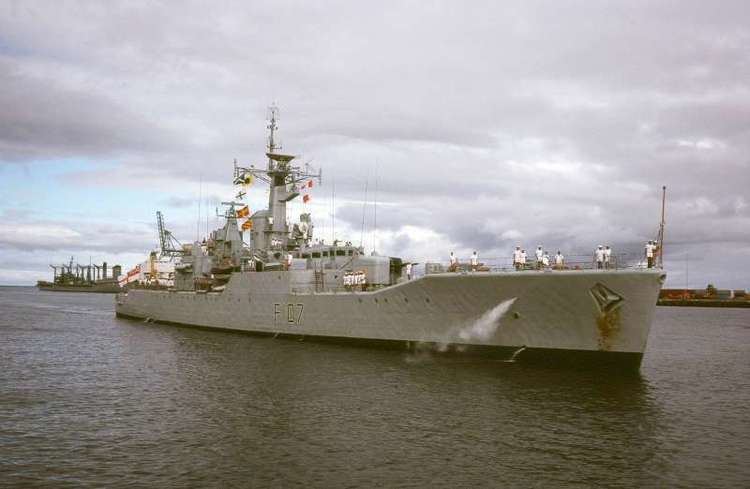 During two visits to the West Indies (7 months and 11 months) she was at Nassau and filmed for three days to get a 30 second showing in the James Bond film Thunderball. A sheet of canvas with a "0" was placed over the "F1" of her pennant number (F107) to read 007. Sean Connery and Claudine Auger came on board.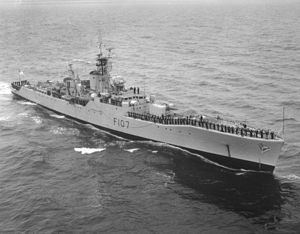 Between 1966 and 1968 Rothesay was refitted in Rosyth, Among the improvements the 40 mm gun was replaced with Seacat missile system, radar and communication equipment was updated, accommodation improved and perhaps most significantly a helicopter flight deck and hangar were added. Although this required the removal of one of the two triple barrelled anti-submarine mortars, it allowed the Rothesay class to carry the Westland Wasp helicopter which was a huge asset for anti-submarine operations. This modernisation was a vast improvement over the Whitby class and brought the Rothesay class up to the standard of the succeeding Leander-class frigate.
On 19 March 1969, together with Minerva, they landed 315 men of The Parachute Regiment on Anguilla to restore order after the islanders objected to being placed under the government of Saint Kitts. In 1971 she was present at Portsmouth Navy Days.
In April 1970 "Rothsay" was one of several Royal Navy vessels that were stationed for a possible tertiary splashdown recovery of Apollo XIII in a position just south of Rio De Janeiro, Brazil.
In 1973 Rothesay undertook Cod War fishery protection patrols.
She attended the 1977 Silver Jubilee Fleet Review with sister ships Plymouth, Berwick and Brighton. At this time she was part of the 8th Frigate Squadron.
At the start of the Falklands War, Rothesay was in Rosyth under repair after she hit a sea wall in Esjberg, Denmark. During the 1982 conflict, Rothesay was stationed in the Caribbean.
There were plans to withdraw the ship from service in 1983 but these were abandoned and instead in 1985 she underwent a refit in preparation for her new role in the Dartmouth Training Squadron. She served in this role until she was paid off on 13 March 1988. During her many years of service she clocked up over 800,000 miles. She was sold to Spain and was broken up at Santander in 1988.
Publications
Colledge, J. J.; Warlow, Ben (2006) [1969]. Ships of the Royal Navy: The Complete Record of all Fighting Ships of the Royal Navy (Rev. ed.). London: Chatham Publishing. ISBN 978-1-86176-281-8. OCLC 67375475.
Marriott, Leo, 1983. Royal Navy Frigates 1945-1983, Ian Allen Ltd, Surrey. ISBN 0 7110 1322 5
References
HMS Rothesay (F107) Wikipedia
(Text) CC BY-SA