HMS Queen Elizabeth is the lead ship of the Queen Elizabeth-class of aircraft carrier, the largest warship ever built for the Royal Navy and capable of carrying up to forty aircraft. She was named by Queen Elizabeth II on 4 July 2014, was expected to begin sea trials in March 2017, and was scheduled to be formally commissioned in May 2017. The sea trials, however, have been delayed until summer 2017. Her first Commanding Officer is to be Commodore Jerry Kyd, the former captain of HMS Ark Royal and HMS Illustrious.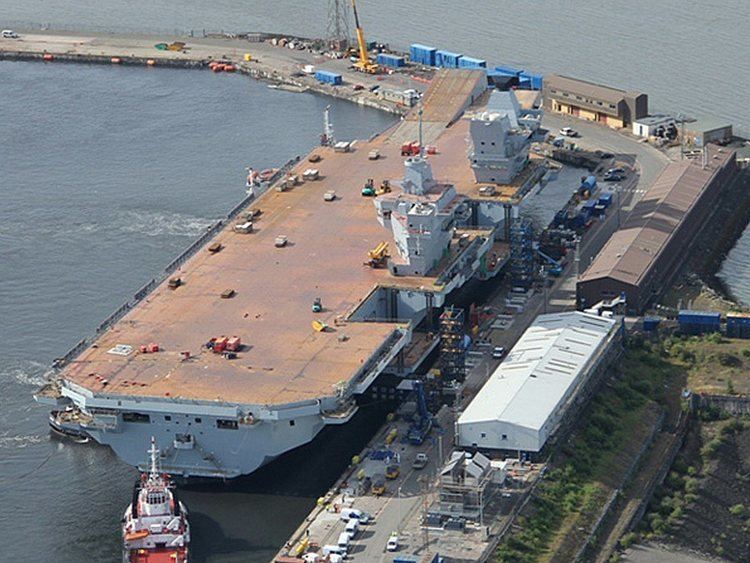 Unlike most large carriers she is not fitted with catapults and arrestor wires and is instead designed to operate V/STOL aircraft; her air wing will typically consist of F-35B Lightning II fighter-bombers and Merlin helicopters for airborne early warning and anti-submarine warfare. The design emphasises flexibility, with accommodation for 250 Royal Marines and the ability to support them with attack helicopters and troop transports up to Chinook size and larger. She is the second Royal Navy vessel to bear the name HMS Queen Elizabeth and is to be based at HMNB Portsmouth.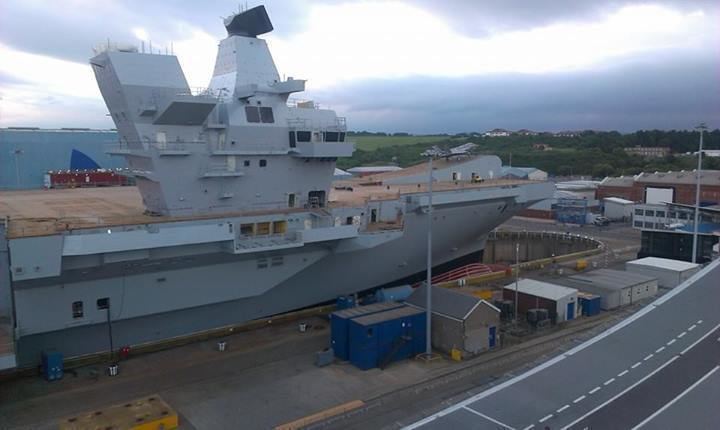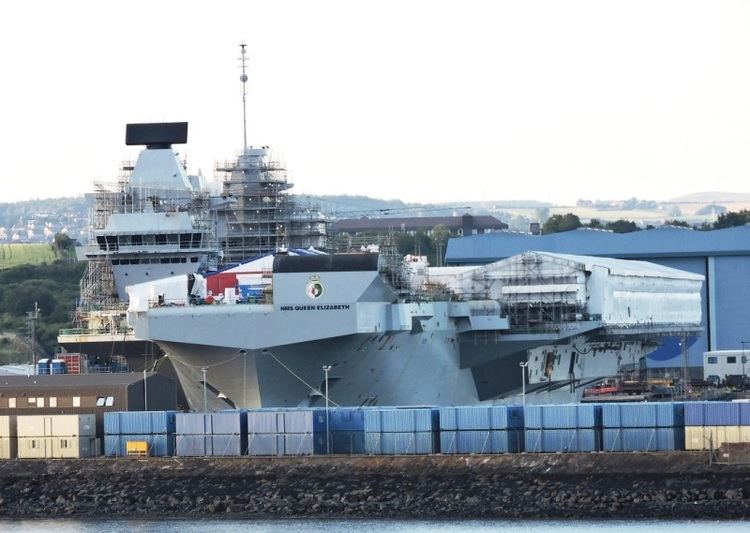 On 25 July 2007, the then Defence Secretary Des Browne, announced the order for two new carriers. At the time of approval the first carrier was expected to enter service in July 2015 and the budget was £4,085m for two ships. The financial crisis led to a political decision in December 2008 to slow production, delaying Queen Elizabeth until May 2016. This decision alone added £1,560m to the cost. By March 2010 the budget was estimated at £5,900m and in November 2013 the contract was renegotiated with a budget of £6,200m. The in-service date was further extended to 2020 in the Strategic Defence and Security Review in October 2010.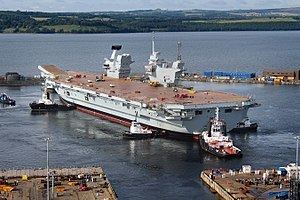 Construction of Queen Elizabeth began in 2009. Her assembly took place in the Firth of Forth at Rosyth Dockyard from nine blocks built in six UK shipyards: BAE Systems Surface Ships in Glasgow, Babcock at Appledore, Babcock at Rosyth, A&P Tyne in Hebburn, BAE at Portsmouth and Cammell Laird (flight decks) at Birkenhead. Two of the lower main blocks, together weighing more than 6,000 tonnes and forming part of the base of the ship, were assembled and joined into one piece on 30 June 2011. On 16 August 2011, the 8,000-tonne Lower Block 03 of Queen Elizabeth left BAE Systems Surface Ships' Govan shipyard in Glasgow on a large ocean-going barge. Travelling 600 miles (970 km) around the northern coast of Scotland, the block arrived at Rosyth on the evening of 20 August 2011. On 28 October 2012, an 11,000-tonne section of the carrier began a lengthy journey around the south coast of England (to avoid bad weather) from the shipbuilding hall at Govan, to the Rosyth dockyard; it arrived on 21 November. Her forward island was built at BAE Portsmouth and attached on 14 March 2013; the aft island was attached in June 2013. The ski jump was added in November 2013, leaving just the elevators and radar to be lifted into place. By September 2013 Queen Elizabeth was 80% complete internally.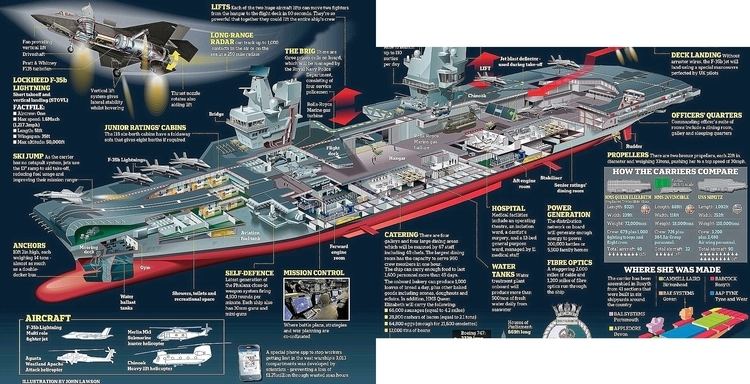 Queen Elizabeth was named at Rosyth on 4 July 2014, by Elizabeth II, who said that the warship "marks a new phase in our naval history". Instead of smashing the traditional bottle of champagne on the hull, she smashed a bottle of whisky from the Bowmore distillery on the Scottish island of Islay.
The ceremony was attended by the Duke of Edinburgh (the Lord High Admiral), Admiral George Zambellas (First Sea Lord), senior naval officers from the United States and France, and by politicians including David Cameron and Gordon Brown (the Prime Minister and his immediate predecessor) and Alex Salmond (First Minister of Scotland at that time).
It also featured a fly-past by the Red Arrows and a second comprising navy, air force and army helicopters. HMS Illustrious was berthed adjacent to Queen Elizabeth during the ceremony.
The ship was floated out of dry dock on the morning of 17 July 2014. Fitting out was completed at the end of 2015 and the crew moved aboard in May 2016. On 24 May 2016, Commodore Jeremy Kyd assumed command of the ship from Captain Simon Petitt.
Sea trials were planned beginning in March 2017 and delivery expected in May 2017. The sea trials, however, have been delayed until summer 2017. Prior to the ship's departure from Rosyth, an extensive survey was carried out of the Firth of Forth by HMS Gleaner and 42 Regiment, Royal Engineers to gather information on the tides, the depth of the river bed, and the height of the three river crossings (Forth Bridge, Forth Road Bridge, Queensferry Crossing). This was necessary as the most recent data available was 60 years old. Flight trials with helicopters will begin in 2017 and F-35B flight trials towards the end of 2018. It was reported in January 2017 that there were technical difficulties delaying her entry into Portsmouth in mid 2017. An "operational military capability" will be declared in 2020.
The two ships of the Queen Elizabeth class (the other being HMS Prince of Wales) are each expected to be capable of carrying forty aircraft, a maximum of thirty-six F-35s and four helicopters. The 2010 SDSR anticipated the routine deployment of twelve F-35Bs, but a typical warload will be 24 F-35Bs and some helicopters. These could be a Maritime Force Protection package of nine anti-submarine Merlin HM2 and five Merlin Crowsnest for airborne early warning; alternatively a Littoral Manoeuvre package could include a mix of RAF Chinooks, Army Apaches, Merlin HC4 and Wildcat HM2. As of September 2013 six landing spots are planned, but the deck could be marked out for the operation of ten medium helicopters at once, allowing the lift of a company of 250 troops. The hangars are designed for CH-47 Chinook operations without blade folding and for the V-22 Osprey tiltrotor, whilst the aircraft lifts can accommodate two Chinooks with unfolded blades.
The two ships of the Queen Elizabeth class (the other being HMS Prince of Wales) will between them be carrying four PTB's, Made by Blyth-based company Alnmaritec. Each PTB carries 36 Passengers with 2 Crew members operating the vessel. The 1st Boat that has been provided to the Aircraft Carrier is "Swordfish" Named after the aircraft itself She is a 13.1m boat Davit launched she was built specifically to fit into the pre-determined area in the hull and be deployed whenever the ship cannot enter port. To enable the craft to fit into the docking point the navigation and radar masts are fitted with Linak actuators so that they can be lowered automatically from the command console. She has a crew of 2 and can carry up to 36 passengers on seating that can be removed, if the vessel needs to be re-tasked. To improve crew welfare, the cabin area is heated and there is a set of heads forward. The second of the 4 PTB's is named "Buccaneer" also named after the aircraft
Defensive weapons include the Phalanx Close-In Weapons System for anti-aircraft and anti-missile defence; also 30mm Automated Small Calibre Guns and Miniguns for use against fast attack craft.
Incorporated into the first two blocks is a sophisticated handling and deployment system for air weapons, with the aim of achieving a sortie generation rate which is about six times faster than any previous Royal Navy aircraft carrier. The system requires only 50 people and could be operated with as few as 12 in an emergency; it is estimated that 160 would be needed to produce the same efficiency with conventional equipment. The system moves munitions on pallets by means of remotely controlled electric vehicles and lifts.
City of London
Navy Wings Heritage Trust
Heart of Midlothian F.C.