Covid-19
HMS Gipsy




5 September 1934




Pennant number H63




5 September 1934




98 m




5 March 1934




22 February 1936




Trust your luck




7 November 1935




3.78 m







Fairfield Shipbuilding and Engineering Company
HMS Gipsy was a G-class destroyer built for the Royal Navy during the 1930s. She spent most of the pre-war period as part of the Mediterranean Fleet. The ship was transferred to the British Isles to escort shipping in local waters shortly after the beginning of World War II. Less than a month after her arrival she struck a mine outside Harwich and sank with the loss of 30 of her crew. Her wreck was salvaged and slowly scrapped over the course of the war.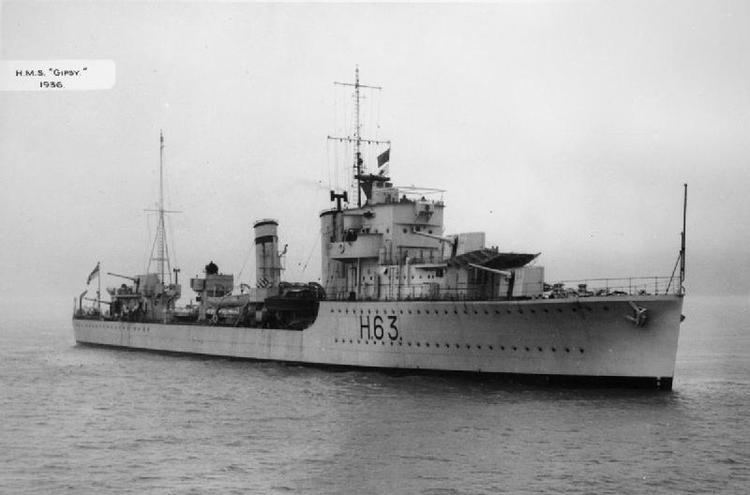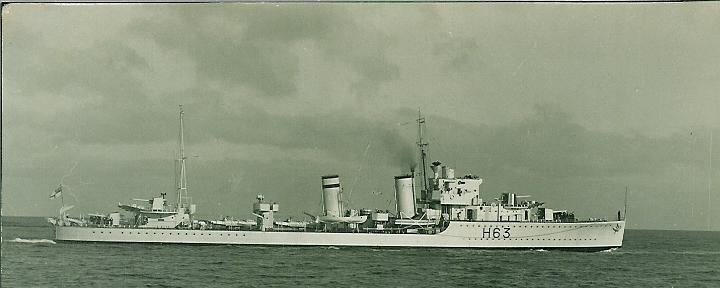 Gipsy displaced 1,350 long tons (1,370 t) at standard load and 1,883 long tons (1,913 t) at deep load. The ship had an overall length of 323 feet (98.5 m), a beam of 33 feet (10.1 m) and a draught of 12 feet 5 inches (3.8 m). She was powered by Parsons geared steam turbines, driving two shafts, which developed a total of 34,000 shaft horsepower (25,000 kW) and gave a maximum speed of 36 knots (67 km/h; 41 mph). Steam for the turbines was provided by three Admiralty 3-drum water-tube boilers. Gipsy carried a maximum of 470 long tons (480 t) of fuel oil that gave her a range of 5,530 nautical miles (10,240 km; 6,360 mi) at 15 knots (28 km/h; 17 mph). The ship's complement was 137 officers and men in peacetime.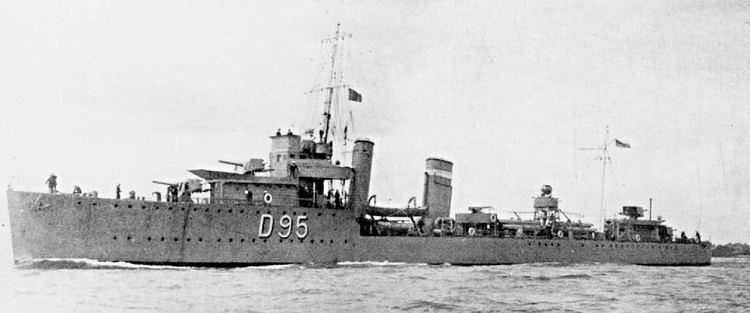 The ship mounted four 45-calibre 4.7-inch (120 mm) Mark IX guns in single mounts. For anti-aircraft defence Gipsy had two quadruple Mark I mounts for the 0.5 inch Vickers Mark III machine gun. She was fitted with two above-water quadruple torpedo tube mounts for 21-inch (533 mm) torpedoes. One rail and two depth charge throwers were fitted; 20 depth charges were originally carried, but this increased to 35 shortly after the war began.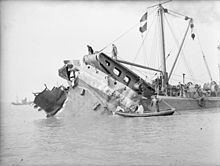 Gipsy was laid down by the Fairfield Shipbuilding and Engineering Company, at Govan, Scotland on 4 September 1934, launched on 7 November 1935 and completed on 22 February 1936. Excluding government-furnished equipment like the armament, the ship cost £250,364. Aside from a brief period assigned to the 20th Destroyer Flotilla of the Home Fleet after her commissioning, Gipsy spent the pre-war period assigned to the 1st Destroyer Flotilla with the Mediterranean Fleet. She was refitted at Devonport Dockyard between 2 June and 30 July 1938.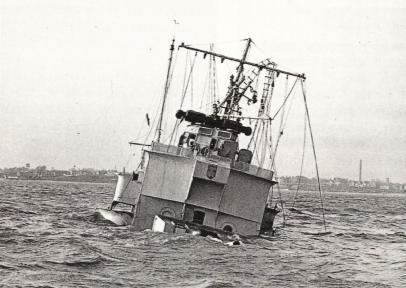 On the outbreak of war in September 1939, Gipsy was deployed with the 1st Destroyer Flotilla for patrols and contraband control in the Eastern Mediterranean, based at Alexandria. Gipsy and her entire flotilla were transferred to the Western Approaches Command at Plymouth in October. On 12 November she collided with her sister ship, Greyhound, en route to Harwich, and her new assignment with the 22nd Destroyer Flotilla, but she was only slightly damaged. The ship rescued three German airmen outside Harwich harbour on 21 November and returned to port to turn them over the army. Later that evening, Gipsy set out with destroyers Griffin, Keith and Boadicea to patrol in the North Sea. She struck a magnetic mine amidships outside the harbour, possibly laid by the aircraft whose crew she had rescued earlier that day, and sank. Thirty of her crew, including the captain, were killed. The 115 survivors were rescued by the other destroyers.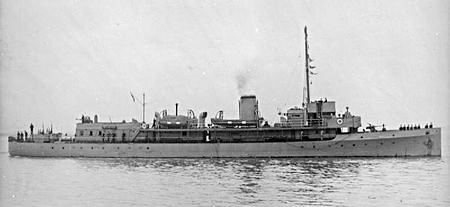 The ship's wreck was upright on the seabed with only the bridge visible at high tide, but it blocked the channel. Only buckled plating amidships held the two main sections of the wreck together and they were cut by explosives when salvage began shortly after her sinking. The two halves were raised by pontoons, and were subsequently broken up. 750 long tons (760 t) of ferrous scrap and 38 long tons (39 t) of non-ferrous metals were recovered between June 1940 and February 1944.
HMS Gipsy (H63) Wikipedia