Argentina




Entre Rios Province




Tomas de Rocamora




Juan Jose Bahillo (Alianza Nuevo Espacio Entrerriano)



Gualeguaychu is a city in the province of Entre Rios, Argentina, on the left bank of the Gualeguaychu River (a tributary of the Uruguay River). It is located on the south-east of the province, approximately 230 km north-west of Buenos Aires. It has a population of 109,266 according to the 2011 Census.
The city is located near national route 14, a route growing in importance because it connects Argentinas capital Buenos Aires and Sao Paulo in Brazil, the biggest city of South America, being one of the most important routes in Mercosur.
The city hosts an annual carnival that is regionally well-known and attended by people from many other provinces and countries around the world. It is considered one of the largest carnivals in the world. Gualeguaychu also has hot springs, beach resorts, and a casino.
Near Gualeguaychu is Pueblo Belgrano, a municipality that belongs to the city, which is well known for its hot springs. Gualeguaychu should not be confused with Gualeguay, another city also in Entre Rios, located about 80 km (50 mi) west.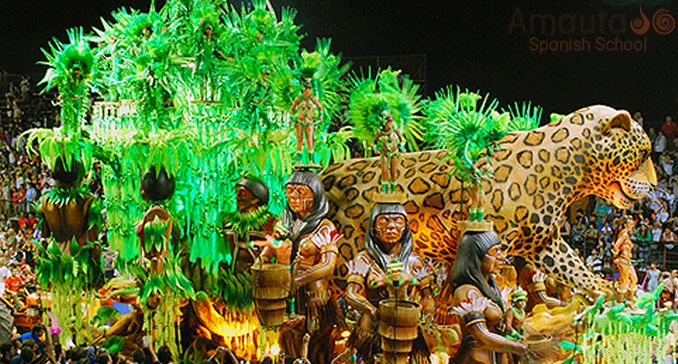 Gualeguaychu is one of the touristic cities closest to the urban conglomerates in the provinces of Buenos Aires and Santa Fe and one of the most visited Argentine cities by international tourists. There is a high influx of tourists during the summer months, reaching up to 400,000, primarily from the Federal Capital and the province of Buenos Aires, but also enjoying a recent increase in tourists from the provinces of Santa Fe and Cordoba attracted to the "Carnival of the Country" and city beaches.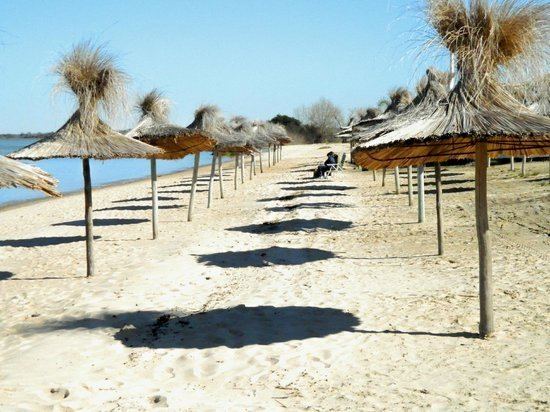 The new bus terminal is located in the extreme south-west of the city. The passenger transport services are numerous and provide transportation links with the various parts of the country and abroad.
The cornerstone of the Cathedral Church of St. Joseph, under the patronage of the Virgin of Rosario and St. Joseph, was laid May 30, 1863. Godfather ceremony was the Governor of Entre Rios, Justo Jose de Urquiza, who attended the ceremony with his wife Dolores Costa. The project was the work of Swiss architect Bernardo Poncini and building was overseen by him and his brother, Roberto. The work was delayed but inauguration took place on March 19, 1890. By 1910 the towers and porch were completed. In 1959 due to a danger of collapse, the towers were demolished and replaced by the current domes.
Clavarino Palace, where the activities take place in the Middle Level and Polimodal College Luis Clavarino, was founded on October 21, 1905. Mendez Casariego Bridge crosses the Gualeguaychu river to the Park Unzue and Pueblo General Belgrano, and the nature reserve "Las Piedras". The bridge was repaired in late 2007 because there was a danger of collapse.
People of historical note from Gualeguaychu include Juan Jose Nagera (the father of the geology in Argentina), Julio Irazusta (historian), Manuel Almeida (archaeologist), Maria Luisa Guerra and Juan Manuel Gavazzo (pianists), Buchan, Juan Carlos Guastavino, Carlos Delgado Roustan (painters), Angel Vicente Mendez Gervasio Araoz and Olegario Victor Andrade (poets) and Fray Mocho and Luis N. Palma (writers).
Current people of note from the city include Hector Luis Castillo, Luis Lujan, Zulma Nicolini and Carla Olivera (writers), Oscar Eduardo Ayala and Rebora (sculptors), Albanese Raul Alberto Bonus Chesini Paula and Maria Ines Lopez (painters). Famous Gualeguaychuenses now living outside the city include Pedro Luis Barcia (President of the National Academy of Letters), Ramiro Cazaux (set designer), the dancer Florencia Chinelatto (who is part of the Hamburg Ballet), Luisa Delfino (journalist), Gervasio Larrivey (theatrical makeup), Vanesa Martinelli (artist), Pipo Pescador (musician), Nicolas Nobile (author and coach), and Veronica Vieyra (actress).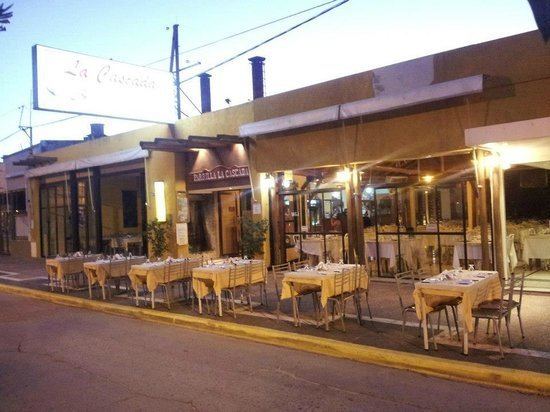 The pre-Hispanic cuisine of the state features: fish from the various lakes, birds including wild turkey, often eaten with salsas made from a wide variety of ground or crushed chili peppers. The Spanish introduced European staples of bread, cattle, sheep, goats, pigs, dairy products, rice and various fruits and vegetables. The European settlers quickly adopted another of local foodstuffs such as chili peppers and tomatoes to create hybrid dishes such as barbacoa and puchero. Accepting corn as a staple, the Spanish created today's enchiladas, quesadillas and gorditas. They also adopted pre-Hispanic tamales, but these were significantly altered with the addition of large quantities of lard. Tonala is said to be the origin of pozole, and it is claimed that the local Tonaltecas originally prepared it with human flesh as religious rite.
Classic dishes for the area include local versions of pozole, sopitos, menudo, guacamole, cuachala, birria, pollo a la valenciana and tortas ahogadas. Birria is a meat stew made with roasted chili peppers, spices and with either goat, mutton or beef. Tortas ahorgadas are pork sandwiches on French rolls which are covered in a tomato and chili pepper sauce. Common street foods include sopes, tacos, enchiladas tapitios. Tapalpa is known for its Borrego al pastor (grilled mutton); Cocul and Ciudad Guzman are known for birria; the Lake Chapala area is known for a dish called charales and Guadalajara is known for tortas ahogadas. Sweets include alfajor, squash seeds with honey, coconut candies, bunuelos and fruits conserved in syrup. Drinks include tequila, aquamiel, pulque, tejuino and fruit drinks. Raicillia is a drink made along the coast. Tuba is made in Autlan de Navarro. Rompope is made in Sayula and Tapalpa and tejuino is most common in the center of the state.
Along the coast, seafood is prominent. Some popular seafood preparations include shrimp breaded with coconut, and rollo del mar, which is a fish fillet stuffed with chopped shrimp and octopus, rolled and sometimes wrapped in bacon and covered in either a chili pepper or almond sauce. Puerto Vallarta has become a gourmet dining attraction as the site of the Mexican Gastronomy Fair held each November. It was a fishing village before a tourist destination and simple grilled fish dish called pescado zarandeado is still popular.
Gualeguaychu, Entre Rios Wikipedia
(,)http://media-cdn.tripadvisor.com/media/photo-s/03/e6/a5/11/la-cascada.jpg(,)http://media-cdn.tripadvisor.com/media/photo-s/03/f1/49/6e/getlstd-property-photo.jpg(,)http://www.therealargentina.com/wp-content/uploads/2013/01/gualeguaychu-657x584.jpg(,)http://media-cdn.tripadvisor.com/media/photo-s/05/8e/8e/d9/la-cascada.jpg(,)http://media-cdn.tripadvisor.com/media/photo-s/04/50/57/22/la-cascada.jpg(,)http://media-cdn.tripadvisor.com/media/photo-s/03/28/72/8d/campo-alto.jpg(,)http://media-cdn.tripadvisor.com/media/photo-s/03/f7/4c/57/terraza-cafe-picadas.jpg(,)http://media-cdn.tripadvisor.com/media/photo-s/03/f1/3f/eb/lo-de-carlitos.jpg(,)http://media-cdn.tripadvisor.com/media/photo-s/02/d7/c0/5b/lo-de-carlitos.jpg(,)http://media-cdn.tripadvisor.com/media/photo-s/03/b4/86/e8/la-cascada.jpg(,)http://media-cdn.tripadvisor.com/media/photo-s/06/eb/38/ce/terraza-cafe-picadas.jpg(,)http://i1.ytimg.com/vi/YzGwvZe9_C0/0.jpg(,)http://elebaires.com/blog/wp-content/uploads/gualeguaych%25C3%25BA.jpg
(,)http://news.xinhuanet.com/english/photo/2013-01/21/132116584_11n.jpg(,)http://news.xinhuanet.com/english/photo/2013-01/21/132116584_21n.jpg(,)http://moon.com/wp-content/uploads/2014/04/Gualeguaychu_CarnavalFloat_KevinJones_CC-BY1024.jpg(,)http://www.amautaspanish.com/fotos/fargentina/argentina-festival-gualeguaychu.jpg(,)http://www.amautaspanish.com/fotos/galeria/big/gualeguaychu-carnaval-parade.jpg(,)http://infoshareddaily.com/wp-content/uploads/2015/01/slide_395270_4846516_free-1024x625.jpg(,)http://www.welcomeargentina.com/carnavales/img/kamarr-2.jpg(,)http://www.welcomeargentina.com/carnavales/img/evaluacion-comparsas_i.jpg(,)http://img.webme.com/pic/a/argentinadiscovery/gualeguaychu-carnival7.jpg(,)http://argentina-travel-blog.sayhueque.com/wp-content/uploads/2010/12/argentina-carnival.jpg
(,)http://www.amautaspanish.com/fotos/galeria/big/a-great-carnival-atmosphere-in-gualeguaychu.jpg(,)http://media-cdn.tripadvisor.com/media/photo-s/03/db/6f/f2/balneario-nandubaysa.jpg(,)http://media-cdn.tripadvisor.com/media/photo-s/03/b4/84/92/dentro-de-la-catedral.jpg(,)http://wander-argentina.com/wp-content/uploads/2013/02/WA-carnaval-gualeguaychu-horizontal-carnavaldelpais.net_.jpg(,)http://www.welcomeargentina.com/carnavales/img/corsodromo-1_i.jpg(,)http://media-cdn.tripadvisor.com/media/photo-s/03/2e/0d/ce/hosteria-la-pradera.jpg(,)http://www.welcomeargentina.com/paseos/detras_de_escena/talleres-2.jpg(,)http://www.welcomeargentina.com/paseos/lafiesta_interminable/nocturna-gualeguaychu-3i.jpg(,)http://www.welcomeargentina.com/paseos/lafiesta_interminable/nocturna-gualeguaychu-1i.jpg(,)http://www.welcomeargentina.com/paseos/baneario-nandybaysal/balneario-44.jpg(,)http://www.welcomeargentina.com/paseos/lafiesta_interminable/nocturna-gualeguaychu-2i.jpg(,)http://www.welcomeargentina.com/paseos/nuevo-pueblo-belgrano/pueblo-belgrano-d.jpg(,)http://www.welcomeargentina.com/paseos/la_movida_del_verano/balnearios-litoral-02.jpg(,)http://www.welcomeargentina.com/paseos/unpatio_como_pocos/patio-mate-1i.jpg