Start date

2013





In late 2013, San Francisco Bay Area activists with Heart of the City began protesting the use of shuttle buses by Google and other tech companies to ferry employees from their homes in San Francisco and Oakland to corporate campuses in Silicon Valley, about 40 miles away. This sparked other groups in Oakland and even Seattle to protest private tech commuter buses in their areas.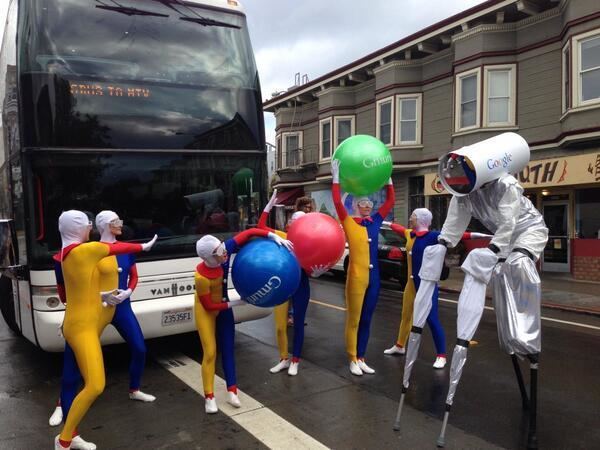 Protesters viewed the buses as symbols of gentrification and displacement in a city where the rapid growth of the tech sector has driven up housing prices. To many Google bus protestors, Google buses are part of the process of allowing for tech companies to enter San Francisco. Activists also opposed the unpaid use of public bus stops by private companies, which transit officials said leads to delays and congestion. In a number of incidents, protestors blocked the tech company's buses from leaving the stops. In one incident in Oakland a protestor broke a window of one bus and slashed the tires of another. And in another incident, someone impersonated a Google employee and only was later revealed to be a protest participant.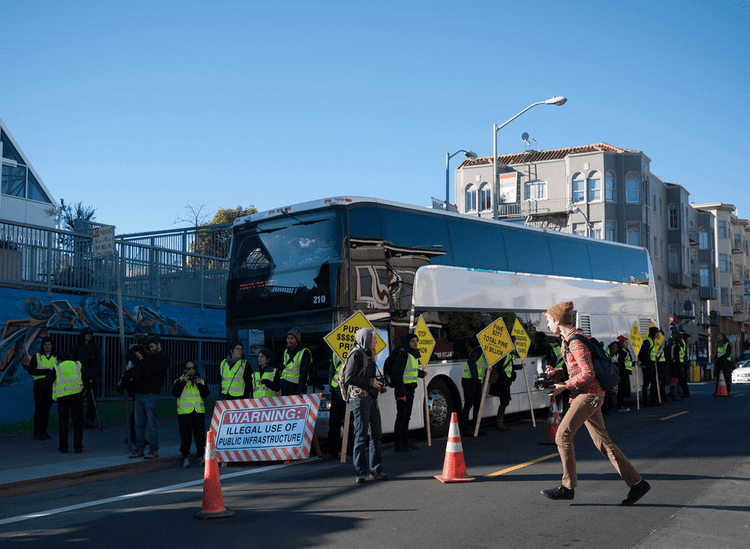 On the other hand, Google buses ensure workers have a convenient way to commute to work everyday. They also allows for tech workers to live outside of the San Francisco area, populating different cities rather than congesting San Francisco. According to a report conducted by the San Francisco Municipal Transportation Agency(MTA), there are approximately 6,500 tech commuters who use shuttle buses such as the Google bus that take them to and from the city and their respective homes. About 49% of such workers in tech would have their own private car if they did not have these shuttles available to them, decreasing the amount of privately owned cars in the area. Shuttle buses such as that of Google serving the San Francisco area reduce approximately 11,000 metric tons of greenhouse gas emissions (or 25,581 barrels of oil) per year. In addition, Google buses decrease the amount of traffic congestion and increases the amount of parking spots available in the area.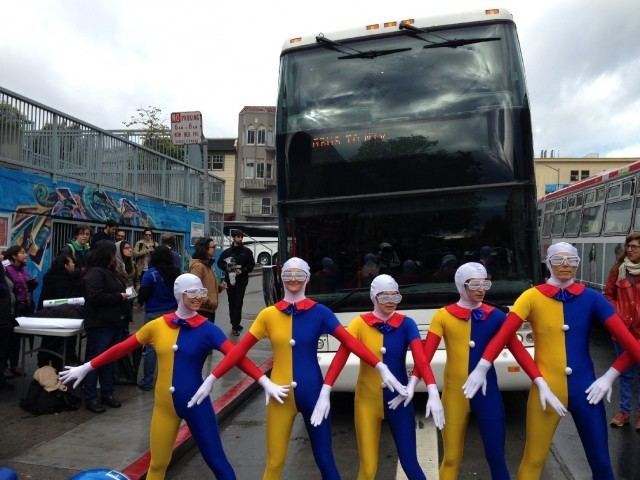 One group involved in the bus protests in Oakland, called The Counterforce, also unfurled a banner outside the house of an engineer who works on Google's driverless car project and distributed leaflets accusing the engineer of "building an unconscionable world of surveillance, control and automation".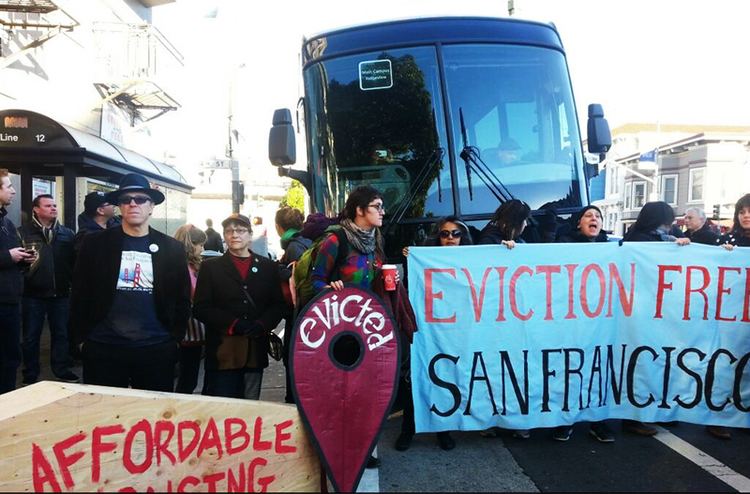 On January 21, 2014, the San Francisco Municipal Transportation Agency imposed a fee of $1 per day for each public stop used by a private company. This fee, which is expected to raise $1.5 million a year, was the largest the agency could impose without a vote from San Francisco residents. In February, Google donated $6.8 million to the transit agency to provide free public transit for low-income children in San Francisco.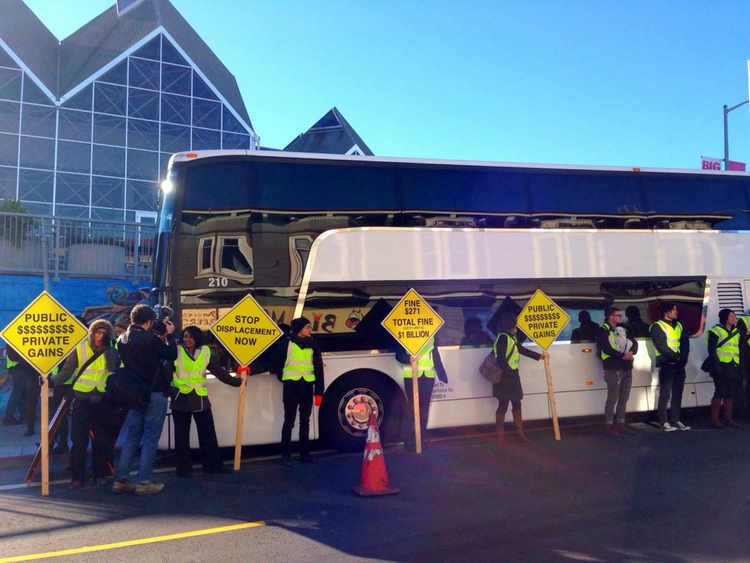 On February 5, 2014, Alexandra Goldman with UC Berkeley City Planning released details of her research on the "shuttle effect" stating that rents rise up to 20% around Google bus stops. The average change was 5%.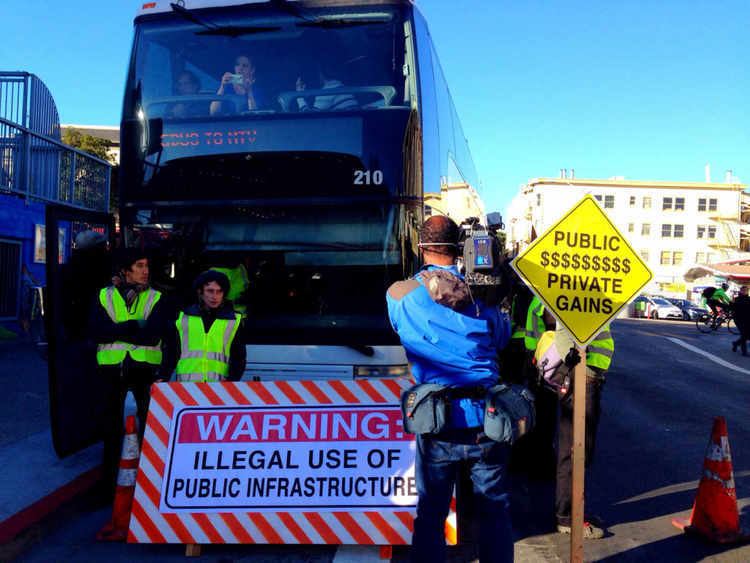 On March 31, 2014, tech-advocacy group sf.citi, led by Ron Conway, angel investor in Google and other tech companies, released a statement of support for the San Francisco Municipal Transportation Agency's pilot program.
Rosanne de Koning has analyzed Google buses from a spatial justice viewpoint. In addition to causing gentrification by encouraging affluent tech workers to move to San Francisco, the exclusive buses and suburban locations of tech companies serve to isolate tech workers from other San Francisco residents, in a manner similar to gated communities. She identifies inadequate public transit between San Francisco and Silicon Valley as the cause of Google buses' development.
References
Google bus protests Wikipedia
(Text) CC BY-SA